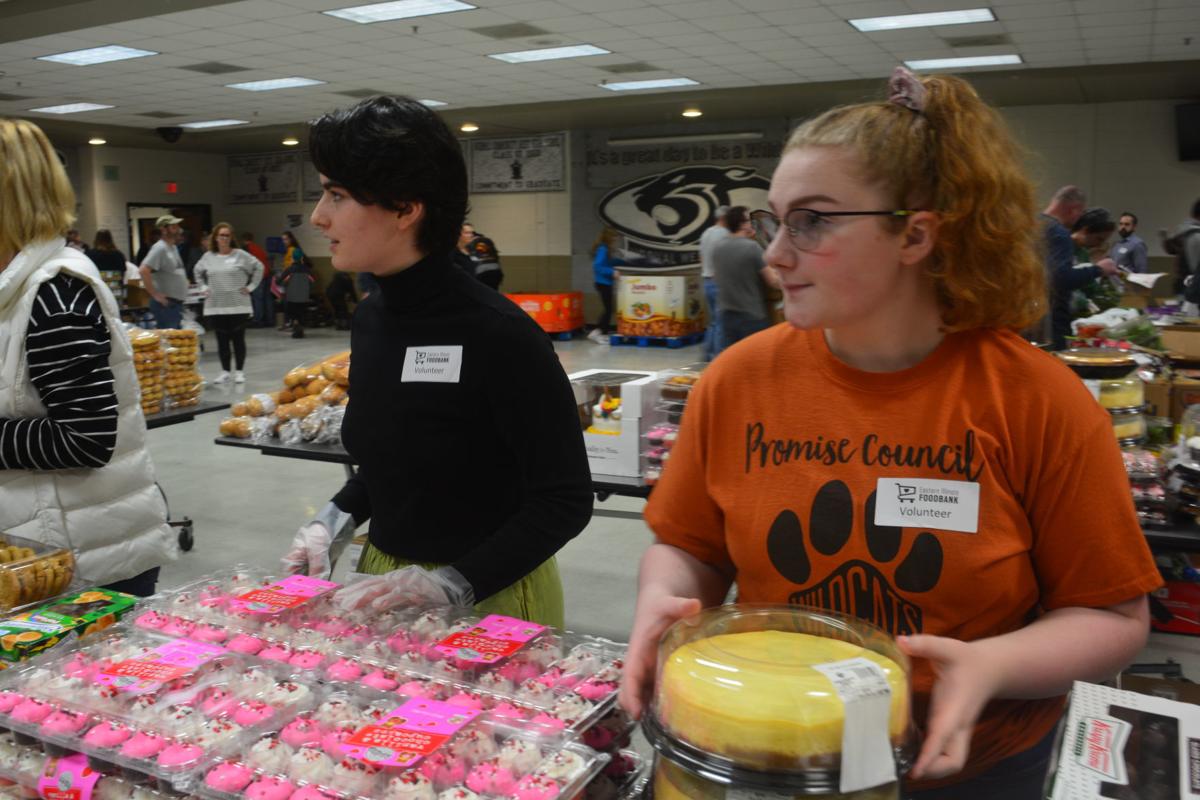 NORMAL — As with any event in which more than a handful of people are expected, there will be prep work to help deter the spread of the coronavirus.
Those discussions were held late last week, prior to the Eastern Illinois Foodbank's Foodmobile Saturday at Normal Community West High School, said event coordinator Dayna Brown, spokeswoman for Unit 5 schools.
"But we felt strongly that we needed to help our local families that needed it," she said.
About two years ago, Unit 5 partnered with Eastern Illinois Foodbank to help families in need in McLean County. Once per month, the foodmobile sets up tables at Normal West for the 90-minute giveaway of free food and grocery products to low-income families.
"It's a blessing," said Ed Dahm of Bloomington on Saturday. "I have a family that is going through some tough times and this is just a huge gift. It's much appreciated."
Brown said between 150 and 275 families, on average, show up at the event each month.
"That means about 1,000 people are being helped out and that is why it is so important to have this," she said. "What makes this unique is that people get to choose what they want."
"Volunteers will be frequently hand-washing throughout the distribution, surfaces will be frequently wiped down with sanitation wipes, and we will not be collecting signatures at these distributions," Foodbank announced on its website.
More than 100 volunteers assist each month, Brown said. On Saturday, they included Normal West seniors Jeannette Memmer and Amara Sheppard, both helping out on behalf of the school's Promise Council.
"I've done this a couple of times and enjoy it," said Memmer, the group's president. "It's a good feeling."
Sheppard said she has bigger ideas ahead.
"I am piloting a program for all of Unit 5 and part of my project is researching hunger information and looking for ways to fill in those gaps," she said. "It's been a great experience. I've done a lot of food banks now and I enjoy it and actually learn a lot through it."
More information about the program can be found through the Eastern Illinois Foodbank at 217-328-3663 or at www.eifoodbank.org.
Contact Kevin Barlow at (309) 820-3238. Follow him on Twitter: @pg_barlow
Get local news delivered to your inbox!
Subscribe to our Daily Headlines newsletter.