NORMAL — Reggie Redbird has competition for being the big bird on campus at Illinois State University.
A goose nicknamed Bruce has decided Hewett and Manchester residence halls needed some avian diversity. He and his mate apparently have opted for a penthouse view on top of Vrooman Center, which serves as the main entrance for Hewett and Manchester.
That's led to some conflicts between the geese and students who don't like being hissed at or chased as they enter or exit the building.
Not everyone is bothered by having a goose on the loose.
Jayhaba Diallo, a freshman in biology from Chicago, said she first saw the goose, hanging out in a grassy area, about a week ago.
"That is so cool," she said as Mrs. Bruce gazed down from the roof. Although male and female Canada geese look alike, the female spends most of the time by the nest.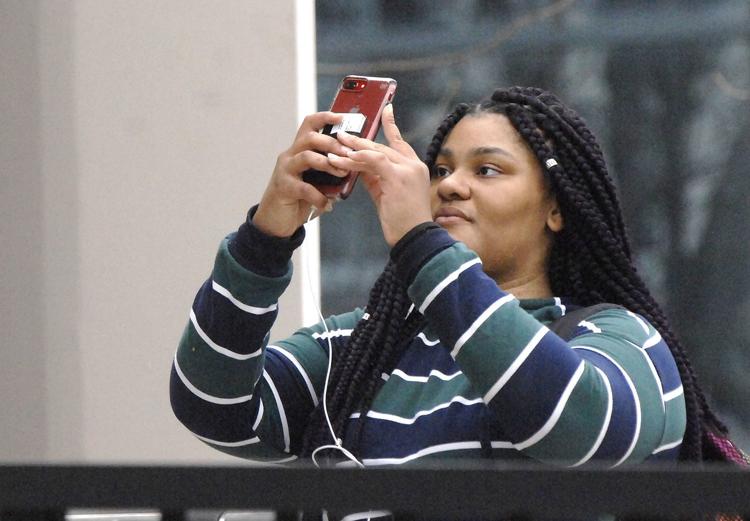 "That should be our new mascot," freshman Jaylyn Hanks, a biology major from Chicago, said as she took a picture. "He owns the place now."
She may be right about Bruce's ownership rights.
Canada geese are federally protected under the Migratory Bird Treaty Act. So there's little to be done but wait for the noisy new neighbors to hatch their goslings and move on.
Your own goose could be cooked if you disturb a nesting goose. If you witness someone killing or injuring a bird or disturbing a nest, you can report it to the U.S. Fish and Wildlife Service at fws_tips@fws.gov or call 1-844-FWS-TIPS.
As Bruce flew close from his patrol spot on the grass, causing a few people to instinctively duck, Diallo said, "He's mean"; but Hanks said, "He's just being protective."
University Housing Services put up signs advising students that "Bruce may hiss or try to peck at you if he thinks you're trying to get to his nest. … Please avoid the geese and use an alternate entrance if necessary."
The goosecapade has caused quite a stir on social media. Even the ISU police, who dispatched a couple of officers to check out the situation and talk to students, have gotten into the act.
"Just another day in campus policing where our duty is to Protect and Serve … both you and #BruceTheGoose," ISU police posted Thursday on Twitter.
And Bruce doesn't just honk; he tweets. Someone started a Twitter account: @brucethegoose6.
ISU Police Chief Aaron Woodruff said the geese are "giving the students something to think about as they near crunch time, a little break from their projects."
Woodruff said he doesn't recall having a goose problem before, although he once walked out of his office and found a turkey on top of a squad car.
"We had the fox. We've had turkeys. … The crows and the squirrels — they're the regulars," said Woodruff.
Jome called the nesting geese "an educational opportunity."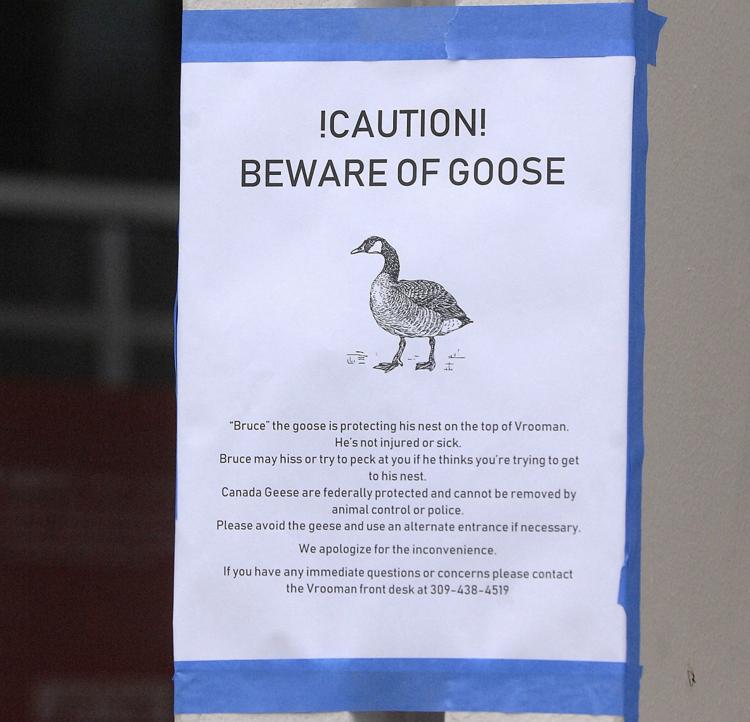 His biggest concern is how the goose parents will get the goslings to water when the time comes.
"It's not that they can't walk them some distance. I've read they'll go a mile. But I worry about the traffic around campus," said Capparella. "There are enough distracted drivers already."