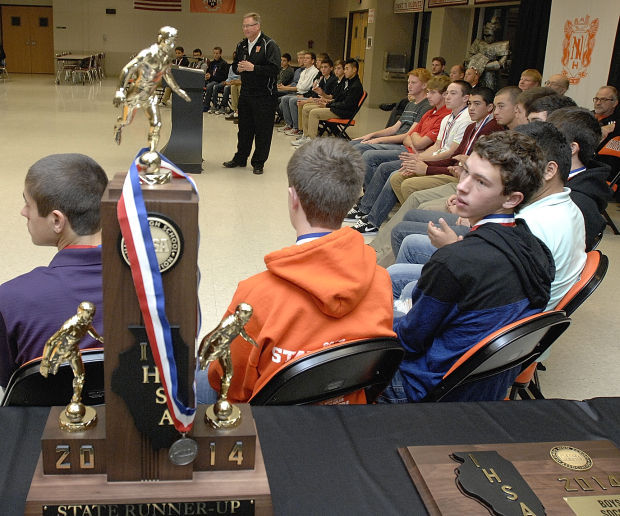 NORMAL — Josef Halcomb isn't a big talker. The Normal Community High School freshman midfielder had only three words during an early-season, post-game interview after scoring a game-winning goal:
While not necessarily in-depth, the phrase became sort of a motto for the team that finished as runner-up in Saturday night's Class 3A State boys soccer tournament championship match. During a special celebration at the school Sunday afternoon to honor the team's season, senior midfielder Ryan Woodside stepped to the podium with Halcomb by his side and asked his teammate to redo the interview, in its entirety. After Halcomb declined, Woodside did the honors.
"It was amazing," he said. "Those three words really sum up the season for me."
The Ironmen finished the season with a 23-1-2 record after losing to Hinsdale Central High School in the Illinois High School Association title game at Hoffman Estates.
NCHS Athletic Director Andy Turner called the 2014 Ironmen soccer team "special" and said he never had any doubt the team would be competing for its first state championship since the program was started in 1985.
"I have had experiences to be around a lot of good people and a lot of good teams," he said. "I love athletics and I can spot that team and knew that this team was going to make a run."
Larry Tamborini, the program's first coach, was among the 100 people who attended Sunday's celebration.
"I can't tell you how proud I am of a group of kids that I don't even know," he said. "Our first team did everything we asked and represented the school so well and in that regard, they set the bar high.
"Normal Community teams have always been competitive, but the way this team represented the school, was just outstanding and they set a new standard."
NCHS Principal Dave Bollmann helped start the program when he was hired as a junior high social studies teacher in 1984. In addition to teaching, the administration asked him to be the seventh-grade soccer coach even though he didn't have any experience.
That team finished 2-3, and the following year, the sport was added at the high school.
"Over the past few weeks, I have heard from alumni, former players, members of the community, neighbors, staff and just everybody you can imagine," he said. "They talk about Iron Pride, tradition, and they expect to win because we have leaders.
"It's an image that has been created by many during the school's history, but we are living it through this group of boys. They knew they were going to perform well.
"They were the best. They exemplify Unit 5 pride."
I'm so very proud of these guys and the way they conducted themselves the entire year," said head coach Brian Pelton. "Every step of the way, every great accomplishment, everything they have done, they have done as very humble soldiers.
"They have battled and done everything they have been asked to do, and conducted themselves professionally. It's been a truly great honor to be a part of this."
Senior midfielder Riley Hutchinson said the team was successful because they cared for each other.
"I love all of these guys," he said. "It's been a great season, but without these guys, we would have never done as well. I am proud of what we accomplished. We could have done better, but it was great."