"And, this summer, we saw wait lists at Safe Harbor (Salvation Army's homeless shelter), which is not typical," said Angie Bubon, Salvation Army director of development.
"I don't know (why) but we are not seeing a drop in the need locally," Bubon said.
Bubon, Majors Dan and Laura Leisher and Lt. Eddie Williams spoke with The Pantagraph following Friday's kickoff of The Salvation Army Make A Difference campaign that includes the Red Kettle campaign and donations by mail and online. About 50 people attended the kickoff at The Salvation Army, 611 W. Washington St., as the first measurable snow of the season fell outside.
"Need knows no season ... and we are here all year 'round, offering services as best we can," Williams said.
Services include Safe Harbor, the food pantry, case management to help people out of poverty, rent and utility assistance, veterans' services, church services, youth programs and Christmas food baskets and toys.
Dan Leisher announced a campaign goal of $520,000 — $220,000 from the Red Kettles and $300,000 through mail and online contributions.
Last year's campaign raised $529,045 — $217,713 from the Red Kettles and $311,331 from mail and online gifts.
Last Christmas, Salvation Army provided food baskets and toys for more than 600 families, Williams said. Throughout 2017, 500 men and women were sheltered at Safe Harbor, receiving 50,000 meals; 3,600 food pantry orders were provided; and more than 850 youth were served through summer camp, an after-school program and youth night.
Twenty-five Red Kettles are going up at 21 stores throughout Bloomington-Normal from 10 a.m. to 8 p.m. Monday through Saturday — with the exception of Thanksgiving Day — through Dec. 24.
McLean County residents can go to www.ringbells.org and click on "Bloomington" or call 309-829-9476, ext. 204, to sign up to be volunteer bell ringers.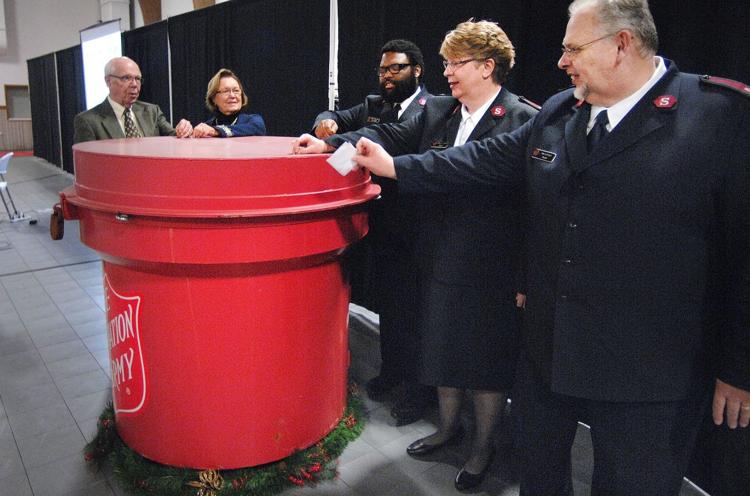 David and Trudy Strand of Bloomington are the campaign honorary co-chairs. Trudy Strand has volunteered at Safe Harbor for 16 years and was Salvation Army volunteer of the year in 2016. David Strand was Illinois State University president from 1995 to 1999.
"Individuals who are shelter clients have a multitude of problems, from physical to emotional, and some never overcome them," Trudy Strand said. "Some do. They need as much help as we can provide them."
David Strand said some people served by Salvation Army experience a health crisis that results in them losing their job and health insurance.
"These are people who are living ordinary lives when they encounter traumatic events and find themselves homeless or near-homeless," he said. "Thanks to the services of The Salvation Army, they get their lives stabilized."