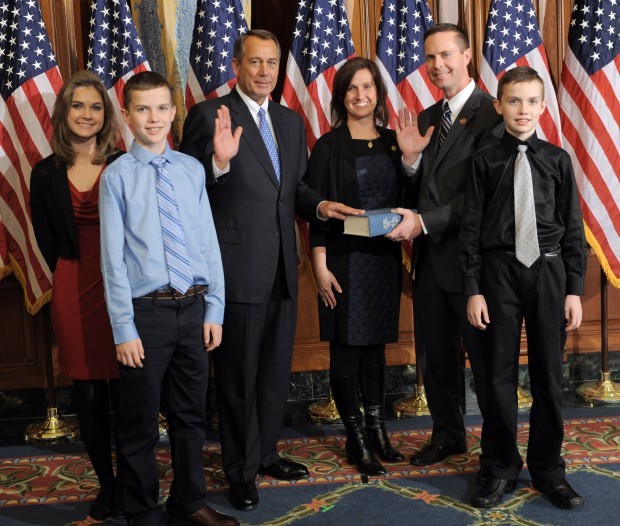 SPRINGFIELD — Central Illinois' newest representative in Washington, D.C., says he's hopeful the new Congress will look toward long-term solutions for the nation's pressing financial problems.
After the debacle of the "fiscal cliff" negotiations and a new set of deadlines looming in the months ahead, U.S. Rep. Rodney Davis said he's anxious to see what kind of legislation is floated in the coming days and weeks.
"I'm just sick of the artificial deadlines," Davis said Thursday. "That's not the way Washington should work."
Davis, a Republican from Tayorville, was officially sworn into the 113th Congress by House Speaker John Boehner, R-Ohio, on Thursday.
His formal entrance into the House of Representatives came two days before his 43rd birthday, which he plans to celebrate with family who gathered in the nation's capital for the inaugural festivities.
Davis won the seat by beating Democrat David Gill of Bloomington. The race was among the most expensive in the nation as the two parties poured campaign contributions into a series of nasty advertisements aimed at securing a majority in Congress.
Davis had been serving as an aide to U.S. Rep. John Shimkus of Collinsville when he jumped into the race after Republican Tim Johnson announced he was quitting his re-election bid after winning the GOP primary.
Even with his experience in Shimkus' office, Davis said he is still getting lost in the hallways around the Capitol.
"I still don't know my way around here as much as I should," Davis said.
As congressman, Davis wants to lower taxes, decrease business regulations and cut federal spending.
He also pledged to vote against future increases in the debt ceiling unless there are "significant, credible spending reforms" included in the legislation.
The 13th Congressional District includes all or parts of Decatur, Bloomington-Normal, Champaign, Springfield and Collinsville.
Get local news delivered to your inbox!
Subscribe to our Daily Headlines newsletter.