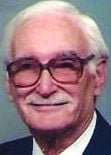 MINIER — Clark Russell Waldmier, 92, of Decatur, formerly of Minier, died Thursday (Dec. 19, 2013) at Imboden Creek Living Center, Decatur.
His funeral will be at 10 a.m. Friday at Brintlinger and Earl Funeral Home, Decatur. Visitation will be from 5 to 8 p.m. Thursday at the funeral home. Burial will be at 2 p.m. Friday at Gaines Cemetery, Mackinaw.
Memorials may be made to Central Christian Church or Music Department of Illinois State University.
Clark was born March 12, 1921, in rural Minier. He was the only child of William Lee and Gladys Beatrice Clark Waldmier. He attended Appenzeller Rural School, graduated from Minier Community High School in 1938, and Illinois State-Normal University with a Bachelor of Education in 1942, with further studies at ISNU in 1946-1947.
He served our country in World War II, joining the Army Air Corps from 1943 to 1947, and earned the rank of first lieutenant as a pilot flying B-24 Liberators.
Mr. Waldmier taught at El Paso and Chenoa before the war. After World War II, he taught music and band in Cerro Gordo. During his 30 years of teaching there, he conducted the Cerro Gordo Junior High and High School bands, which were well known for their size and musicianship. Several of his students went onto music school as educators or performers. He retired in 1976.
Mr. Waldmier was director of personnel for School Band of America from 1965 to 1973. He and his wife, Mary, chaperoned many of SBOA trips to Europe and in the U.S. They then directed their own tour groups and were able to travel to many countries in Europe, Australia, New Zealand, Fiji and Hawaii. Their touring led them to many lifelong friends who they still talk to often from The Netherlands, Czech Republic and Switzerland.
Mr. Waldmier was an active musician, playing in dance bands and small groups. Music was his passion and he successfully played most instruments. He was a member of Automatic Music Box Society and had a large collection of music machines.
Mr. Waldmier volunteered at St. Mary's Hospital in Decatur for 18 years. He was a Mason; a member of Comet Lodge 641, Minier; Valley of Bloomington, Scottish Rite; and Ansar Temple, Springfield.
He was a lifelong member of the Disciples of Christ Church. He became a member in the early '30s and finally affiliated with the Central Christian Church of Decatur.
Mr. Waldmier was preceded in death by his parents; his only child, Janina Rae Waldmier Helm in 1968; and his son-in-law, Walter L. Helm in 2012.
He married Mary Margaret Morgan of Bement on Aug. 10, 1944, in the Air Force Base Chapel in San Marcos, Texas. They celebrated 69 anniversaries together.
He is survived by his granddaughter, Alisa Helm Ridgeway and husband Donnie; stepgranddaughters, Amanda (Derek) Wright, Plainfield, and Sarah Helm, Crest Hill; great-grandchildren, Christopher Ridgeway and wife Amber, and Rachael Ridgeway, all of Decatur; and stepgreat-grandchildren, Avery, Lily and Delaney Wright, all of Plainfield.
He also lived to see three great-great-grandchildren, Dillon Ryan and Christian Ryan Ridgeway, both of Decatur, and Aynslee Rae Ridgeway, Cerro Gordo.