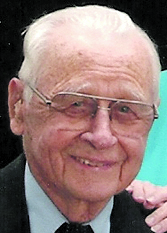 LeROY — Donald J. "Don" Miller, 87, LeRoy, passed away at 4:27 p.m. Sunday (Aug. 19, 2012) at his home in LeRoy.
His funeral service will be at noon Thursday at the LeRoy First United Methodist Church, LeRoy. The Rev. Mary Louise Haxton will officiate. Burial will be in Oak Grove Cemetery, LeRoy, with military rites accorded. Visitation will be from 10 a.m. to noon Thursday at the church.
Calvert-Belangee-Bruce Funeral Home, LeRoy, is in charge of arrangements.
Memorial contributions may be made to the LeRoy Emergency Ambulance Service or the LeRoy First United Methodist Church, LeRoy.
Don was born on Sept. 1, 1924, in Eldon, Mo., to Clyde D. and Carrie Oneal Miller. He married Marilyn J. McConkey on June 10, 1950, in Farmer City.
Survivors include his wife of 62 years, Marilyn J. Miller, LeRoy; three children, Kathy (Robert) Mathewson, LeRoy; Michael (Laura) Miller, LeRoy; and Patricia (Peter) Kale, Urbana; nine grandchildren, Rebecca Donahue, Cibolo, Texas; Andrew Horonzy, LeRoy; Angela (Josh) Diehl, Chillicothe; Sarah (Jake) Grainger, LeRoy; Laura (Dan) Vollmer, Normal; Kristin (Eric) Maul, Naperville; Patrick (Stefanie) Mathewson, Normal; Chris Moreland, Normal; and Nick Moreland, Normal; and 15 great-grandchildren. Also surviving are six siblings, Lucille Epperson, Bloomington; Paul (Jeannine) Miller, Collinsville; Dollie Schramm, Scottsdale, Ariz.; Marie (Jack) Gassaway, LeRoy; Dorothy Scott, Bloomington; and Linda Cowan, LeRoy.
He was preceded in death by his parents, one sister, two brothers and one great-grandchild.
Don was a World War II Army veteran and served with the occupation army in Germany.
He was a member of the Farmer City Masonic Lodge for 64 years, the McLean County Farm Bureau, the Ruel Neal American Legion Post 79, LeRoy, and the LeRoy First United Methodist Church.
Don farmed in the LeRoy area for over 50 years before retiring to LeRoy, however he loved farming so much that he continued to help on the family farm for many more years.
His favorite sports teams were the St. Louis Cardinals and the Fighting Illini. He was a great husband, father, grandfather and great-grandfather and will be sorely missed by all his family and friends.