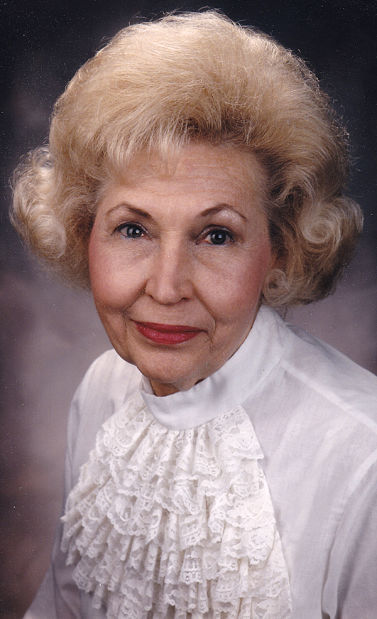 SAVOY — Doris Jeanne Smith Strange, 88, Savoy, died suddenly of a stroke on Friday (Dec. 13, 2013) in Bloomington.
Doris was born in December 1924 at her family's farm near White City, Kan. She was the second of three daughters of Henry Elliott and Lenore Schild Smith.
As a child, Doris lived at White City and Wilsey, Kan. The family moved to Council Grove, Kan., in 1936, where her father later became the popular and multi-term Morris County sheriff. She graduated from Council Grove High School in 1942 and was the salutatorian. Doris played the flute in the high school band; she also played the piano and the violin. She studied the business curriculum in high school and particularly admired her teacher, Principal Una Funk. Doris served as Mrs. Funk's secretary following graduation, then worked at the Morris County treasurer's office.
Doris met her future husband, then Lt. Russell Paddock Strange of Madison, in the fall of 1943 while she worked as a payroll clerk at Herington Army Air Field. They were married Dec. 29, 1943, at the base chapel. Doris worked in several civil service positions as she accompanied her husband to many duty stations during his 23-year career in the Air Force. She invested her earnings in silver and china, which she used to host elegant dinner parties and formal afternoon teas as a career officer's wife, doing all the planning and chef-level cooking as well. Doris donated her silver and china collection to Illinois State University, where it is in use at the president's official residence. She also served as her husband's study partner and typist while he completed three college degrees in night school.
Doris and Rus lived in Georgia, Alabama, Hawaii, the Washington, D.C. metro area and Japan, before Rus' final duty station as professor of aerospace studies and head of the Air Force ROTC detachment at the University of Illinois at Urbana-Champaign. The couple's only child, Priscilla, was born in 1955, while Rus was teaching at the U.S. Naval Academy in Annapolis, Md. After his death in October 1966, Doris held several different office jobs and served as secretary for the Champaign Unit 4 PTA board for many years.
In 1972, Doris moved to Wichita, Kan.; she returned to the Champaign area in 1982, settling in Savoy. Doris then studied real estate, earning a GRI (Graduate, Real Estate Institute) designation. Her greatest disappointment was not being able to attend college.
Her leisure interests were reading Barron's and the Wall Street Journal, and attending classical music concerts.
Doris was predeceased by her husband, Col. Russell Paddock Strange; her older sister, Verta (Smith) Prather, Council Grove, Kan.; and her son-in-law, Darrell L. Matthews, Bloomington.
She is survived by her daughter, Priscilla Jeanne Strange Matthews, Bloomington; her younger sister, Lola Lenore (Smith) Costa, Council Grove, Kan.; her niece, Shareen (Prather) Johnson, also of Council Grove; and Shareen's children and grandchildren.
A memorial service will be at 2 p.m. Saturday at Christ Lutheran Church, 311 N. Hershey, Normal. The officiating pastor will be Jonathan Huehn. Visitation will be at 1 p.m. Saturday in the church's conversation area, and light refreshments in the parish hall will follow the service. Doris' ashes will be interred at a later date in her husband's grave at Camp Butler National Cemetery, Springfield.
Arrangements are being handled by Calvert and Metzler Memorial Home, Bloomington.
No flowers by request. Memorials may be sent to the Doris J. Strange Memorial Endowed Business Scholarship, c/o Illinois State University Foundation, Campus Box 8000, Normal, IL 61790-8000.