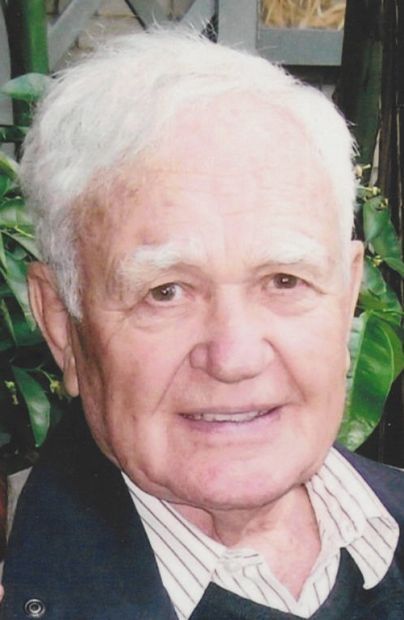 PONTIAC -- Francis "Frank" Richard Trainor, 89, Pontiac, died peacefully at his home at 9:30 p.m. Monday (Feb. 3, 2014).
His funeral will be at 10:30 a.m. Saturday at Duffy-Baier-Snedecor Funeral Home in Pontiac with the Rev. David Sabel officiating. Burial will be at St. Mary's Catholic Cemetery, Pontiac. A visitation will be from 4 to 7 p.m. Friday at the funeral home.
Memorials in Frank's name may be made to OSF Hospice or the Pontiac Library.
Frank was born Sept. 12, 1924, in Blackstone, a son of Sidney and Mabel Corrigan Trainor. He married Margie Troy on June 21, 1958, in St. Mary's Church in Pontiac. She survives in Pontiac.
Frank is also survived by two daughters and sons-in-law, Annette and Jim Burns, Scottsdale, Ariz., and Beth and Mark Van Dop, Litchfield Park, Ariz.; and four granddaughters, Bridget Burns, Colleen Burns, Molly Van Dop and Maggie Van Dop.
Also surviving are three brothers, Emmett and Phillip, both of Pontiac; and Richard, Reston, Va.; one sister, Kathleen Jonen, Streator; and numerous special nephews, nieces and honorary family members.
Frank was preceded in death by his parents and four brothers, Joseph, Vincent, Larry and William Trainor.
Frank graduated from Cornell High School and attended the University of Illinois. Frank and his brother, Larry, were longtime partners in farming and raising livestock. The brothers opened the Pontiac Livestock Sale Barn on Feb. 2, 1953, which operated for more than 45 years until their last sale on Dec. 21, 1998. The brothers also owned and operated the Clinton Livestock Sale Barn with their brother, Emmett, for 17 years until 1980. Frank was active in real estate development in Pontiac. Much of the growth along Route 116, including the Walmart center and the expansion of Countryside Estates, was on land that he developed.
Frank was the definition of down-to-earth. He was an avid horseman, owning and racing thoroughbreds for many years. He was a long-time collector of books, catalogs and other collectibles reflecting his interest in livestock, Livingston County history, horses and farming.
He dearly loved his granddaughters.
Frank will be sorely missed by all who knew him.
Frank's family would like to give special thanks to the caring staff of OSF Hospice who provided so much support and care during the last few months of his life.