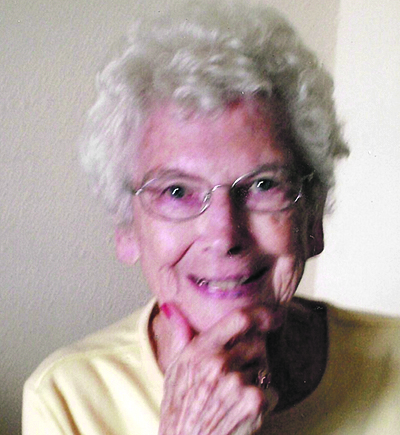 WASHBURN — Georgia Ann Pelz, 94, Washburn, died Wednesday (Sept. 5, 2012) 9:55 a.m. at Snyder Village, Metamora.
Visitation will be from 5 to 7 p.m. today at Calvert & Johnson Memorial Home, Washburn.
Her funeral will be at 10 a.m. Saturday at St. John's Lutheran Church, Washburn. The Rev. Bryan Hopfensperger will officiate. A second visitation will be one hour prior to services Saturday at the church. Burial will follow at Linn-Mount Vernon Cemetery, Washburn.
Memorials may be made to St. John's Lutheran Church, Washburn; The Pelz Scholarship fund; the Community Foundation of Decatur/Macon County; or to Camp Lin Haven, Linville, N.C., a vacation spot for the Pelz family for many years.
Georgia Ann was born July 6, 1918, in Washburn, daughter of George A. and Josephine (Bumeter) Fitschen. She married Curtis R. Pelz on May 29, 1941, at St. John's Lutheran Church, Washburn, where they celebrated their 70th anniversary in 2011. Curt preceded her in death Dec. 28, 2011. Also preceding her in death were her parents and one brother, Loel Fitschen.
Surviving are one daughter, Joyce Gray, Arden, N.C.; two sons, Jerome (Carol) Pelz, Decatur, and Joel (Wanda) Pelz, Chicago; eight grandchildren, Allison (David Maurer) Gray, Lincoln (Beth) Gray, Sarah (Michael) Schafer, Kathryn (Jason) Jenkins, Chris (Katie) Pelz, Leah Pelz, Lauren Rodriguez and Isabella Pelz; five great-grandchildren, Georgia, Lucy and Mitchell Gray, and Tyler and Owen Jenkins; and three sisters-in-law, Betty Fitschen and Doris Pelz, both of Washburn, and Nancee McClanahan, Toluca.
She was lifelong member of St. John's Lutheran Church, Washburn, where she held many positions of service. She was a member of the Ladies Aid, the LWML and was a Sunday school teacher for many years. Georgia Ann was the salutatorian of the 1936 graduating class of Washburn Township High School.
After graduation, she was employed at Block & Kuhl's in Peoria as a bookkeeper. Later, she served as village clerk for Washburn.
She loved her community and was an ardent supporter of local organizations and business.
Among her enjoyments in life were books, and later in life, books on tape. She enjoyed playing cards and being in various card clubs. Georgia Ann and Curt loved traveling to many family events and visiting their children.
She will be remembered for her love of writing, including her weekly article, The Washburn Whimsy, to the Washburn Leader, and being the local correspondent to regional newspapers. She also kept journals for many years of daily life.
Georgia Ann was an accomplished home canner, her dill pickles being a family favorite.
People often sought her knowledge of local history. She was the "unofficial town historian" of Washburn. She was honored as the grand marshal of the Washburn Fall Festival parade.
Her family would like to thank all of the caregivers who provided her wonderful care and compassion during her last years.