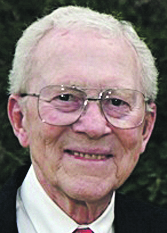 BLOOMINGTON — Harry Meredith Petrie, 87, Phoenix, Ariz., formerly of Bloomington, died peacefully Aug. 4, 2012. He was in hospice care in Phoenix, Ariz., after a long struggle with cancer.
A small family memorial service will be held in Vail, Colo., and his remains interred in South Bend, Ind. Donations in his name may be made to the United Way of McLean County, www.uwaymc.org.
"Pete," as he was known to his family and friends, was born June 27, 1925, in Celina, Ohio. After graduating from Celina High School, he enlisted in the U.S. Navy and served in the Pacific as a radioman on the submarine USS Cavalla. After distinguished service, he received a bachelor's degree from Miami University in Ohio and a master of business administration at the University of Michigan. His career in finance and banking finished in his "best job ever" as president of Corn Belt Bank in Bloomington. There, this Celina farm boy enjoyed personally knowing and working closely with his customers in the rich farmland of Central Illinois. His civic activities included membership on the board of United Way. He was a longtime member of Bloomington Country Club where he played some "pretty good rounds of golf."
After retirement and a move to Phoenix, he often hosted friends from Bloomington for rounds on Talking Stick Golf Club, enjoying conversation and shared memories as much as a good score. He will be remembered for his ever-positive attitude toward life, a life well-lived.
He was preceded in death by his first wife, Mary Kathryn Petrie.
He is survived by his children, Kent Petrie, Vail, Colo., and Kay Thomas, Westminster, Colo.; his wife, Micheline Petrie, Phoenix; as well as his greatest pride and joy, four grandchildren and three great-grandchildren.