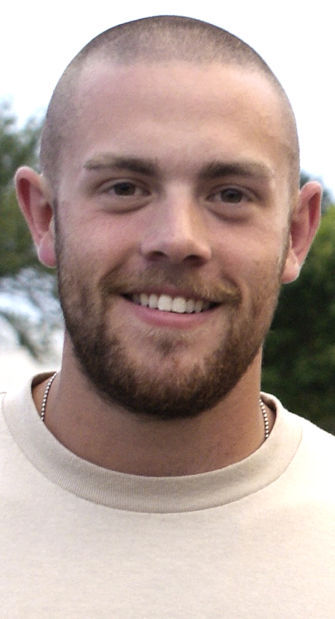 MORTON — Jacob Andrew Garber, 20, Morton, was pronounced dead at 6:03 a.m. Sunday (Nov. 17, 2013) as a result of injuries sustained in a two-vehicle accident at College Avenue and Mitsubishi Motorway in Normal.
He was born Dec. 12, 1992, in Peoria, the son of Doug and Kay Sanders Garber.
Surviving are his parents of Morton; his brother and sister-in-law, Adam and Hadassah Hawkins Garber, Normal; little sister, Rebekah, who resides at home; and his grandparents, Jim and Beverly Sanders, Morton, and Robert and Dorothy Garber, Goodfield. Also surviving are many wonderful aunts, uncles, cousins and friends who he held close, especially Logan, Andrew, Caleb, Adam and Andrea.
Jacob loved music from a young age and was determined to become an exceptional percussionist at the age of 7. He earned his amateur license at the age of 12 and made many friends with Ham radio.
Besides music, he enjoyed playing Morton JFL football, running track in junior high and high school and wrestling. Jacob attended Morton Community High School and graduated in 2011. He led the Morton High School drum line as captain for three of his four years in marching band. Jacob auditioned and was recognized as the section leader of the snare line for the Bands of American Honors Band which marched in the 2009 Rose Bowl Parade. He later received the honor of participation with the Morton High School Marching Band in the 2009 inauguration of President Barack Obama. He currently assisted as an instructor for the Dunlap High School drum line.
Jacob felt led to follow his brother's footsteps and serve his country. He joined the Army National Guard and attended boot camp in the fall of 2011. He graduated from Fort Sill, Okla., in October and acquired his 13 Foxtrot MOS as a forward observer. He served with the Headquarters and Headquarters Troop, 2nd Squadron 106th Cavalry, in Kewanee. Jacob was recently promoted to the rank of specialist and in June 2013, he received his Silver Spurs by completing the "Spur-Ride Exercise." Jacob and 20 others completed the exercise out of 400 participants.
You have free articles remaining.
Jacob was completing his third semester as a criminal justice major at Illinois State University. His sights were set to be accepted one day into the Illinois State Police.
Jacob conducted himself humbly and was always encouraged to practice and perform his skills with precision in order to demonstrate his abilities rather than brag. He did so admirably.
The family encourages friends and family to join them in celebrating the life of their wonderful son rather than grieve his loss. He loved life and that is how he should be remembered.
Visitation will be from 4 to 8 p.m. Friday at Grace Church, Morton. Further visitation will be from 9 to 9:45 a.m. Saturday, followed by his service at 10 a.m. at Rock Church, 1081 Upper Spring Bay Road, East Peoria, with the Rev. Chuck Tate officiating. Burial will be at Stewart-Harmony Cemetery, Metamora, where military rites will be conducted by his Army National Guard unit.
Knapp-Johnson Funeral Home and Cremation Center, Morton, is handling arrangements.
In lieu of flowers, the family asks that memorials be made in Jacob's name to Morton Community Foundation for the Morton High School Marching Band Endowment Fund.