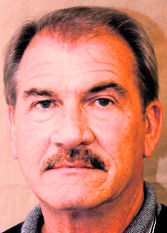 PONTIAC — James R. "Rusty" Allen, 60, of Pontiac, formerly of El Paso. passed away at 1:39 a.m. Thursday (Nov. 7, 2013) at the OSF Richard L. Owens Hospice Home, Peoria, after a courageous battle with cancer.
His funeral will be at 11 a.m. Monday at First Lutheran Church, Pontiac. The Rev. Heidi Punt and the Rev. Mark Knappe will officiate. Burial will be in Southside Cemetery, Pontiac. Visitation will be from 3 to 7 p.m. Sunday at First Lutheran Church, Pontiac. Ruestman-Harris Funeral Home, El Paso, is assisting the family with arrangements.
Rusty was born Aug. 1, 1953, in Austin, Texas, a son of Larry B. and Annabelle Webb Johnson Allen. He and his parents moved to Chenoa and later El Paso. He married Maribeth O'Connell in Pontiac. She survives.
Other survivors include his daughter, Kelly (Ed) Faulk, and his son, Jacon Allen, both of El Paso; stepchildren, Melanie Brinkman, Pontiac; Blake (Shelly) Brinkman, Pontiac; Noah Brinkman, Garden City, Kan.; and Taylor (Stephanie) Brinkman, Silverdale, Wash.; grandchildren, Kayla, Ethan, Athena, Skyler, Kailey, Keegan, Adilyn, and Rosemary; and a sister, Peggy (Charlie) Straight, Beardstown, Wis.
You have free articles remaining.
He was preceded in death by his parents.
Rusty worked for the Illinois Department of Corrections at Pontiac prison until his retirement in 2003. Rusty was a dedicated member of the El Paso Rescue Squad with more than 35 years of service. He was employed by the Danville Area Community College following his retirement as a CPR instructor.
Rusty was a lifelong fan of dirt track racing and began helping Jack Tyne of Streator in the 1970s. He continued helping Jack for many years until he bought and raced his own car. He raced many tracks in Illinois his favorite being Fairbury American Legion Speedway, where he won the six-cylinder track championship in 1988. Rusty quit racing in 1991, then worked at Fairbury Speedway as an official and eventually became track promoter. Under his leadership Fairbury American Legion Speedway received UMP Track of the Year for two consecutive years.
In lieu of flowers, memorials contributions may be directed to First Lutheran Church, Pontiac; or OSF Richard L. Owens Hospice Home, Peoria.
To plant a tree in memory of James Allen as a living tribute, please visit Tribute Store.