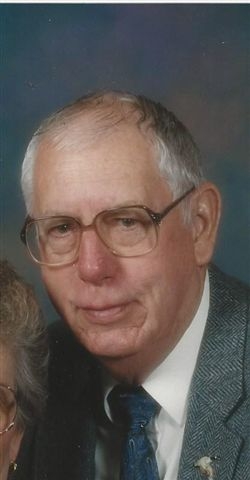 DWIGHT - John V. Clement, 85, Dwight, passed away early Tuesday morning (Feb. 11, 2014) at Advocate BroMenn Medical Center, Normal. 
Visitation will be from 5 to 7 p.m. Thursday at Hager Memorial Home, Dwight. His funeral will be at 11 a.m. Friday at First Congregational Church of Dwight. The Rev. Connie Williams Moody will officiate. Cremation rites will be accorded following the service. A private inurnment will be at a later date.
The family suggests memorials be made to the Windmill Preservation Fund or Dwight Historical Society.
John was born Aug. 24, 1928, in Hyattsville, Md., to George and Anna Sellers Clement. He married Marilyn J. Fletcher on Sept. 17, 1950, in Joliet. She passed away in May 2006.
John is survived by two daughters, Barbara (Brad) Wilkinson, and Diane (Alex) McWilliams, both of Dwight; two sons, Kurt (Sue) Clement, Nixa, Mo., and John (Deb) Clement, Carlock; a half brother, Thomas (Kay) Wilson, Normal; six grandchildren, Jessica Von Rohr; Nathan, Jonathan and Kathelynn Clement; Masha and Anya Wilkinson; and special friend, Martha Hargan, and her daughters.
John worked as a decorator, a contractor and a supervisor at DuPont for 12 years before retirement. John was a member of the First Congregational Church and the Dwight Historical Society, and headed up the restoration of the Dwight Windmill. He enjoyed fishing, gardening, woodworking, traveling and dining out. John was a local decorator, and housing contractor, and served in World War II as U.S. Army police.
He was a devoted husband, father and grandfather.