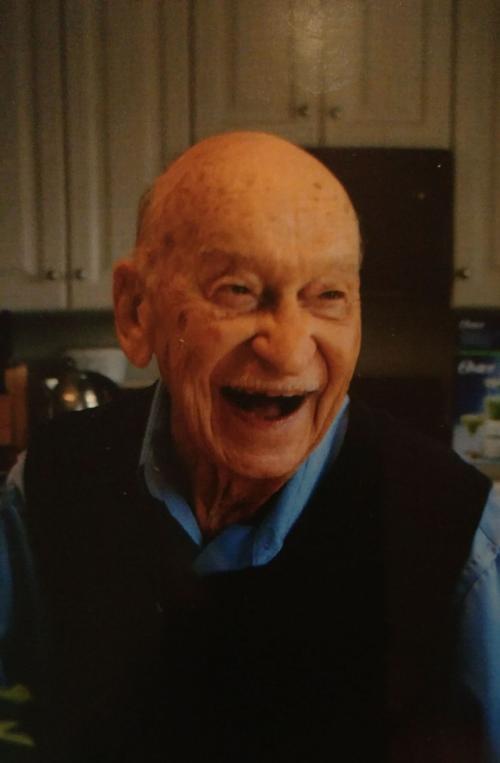 There will be a memorial gathering to commemorate John Joseph McGrosso at 4 p.m. Oct. 21 in Westbrook Auditorium on the Illinois Wesleyan University campus. John McGrosso passed away Feb. 3, 2017, at the age of 101, at his home, surrounded by loved ones.
A faculty member at Illinois Wesleyan University for over 25 years, he taught the clarinet and saxophone and also directed the University Concert Band, through which he influenced hundreds of students who went on to become professional performers and music educators. He performed solo and chamber music concerts with his IWU colleagues, and played the clarinet as a member of the Bloomington-Normal Symphony Orchestra. A passionate amateur cellist, he also performed in that capacity with the Peoria Symphony Orchestra for many years.
Originally from Hornell, N.Y., John McGrosso supported himself by working his way through the Eastman School of Music in Rochester. He became a band leader in the U.S. Army, and was among the first Americans to arrive in England in 1940. After the war, he earned his master of music education degree from Northwestern University and also studied the clarinet at the Paris Conservatoire. He taught at the University of Texas at Austin before joining the faculty of Illinois Wesleyan University in 1960.
A thoughtful, dedicated, and caring teacher, he had a great impact on his Wesleyan students, many of whom stayed close with him over the years. He and his wife, pianist Anna McGrosso (1923-2006), became well known as classical music educators and performers in the region since moving to Bloomington in 1960. He is survived by his son, John McGrosso, who lives in St. Louis, and his stepson, David Jackson, who lives in Connecticut.
The structure of the memorial gathering will allow people to share reminiscences. If you can attend Oct. 21 and would like to speak, there will be an opportunity. If you have any questions about the event, please write jmcgrosso@gmail.com.
Obituaries Newsletter
Sign up to get the most recent local obituaries delivered to your inbox.