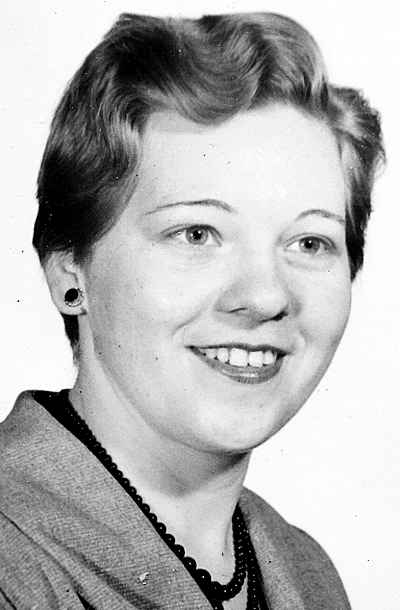 SAYBROOK — At 1:35 p.m. Nov. 13, 2013, at Asta Care Center, Colfax, Joyce Maxine Schertz, 78, surrounded by members of her extended family, was transported to heaven to be with her Lord. Formerly from Saybrook and South Bend, Ind., where she spent most of her life, she had moved to Saybrook in July, where she spent these last few months.
A memorial service will be at 11 a.m. Saturday at East Bend Mennonite Church, Fisher. The Rev. Michael Dean will officiate. Visitation will be from 10 to 11 a.m. at the church. Inurnment will be at East Bend Mennonite Cemetery, Fisher.
A separate memorial service will be at 4 p.m. Dec. 1 at Kern Road Mennonite Church, South Bend, Ind. The Revs. Dave and Janice Sutter will officiate.
Memorials may be made to the Mennonite Board of Missions.
You have free articles remaining.
Born Jan. 9, 1935, in Saybrook, Joyce was the daughter of Harold King and Edna Phoebe Birkey Schertz, both now deceased. Joyce was preceded in death by her older sister, Roberta Schertz Graber, and is survived by her older brother, Ray (Shirley) Schertz, Saybrook, and her brother-in-law, Dr. Harry Graber, West Liberty, Ohio.
She will be missed by her family, whom she dearly loved, including many nieces and nephews, Mike (Jeanine), Gene, Kevin (Karen), Steve Schertz and Tara Lynn Schertz Kirkpatrick; Cheryl (Ken) Graber Shank, Rhonda (Myron) Graber Blosser, Rodney Graber and Charles Graber. She also leaves behind many great-nieces and -nephews, who affectionately knew her as "Auntie."
Joyce was a lifelong learner, an independent adventurer sparked by curiosity. She loved other cultures, traveling to more than 25 countries and setting foot on every continent! She collected spoons and tea cups from these travels and was constantly ready to learn new crafts. Her inquisitiveness also led her to a variety of careers and hobbies. She did Mennonite Voluntary Service in California, Michigan, Indiana and New Mexico; directed Books Abroad in Goshen, Ind.; worked with clown ministry; wrote Sunday school curriculum; wrote Dictionary of Dream Symbols in 1986; taught elementary special education; earned an advanced master gardener degree and maintained a personal garden up until her death. She even took flying lessons and classes for massage! Her insatiable curiosity was an inspiration to her family, and her willingness to share her stories resulted in many friendships.
Joyce is now in heaven, free of pain and likely swapping stories with the Master Storyteller himself.