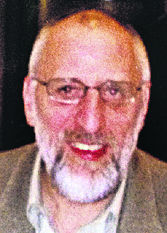 BLOOMINGTON — Martin J. Capodice, 71, passed away Oct. 31, 2013, in his home in Concord, N.H.
Marty was the quintessential husband, father and brother. He was born Aug. 1, 1942, in Bloomington, to Wilma Austin and Nicholas J. Capodice.
He is survived by his wife, Arnie Arnesen; his children, Nick (Brenna Farrell) and Cami; his sisters, Mary Ann Fulton and Cathy (Bill) Klettke; his nieces, Wendy (Ryan) Young, Angie Fulton and Michelle Klettke; and his stepdaughters, Melissa Arnesen-Trunzo and Kirsten Arenesen-Trunzo. He was expecting his first grandchild, Martin Henry Capodice, in December.
He was preceded in death by his parents; his brother, Nicky Joe; and sister, Cama Jane.
You have free articles remaining.
Marty graduated from Holy Trinity High School and Illinois Wesleyan University, where he was a member of Phi Gamma Delta fraternity.
He was co-owner of M. Capodice and Sons Wholesale Foods and worked for the state of New Hampshire until his retirement.
Marty was never embarrassed to declare his love of life. We all know not a day will go by that we don't think of him and try to take a page, or four, or eight out of his book.
A memorial service will be held in Bloomington in December. A celebration of life will be Jan. 12, 2014, in Concord, N.H.
Cremation rites have been accorded by Phaneus Funeral Home and Crematory, Manchester, N.H.
Memorial contributions may be made to The Capitol Center for the Arts in Concord, the N.H. Civil Liberties Union and WNHN FM.org.
To plant a tree in memory of Martin Capodice as a living tribute, please visit Tribute Store.