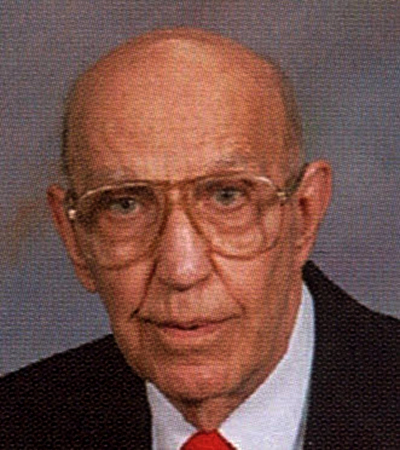 NORMAL — Pasquale "Pat" Leonard DeRosa, Normal, died at 4:45 p.m. Wednesday (March 13, 2013) at OSF St. Joseph Medical Center, Bloomington, after a short illness.
Visitation will be from 3 to 6 p.m. Sunday at Carmody-Flynn Williamsburg Funeral Home, Bloomington. His funeral will be at at 10 a.m. Monday at Epiphany Church, Normal, with Monsignor Eric Powell officiating. Burial will be in Holy Cross Cemetery, Normal.
In lieu of flowers, memorials may be made to Clare House,  703 E Washington St., Bloomington, IL 61701 or American Foundation for the Blind, 2 Penn Plaza, Suite 1102, New York, NY 10121.
Pat was born Dec. 22, 1923, in Bridgeport, Conn., the son of Luigina (Louise) Morelli DeRosa and Leonard DeRosa. He married Margaret "Peggy" Virginia King on April 19, 1948, in Beaver Falls, Pa. Peggy died Dec. 25, 2002.
Survivors include one daughter, Julia Ann DeRosa; three sons, Anthony Morelli DeRosa (Linda), Stephen Pasquale DeRosa and Joseph Amahl DeRosa (Cheryl); four sisters, Viola DeRosa, Louise Gray, Gloria Georgette (John) and Sister Marie Baptiste, OSB; one brother, Leonard DeRosa; six grandchildren, Benjamin Patrick Williams (Sara Moore), Luke Leslie Williams (Kim), Garrett DeRosa Enochs, Patrick Anthony DeRosa (Elizabeth French) , Dominique Adelle DeRosa and Danielle Viola DeRosa; two great-grandchildren, Jacob Morelli Williams and Audrey Louise Williams; his son-in-law, Leslie DeMent Williams (Keri); six nieces, Colette Gray (Howie Margolies), Debbie Gray (Tom O'Donnell), Laura Georgette Dautel (Eric), Mary Georgette, Jeanette King Green (Tony), and Sandra King Lanigan (Rich); three nephews, John Georgette, James Georgette, David Georgette (Barbara); and many great-nieces and great-nephews. He was preceded in death by his parents, his daughter, Louise (DeRosa) Williams; his niece, Bonnie Gray; and a sister, Antonette, who died in infancy.
From a young age, Pat, with an IQ of 150, was quite precocious. He began kindergarten before the age of 5 and, by the middle of the school year, was promoted to first grade, and then from third grade to fifth grade. He graduated from Warren Harding High, Bridgeport, as salutatorian by age 15, and was awarded the Hippolitus prize and the Father's Club Scholarship.
In December 1942, two weeks after the attack on Pearl Harbor and a week before his 19th birthday, Pat graduated second in his class from Yale University, where he was elected to Phi Beta Kappa and declared "a student of the First Water," with a double major of economics and international affairs, earning a bachelor of arts in international relations. He was on a full tuition scholarship and worked two jobs at Yale: a waiter in the cafeteria and a typesetter in the Chinese Printing Office. He received several scholarships along his educational path: the Sterling Memorial, the Lucius Hotchkiss and the first Mackey Scholarship Fund.
After the war, Pat attended Carnegie Institute of Technology in Pittsburgh, Pa., earning a bachelor of science degree in printing management in 1948 and in 1950 was recruited by his fellow Carnegie Tech alumnus, Fred Dolan, to be assistant plant superintendent at The Pantagraph Printing & Stationery Co., Bloomington. He was soon promoted to plant superintendent and continued in that capacity until his retirement in 1987.
Pat was active many years in Christian Family Movement and Cursillo. He was a volunteer ESL tutor at the Bloomington Public Library and volunteered at Clare House for 10 years on an almost daily basis until he chose to devote his time to caring for his wife Peggy, who suffered from dementia.
Pat was also active at Epiphany Church, serving in the choir and as a lector. He spoke 13 languages and, even in recent years, he could still understand most of them and could concisely explain such things as how voice inflection changed the meaning of words in Chinese. He was a loving husband and father and will be missed by all who knew him.
Obituaries Newsletter
Sign up to get the most recent local obituaries delievered to your inbox.