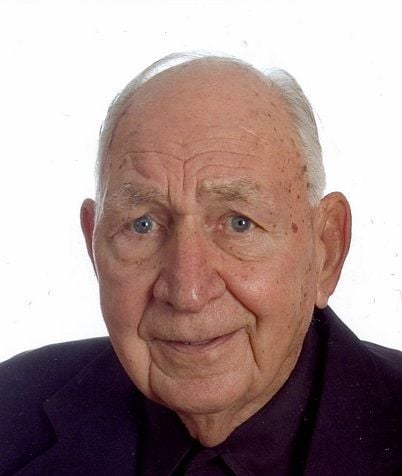 BLOOMINGTON — Paul S. Penn, 90, of Bloomington, passed away at 10:08 a.m. Thursday (May 7, 2015) at his home.
His visitation will be from 4 to 7 p.m. Monday at Carmody-Flynn Funeral Home, Bloomington. A private burial will be in St. Mary's Cemetery, Bloomington, with military rites accorded by the Bloomington-Normal American Legion Honor Guard. A celebration of life service will be from noon to 2 p.m. Thursday at Laborers' Local No. 362 in Bloomington.
Education was important to Paul and he always tried to give back and help further the education of young men and women in this community. Keeping that in mind, the family asks that in lieu of flowers, memorials may be directed to Great Plains LIFE Foundation, 456 Wylie Drive, Normal, IL 61761.
Paul was born April 2, 1925, in Bloomington, the son of John F. and Mary Ethel Herrin Penn. He married June Marble on Oct. 9, 1946, in Bloomington. She survives.
He is also survived by three children, Don (Norma) Penn, Linda (Mark) Drane and John (Mary) Penn, all of Bloomington; eight grandchildren, Michael, Tony, Eric and Ryan Penn; Tammy Barnes, Shawn Marie Eiker and Jeff Penn and Lacy Fidler; 14 great-grandchildren; two great-great-grandchildren; one brother, Hank (Wilma) Nelson; and a sister, Joyce Alvis, both of Bloomington.
He was preceded in death by a son, David Penn; a granddaughter, Polly Jo Jaspers; one brother, William F. Penn; and three sisters, Jean Powell, Joan Arnold and infant, Mary Elizabeth Penn.
Paul was a World War II Army veteran, serving in Europe and Germany from 1943-1945. He was awarded with the WWII Victory Medal, the Army Good Conduct Medal, a Europe-Africa-Middle East Ribbon, the Army Overseas Service Ribbon and four Bronze Battle Stars. Paul was very proud of the armed services and always liked to thank the men and women who served our country.
Paul was a member of LIUNA Laborers' Local No. 362 for more than 60 years. He served the local as business manager/business agent from 1958-1991 and received the WJBC Laborer of the Year Award. When he was elected business manager, Paul started Laborers' Local No. 362 Pension and Health and Welfare Insurance Fund.
Prior to and after retirement, Paul gave back to the community through volunteer work with Laborer's Local No. 362. Just a few of the projects Paul served on were the American Legion Baseball Facility at O'Neil Park, the Vietnam Memorial at Miller Park, the Four Freedoms WWII Memorial at the McLean County Courthouse, The Baby Fold, St. Mary's School, the Community Cancer Center, the YMCA and YWCA.
Paul was honored as a History Maker by the McLean County Historical Society. He enjoyed golf and had four holes-in-one in his life. He was a member and very active in the YMCA, as well as St. Mary's Church, both in Bloomington.
Paul mostly enjoyed his wife, children, grandchildren and his union family.