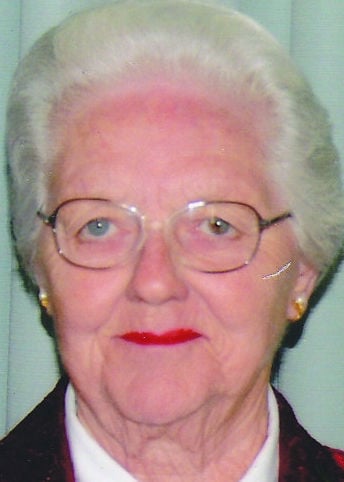 LEROY — Peggy Delores Ash, 79, of LeRoy passed away at 1:50 a.m. Wednesday (Sept. 4, 2013) at her residence.
A celebration of life for Peggy will be at 6:30 p.m. Sept. 25, at Second Presbyterian Church, Bloomington, with the Rev. Mike McGaughan officiating. There will be no visitation. Memorials may be directed to the LeRoy Ambulance Service. Cremation service was provided by Calvert & Metzler Memorial Home, Bloomington.
Peggy was born June 26, 1934, the daughter of Roy Vertrees and Mabel Louetta McCurley Blimling in Murrayville. She married her loving husband, Ralph M. Ash, on Aug. 7, 1955, at Wesley United Methodist Church, Bloomington. He survives, currently of LeRoy.
Also surviving are two children, DeAnn Worth, Normal, and Randy (Stacy) Ash, Bloomington; six grandchildren, Ryan, Jeffrey and Alexandra Ash, Carol Carter and Daniel and David Worth; brothers, Dale Blimling, Roodhouse, and Dean Blimling, Normal; and sister, Mabel Henkle, Normal.
She was preceded in death by her parents; brothers, John, Donald and Charles Blimling; and sister, Marjorie Kehl.
Peggy was a member of Second Presbyterian Church and enjoyed working in the kitchen at the church.
She was an avid St. Louis Cardinals fan, which made it interesting at home with Ralph, who is an avid Chicago Cubs fan.
Some of her favorite hobbies were bowling, golf and reading. Her most cherished memories and enjoyment came from her loving grandchildren, who will dearly miss her.