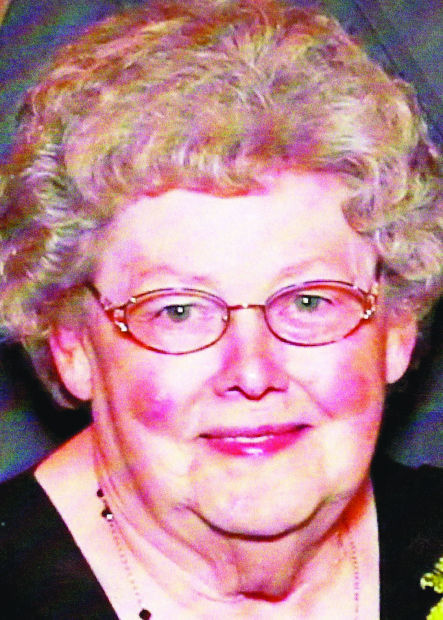 CULLOM — Rosemary A. Hills, 83, Cullom, died peacefully in her sleep at 5:07 p.m. Saturday (Nov. 16, 2013) at Prairieview Lutheran Home, Danforth, after a courageous struggle with pancreatic cancer.
A Mass of Christian burial will be at 11 a.m. Wednesday at St. John's Catholic Church, Cullom, with Father William Keebler officiating. The holy rosary will be recited at 8:45 a.m. prior to visitation Wednesday, with visitation immediately following until 11 a.m.
Memorials may be made to St. John's Catholic Church, the Cullom Fire and EMS, or a charity of the donor's choice. Calvert & Martin Funeral Home, Cullom, is handling arrangements for the family.
Rosemary was born Oct. 29, 1930, as the only child of Edward "Babe" and Mary Schoder Stieger of Cullom. She married Paul B. "Sonnie" Hills on Dec. 15, 1951, at St. John's Catholic Church in Cullom.
You have free articles remaining.
Surviving are her children, Kathryn (Ron) Schramm, Margaret (George) Halpin, Christine (Kenneth) Jones, Steven (Marcia) Hills, Mary Kay (James) Lavicka and Edward Hills; her precious grandchildren, Mark (Monica) Schramm, Emily (Rich) Kingdon, Michael (Melissa) Halpin, Amy (Todd) Hoffman, Callie (Chris) Clement, Abby Jones, Luke (Crystal) Jones, Sarah Hills, Jenna Hills, Brian Hills, Katie Sikma, Megan Sikma, Matthew Hills and Collin Hills; and her great-grandchildren, Gavin and Sophia Schramm; Addison and Lillian Kingdon; Owen and Colt Halpin; and Brock, Drew and Leah Clement.
She was preceded in death by her parents, Edward and Mary Stieger; her husband, Paul B. Hills; her aunt and uncle, Henry and Sophie Schoder; one sister-in-law, Beverly Schwark; and one brother-in-law, LaVern Schwark.
Rosemary was a lifelong resident of Cullom and graduated from Cullom community schools in 1948. She attended Gallagher Business School and worked at Mang Motors in Kankakee.
She was a member of St. John's Catholic Church, the St. John's Altar and Rosary Society and Skinner Trost Legion Auxiliary; and she was a former member of the Iroquois County Drainage District.
Rosemary was an active farmwife, mother, grandmother, great-grandmother and neighbor. She enjoyed antiquing, spending time with family, taking short rides, lunches at area diners and checking crops. She leaves behind a loving family, kind friends and absolutely no enemies.
To plant a tree in memory of Rosemary Hills as a living tribute, please visit Tribute Store.