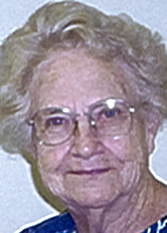 COLFAX — Ruth Ellen Carlon, 91, Colfax, formerly of Cissna Park, passed away Sunday (Dec. 15, 2013) at Asta Care Center of Colfax.
Ruth was born Aug. 19, 1922, in Cissna Park, the daughter of Albert and Anna Murray Carlon, and they preceded her in death along with two sisters, Lavonne Batterton and Lucille Layden; and one brother, Murray Carlon.
She is survived by many nieces and nephews; many great-nieces and great-nephews; and many great-great-nieces and great-great-nephews.
Ms. Carlon was a member of St. Anthony's Catholic Church in Hoopeston. She received her bachelor's degree in education from Illinois State University and followed that with her master's from the University of Illinois. Ruth taught elementary education in several schools in the Cissna Park area for many years.
Visitation will be from 10 a.m. until the 11 a.m. funeral Mass on Thursday at St. Anthony's Catholic Church, Hoopeston. Father Patrick O'Neal and Father Carl LoPresti will officiate. Burial will be in Rankin Union Cemetery.
Memorials may be made to St. Anthony's Catholic Church, St. Joseph Catholic Church or Alzheimer's Association.
Arrangements are being handled by Knapp Funeral Home in Cissna Park. Please sign the online guestbook at www.knappfuneralhomes.com.