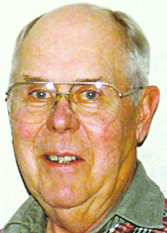 LINCOLN — William P. Gehlbach, 87, Lincoln, died Monday (Sept. 17, 2012) at St. Clara's Manor, Lincoln.
At his request, no service will be held. Arrangements for cremation and later interment are being handled by Fricke-Calvert-Schrader Funeral Home. Memorials may be made to St. John United Church of Christ. Condolences may be sent to 422 Sixth St., Lincoln, or 515 Fifth St., Lincoln.
Mr. Gehlbach was born on Sept. 2, 1925, in Lincoln, the son of Harry J. and Anna Schrader Gehlbach. He married Betty L. Purkey on Sept. 12, 1948.
Bill was a respected general contractor in the Lincoln community. He was a lifelong member of St. John United Church of Christ, active in the bell choir and vocal choir. He served in the U.S. Navy during World War II.
He is survived by his wife of 64 years, Betty; daughter, Linda S. (Terry) Leslie; three sons, Phillip P. (Becky) Gehlbach; Michael W. (Betsy) Gehlbach; and Thomas E. (Leon Van Winkle) Gehlbach; eight grandchildren, five great-grandchildren and three brothers. Parents and one sister preceded him in death.