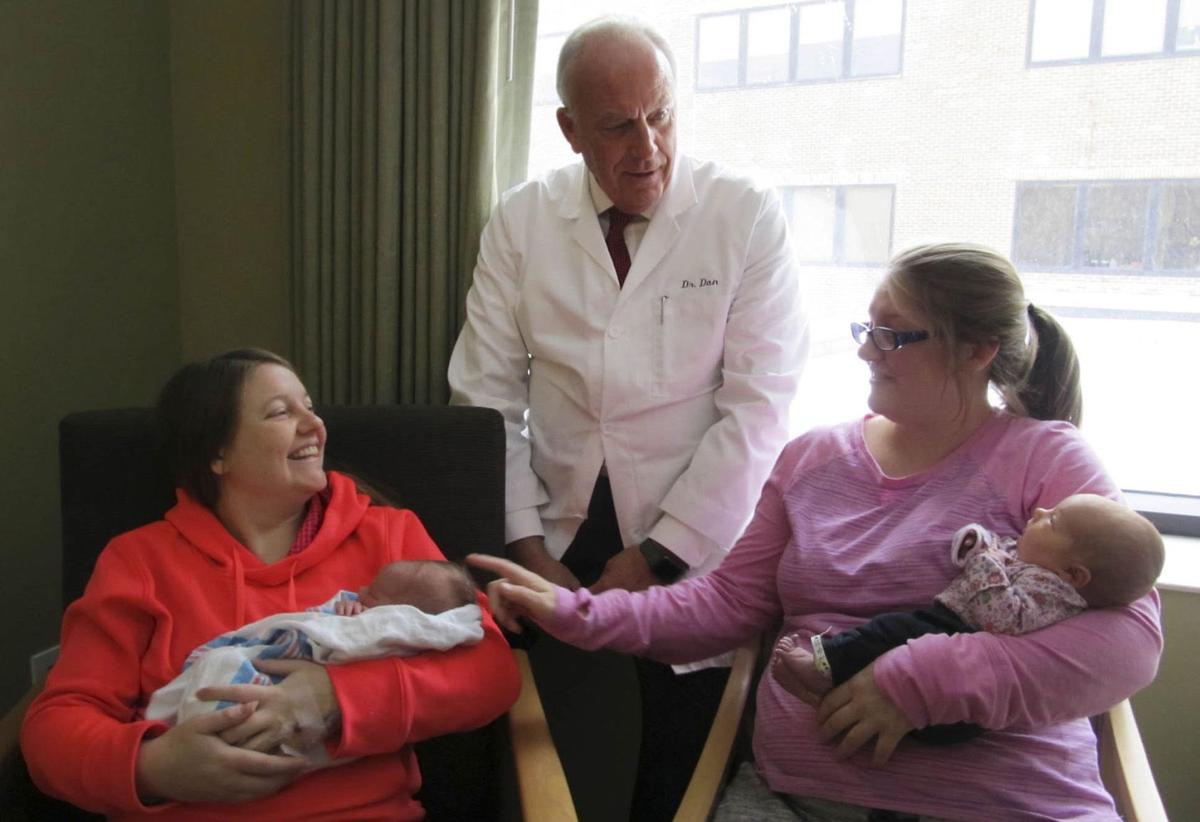 BLOOMINGTON — Kristin Werner's plan for Tuesday was to visit her sister, Lindsay Litwiller, and Lindsay's newborn daughter.
"I wanted to come up to hang out with them at OSF St. Joseph Medical Center," Kristin said. "I never made it to their room."
"They ended up doing more than visiting," said Dr. Dan Nord, a longtime Twin City obstetrician/gynecologist.
Nord smiled on Wednesday as he looked down at Lindsay holding her new baby, Claire Elise, and Kristin holding her newborn, Gavin James Werner.
Yes, Gavin made sure it was more than a casual visit.
Kristin, 31, went into labor and Gavin was born 7:48 p.m. Tuesday, the day after Claire was born to Lindsay, 30.
Nord, who delivered both children and has been an obstetrician/gynecologist for 35 years, said it was the first time he provided care for sisters giving birth in the same hospital one day apart.
"I have never seen sisters deliver this close together at the same hospital," added OSF St. Joseph Birthing Center Manager Renell Composto.
Gavin's due date was Feb. 3, and Claire's due date was Feb. 12. Delivering at about the same time was not planned by the sisters and their husbands, Joel Werner and Luke Litwiller.
"But it was pretty cool that they were going through the same things at the same time" during pregnancy, Luke said. The Litwillers, who live west of Bloomington, have an older daughter, Allison, who is 17 months old.
You have free articles remaining.
"We tried to help as much as we could because we've been through it before," Luke said. The Werners live in Bloomington.
Claire was born at 9:26 a.m. Monday, weighed 7 pounds, 15 ounces and is 19¼ inches long.
What wasn't expected was for Kristin on Tuesday to never make it to Lindsay's room, but to immediately be admitted and deliver Gavin at 7:48 p.m. the same day. He weighed 8 pounds, 14 ounces and is 21 inches long.
"I think it's great," Luke said. "But it was kind of funny seeing everyone (family members and nurses) go back and forth between the rooms."
As the two families — joined by Nord and maternal grandmother Stephanie Dagley of LeRoy and Joel's mother, Joyce Werner of Bloomington — gathered in Kristin's room at St. Joseph on Wednesday, Nord looked at the big picture.
"Everyone is healthy," Nord said. "And this has been great for family bonding. It was an all-around family experience."
"It's exciting that they went through this at the same time," Stephanie said. "We couldn't have planned it any better."
"It's nice that the two sisters will have babies together," said Joyce Werner. "They will help each other."
The second story twist is that sonograms indicated that Gavin was not going to be Gavin.
"We were expecting a girl," Kristin said. "We've had two baby showers with a lot of girl things. And the room is decorated for a girl. I love that pink!
"I guess we'll be redecorating."
Follow Paul Swiech on Twitter: @pg_swiech