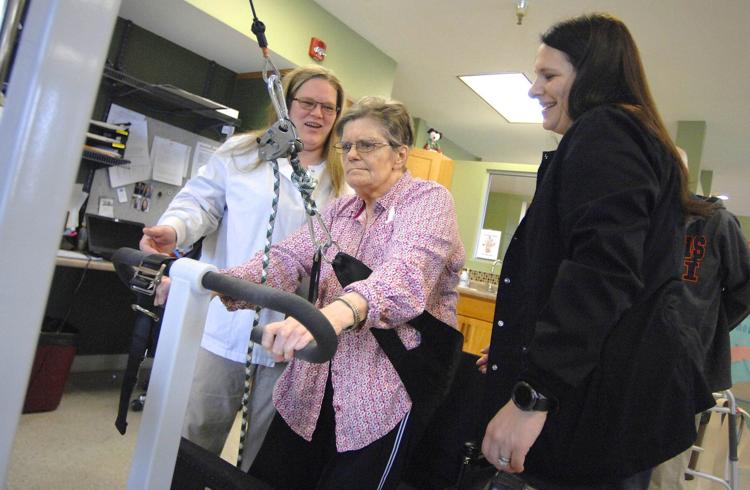 NORMAL — Eleanor Dunne stood up and sat down several times with the assistance of a machine called a Sit-to-Stand Trainer, then walked around the therapy room with the help of her walker and restorative care plan nurse Nicole Stuber.
The 82-year-old resident of the McLean County Nursing Home was doing her part to reduce the impact of a fall — one squat and one step at a time.
Medical professionals agree that exercises, especially ones that improve balance, are one way to respond to the increase in falls by reducing the risk of falling.
"It's quite something," Dunne said of the Sit-to-Stand Trainer that uses weight to assist residents with their standing and sitting.
What does she hope to get from using the machine?
"Stronger arms and legs," she said following a recent therapy session.
"It's good for retraining muscles for repetitive sit-to-stand and for training the muscles for balance," explained Brooke Fishel, program manager for therapy.
The machine also helps staff. "That was a whole lot less lifting for me," Fishel said.
Reducing the risk of falls is nothing new for hospitals and nursing homes. But they are taking more steps as society recognizes the depth of the problem that includes thousands of Central Illinoisans being treated in emergency departments each year for injuries resulting from a fall.
"We look at every fall to minimize risk of future falls and injury," said Rachel Bolsen, administrator of Heritage Health in Mt. Zion.
"There's not one thing out there that'll fix the falls," said Luci Peckmann, the county nursing home's assistant director of nursing and quality assurance nurse. "I wish there was."
During 2018, the average daily census at the county nursing home was 100 residents. There were 263 falls throughout the year, 39 of them with injuries with three of them requiring hospital treatment, Peckmann said.
"This is about an average year," she said.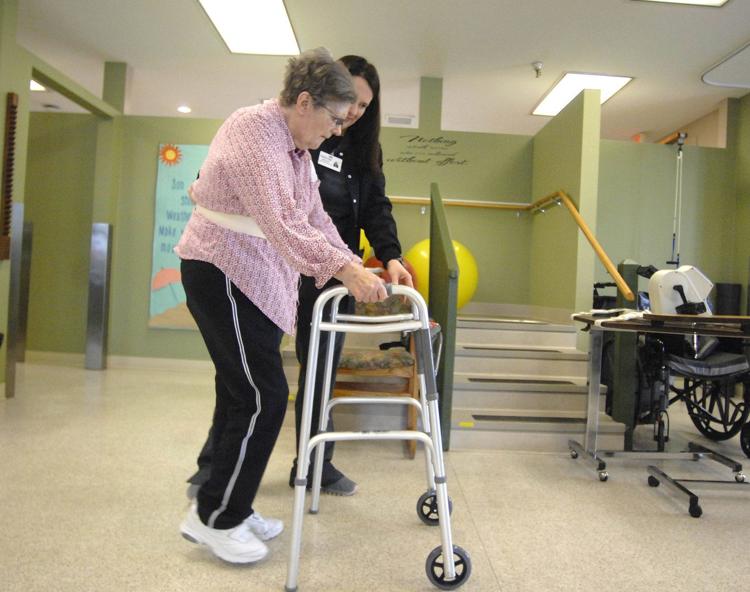 A fall is defined as an unintentional descent to the ground. So if a resident becomes weak and is lowered to the ground by a staff member, that's considered a fall, Wegner said.
In addition, the nursing home gets transfers of residents from assisted living facilities and has a number of residents with dementia. The transfers from assisted living facilities are accustomed to doing things themselves and some are reluctant to ask for help. Residents with dementia may move impulsively and may not remember that they can't do certain things, or how to ask for help.
A Matter of Balance classes to reduce risk of falls are offered throughout Central Illinois. To find out when the next class is offered in you…
Both scenarios sometimes result in falls.
For that reason, Wegner prefers to look at the percentage of falls that result in injury that requires hospital treatment. The state average for the past three months was 3.3 percent. The McLean County Nursing Home figure was 2.9 percent, she said.
At Heritage Health in Mt. Zion, their figure is 2.1 percent, Bolsen said.
Every new nursing home resident is assessed for their fall risk, Peckmann said. For residents deemed at a higher risk, their family is contacted to determine what interventions worked at home. Fall risk assessments are completed each quarter for each resident and a falls committee meets weekly.
Doing therapy to build strength and balance to reduce fall risk; monitoring medications; wearing anti-slip socks; arranging things (like facial tissue, water, the television remote and eye glasses) so they are within reach of residents; lowering beds so they are closer to the ground; and assisting with residents' toileting are among steps to reduce injuries from falls among residents at higher risk.
Advocate Eureka Hospital in Eureka has not experienced a patient fall in nearly a year, said Lynn Hutley, public affairs coordinator.
Many interventions used in nursing homes also are used in hospitals. In addition, among high-risk patients, alarms will sound when those patients attempt to get out of bed by themselves.
"All staff are trained in how to recognize someone at fall risk," said Cindy Schaumburg, BroMenn and Eureka manager of quality and regulatory.
 typical month, five to 10 hip and femur fractures from falls in the community are treated at St. Joseph, said Erin Rogers, orthopedic service line leader. In January 2019, there were 18 and six were from falls on ice, she said.
At BroMenn, comparing January 2018 with January 2019, there was a 10 percent increase in hospital visits for treatment of injuries from falls, Hutley said.
Last summer, St. Joseph began a Hip Fracture Pathway program to get patients who arrive in the emergency department with a hip fracture admitted, treated and into surgery as soon as possible, and then getting them up and about as quickly as possible after surgery.