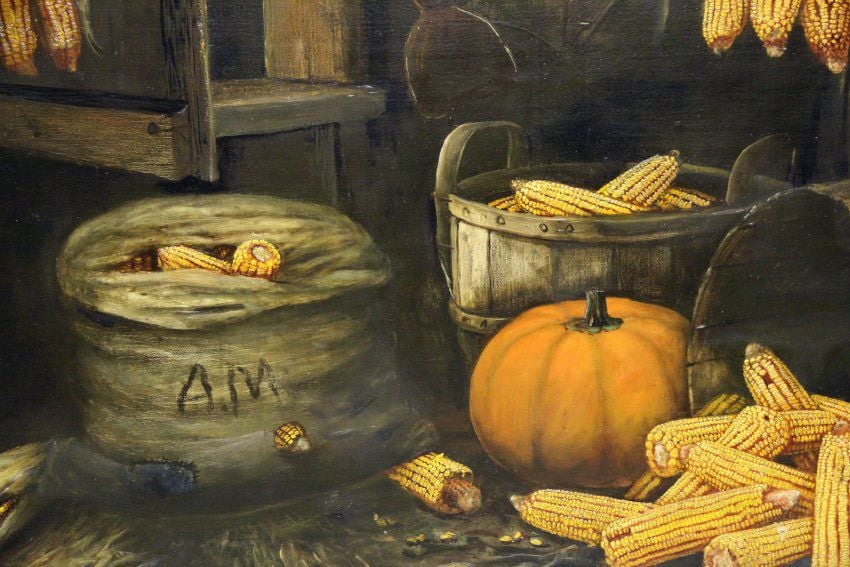 "From the time that Mr. Montgomery arrived in Chicago, two months ago, with a few corn pictures … Chicago art circles have been thrilled as they never were thrilled before," read a May 1900 notice from the big city to the north.
It's not often that someone from Bloomington captivates Chicago, but it happened in 1900. That's when unconventional painter Alfred Montgomery wowed the city's upper crust with a series of lectures on the emergence of truly American art. He believed his "corn pictures," rustic still lifes of ear corn, were in the vanguard of this revolutionary movement untethered from the worn-out traditions of Europe.
Born in Logan County in 1857 or 1858 (accounts differ), when Montgomery reached his mid 30s he left a life as a tenant farmer and farmhand to become an artist. He lived in Bloomington, off and on, for more than decade beginning in the early 1890s. At some point he began painting ear corn (shucked or unshucked, but never cooked), with compositions ranging from a few lonely ears nailed to a bare wall to dozens of ears spilling from an overturned barrel.
"I was raised on a farm, brought up on a farm, and I never had an art lesson in my life," Montgomery said. "But I had poetry in my soul and it was bound to come out." He believed "that art can be just as great, and genius just as truly reflected, in a potato as in a grand canyon."
Soon the "farmer-painter" (as he became known) began trekking throughout stretches of Illinois, Missouri, Kansas, Oklahoma and beyond, staying from place to place days or weeks at a time, all the while painting and selling his work to grain and livestock dealers, farmers, county seat bankers and many others. He was tireless traveler, self-promoter and salesman. His often threadbare existence on the road led him to barter corn paintings for the likes of train fare to the next town or a week's stay at a dusty hotel on the Great Plains.
Such an existence did not lend itself to a stable marriage. While in Bloomington, he abandoned his first wife and their four children for life as vagabond artist, preferring the unbounded uncertainties of the road to well-worn domesticity.
Personal failings aside, Montgomery was a charismatic character par excellence, and his passionate defense of "barnyard art" won admirers far and wide. Such was the case in Chicago during the spring of 1900 as the bohemian artist delivered a series of "parlor talks" before the city's moneyed and cultured elite. Montgomery was the "social lion" of the season, "feted at pink teas, listened to with charmed attention by women's guilds and coddled as the art genius of the century," reported one disbelieving Chicago newspaper.
The Bloomington painter defended the Mississippi Valley (or what we would call the "Heartland" today) and its people and its art against "the decadence of the effete East." He believed that authentic, original, organic, vibrant and republican (small "r") American art was now coming from the likes of Chicago and Central Illinois, not overly cultured New York City or the tame New England countryside.
For all his unpolished, unschooled bluster it's not unsurprising that he feuded with cosmopolitan critics, artists and others dismissive of his grandiose ideas on art, to say nothing of his corn pictures. If Montgomery is to be believed, these differences apparently spilled over into violence. He claimed that he was the victim of a premeditated attack in downtown Chicago when mysteriously called on false pretenses to the American Express building on West Monroe Street. "When I got there a man jumped on me and gave me a beating," he related. "But that's merely what an innovator in art may expect. There is an irrepressible conflict on between American and European art."
The farmer-painter was known for his tall tales and, shall we say, less-than-rigorous commitment to the truth. Yet even if this story of artistic near-martyrdom was created out of whole cloth, one has to admire Montgomery's nervy flair for the dramatic and commitment to a compelling narrative!
Bold and bombastic, his spring 1900 lectures captivated many society types, helping to boost the market for his work. What also kept sales brisk was the much-publicized purchase of a Montgomery corn painting by a San Francisco department store for $10,000 (or around $290,000 today, adjusted for inflation).
Yet by early May, the Chicago papers were all abuzz over reports that the oil painting actually sold for $400, or 25 times less than claimed by Montgomery. The purposefully convoluted art deal involved Montgomery receiving a contract showing he was paid $10,000 for the painting, though indeed it sold for just $400. In other words, this was clever marketing subterfuge to increase interest in his artwork and artificially inflate its market value.
The news shocked many Chicagoans "who bought Mr. Montgomery's pictures since his advent in the city at fancy prices, and who have invited him to lecture at their homes, and to tea," reported the Chicago Tribune.
Chicago writer Henry B. Fuller even lampooned the whole scandalous affair in the January 1901 Harper's Monthly magazine. Accused of fraud and satirized in one of the nation's most influential publications, the indefatigable Montgomery went about his business as usual, shrugging off the ruse as a misunderstanding over the complex and bewildering ways in which art is sold and marketed. Testament to his tenacity, sales acumen and charm, it wasn't long before he was back in Chicago lecturing, painting and yes, even selling, his corn pictures.
Montgomery spent much of his later years in northern California, though he continued his nomadic ways as the farmer-painter of corn. After his death in 1922, his work languished in semi-obscurity for much of the 20th century. Today, with a far greater interest in, and appreciation of, folk and "outsider" art, his paintings can go for many thousands of dollars. In fact, when it comes to Montgomery oils, it's said that the more ears of corn on the canvas, the more valuable the painting!
"I paint everywhere, anywhere, throw paintin's' around and forget where I put 'em," Montgomery told a Chicago reporter in early May 1900, just as the scandal broke. "Why, goin' home the other night to Bloomington [traveling by railroad], I felt the spirit on me and I painted a picture — a dream of a thing — and now I can't think what the dickens I did with it. S'pose the little symphony would be worth $2,500 if I knew where to lay my hand on it."
Bill Kemp is the archivist/librarian at the McLean County Museum of History in Bloomington. He can be reached at BKemp@mchistory.org.
Get local news delivered to your inbox!
Subscribe to our Daily Headlines newsletter.