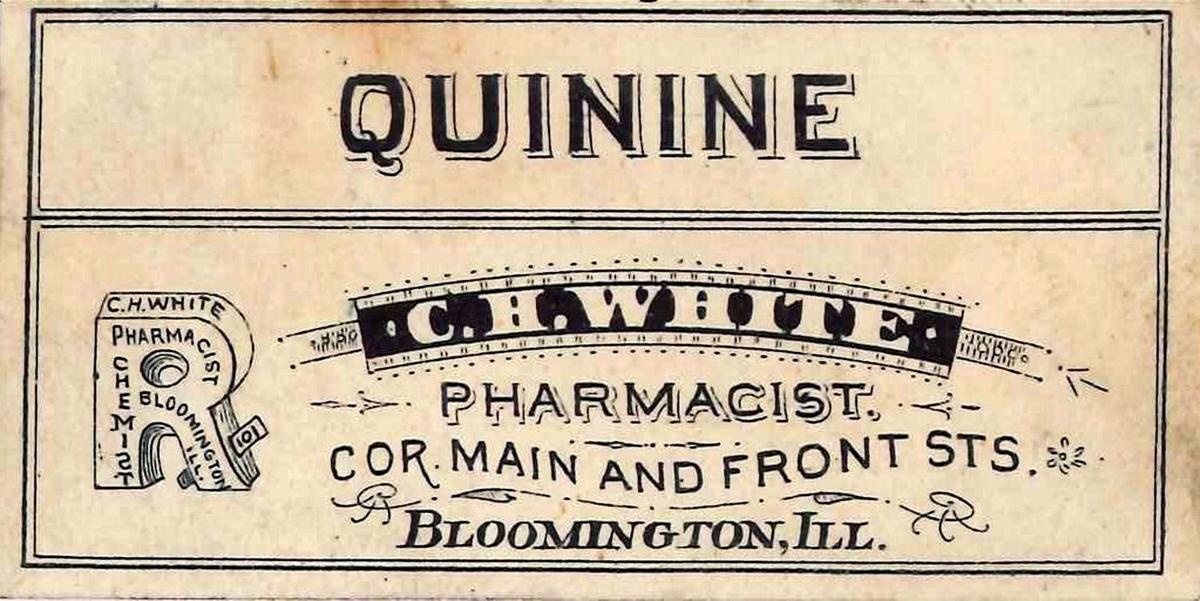 Of all the pioneer trials and tribulations, "malarial sickness" was the "saddest trouble of all," commented J.H. Burnham in a 19th century history of McLean County. "Nearly every family was afflicted, disease and death being faced by all who ventured to remain in this country in the early days when the prairie sod was being broken and subdued."
Today, malaria remains a debilitating, deadly disease in sub-Saharan Africa and parts of Asia. What is less well known is that this mosquito-borne scourge wreaked havoc on pioneer life here in Central Illinois. Few settlers on the intermittently soggy prairie could escape one or more bouts of malaria — a disease they called by many names, including the "ague" (pronounced a-gew or ager), the shakes, the chills and bilious fever.
The disease was marked by fluctuations in body temperature, from bone-cracking chills to frighteningly high fevers. It could linger for extended periods, making those infected unable to perform necessary tasks, such as farming or childrearing. Those who suffered through such bouts gained partial immunity, a process known by settlers as "seasoning."
Malaria "induced a feeling of despondency, and took away that spirit of enterprise and that strong will, which bore up the settlers under misfortune," noted E. Duis, chronicler of McLean County's pioneer days. It was the "scourge of the West" (back when "the West" meant today's Midwest.)
In fact, malaria was the No. 1 killer in Illinois until the 1850s.
In July 1831, the John Greenman family attempted to settle on land three miles south of Waynesville in what is now DeWitt County. The Greenmans found their new home a "sickly spot," with all but one or two of the 24 settlers in their vicinity suffering from malaria. John Greenman himself succumbed to the ague, and the now-fatherless family retreated back to the healthier (relatively speaking) clime of the Blooming Grove settlement, south of Bloomington.
The following summer son Esek Greenman "had his last shake with the ague," Duis noted. "This memorable event occurred on his sixteenth birthday. For three days previous, he had taken each morning a teacupful of whiskey and ginger, and the ague departed forever."
"When I first settled in Peoria some 35 years ago (about 1848) the entire prairie was saturated with malaria," wrote Dr. J. Murphy in 1883. "In fact, the entire area of Central Illinois was a gigantic emporium of malaria." John Reynolds, an early governor, complained that malaria and his home state were so intertwined in the nation's imagination that "the idea prevailed that Illinois was a graveyard."
Quinine, extracted from the bark of the South American cinchona tree, was an effective treatment against malaria. Also known as Jesuit or Peruvian bark, quinine was available in Central Illinois by the 1830s, if not earlier. It was sold in "rough" form like powder, and most famously as "Sappington's Anti-Fever Pills," manufactured by a Missouri physician. Due to high cost and scarce supplies, though, quinine was not always available on the frontier.
Silas Hubbard, a pioneer physician who practiced in the Hudson area, used calomel, a common name for mercury chloride, to treat "malarial and bilious complaints." In this instance, calomel was employed to purge the bowels. Not only was this procedure wholly ineffective in treating malaria, but it left some settlers with severe cases of mercury poisoning, symptoms of which included uncontrollable drooling, loosening of teeth and bleeding gums.
You have free articles remaining.
In 1856, Dr. Frederick Gerhard published "Illinois as It Is," a guidebook of sorts for immigrants. "One-half of those who are down with fever have to ascribe this to nothing but their own imprudence and the use of improper food," he wrote. "Causes — drinking stagnant water; too immoderate use of fruits, lard, eggs or fish. Nobody should expose himself needlessly to night air."
During the pioneer era, most physicians explained malaria by way of "miasmas" (putrid air) arising from swampy ground, sloughs, stagnant pools and the opening up of "rank" prairie soil. Malaria, or mal-aria, literally means "bad air."
"The year 1831 was particularly celebrated for the fever and ague," wrote Duis. "A great deal of rich soil was turned over for the first time, and the vapors and exhalations made the climate unhealthy."
It wasn't until much later that researchers learned that the cause of malaria was not bad air, but a parasitic protozoa spread by the anopheles mosquito (did you know early settlers often referred to mosquitoes as "gallinippers?") Anyway, the parasite spends part of its life cycle in the female mosquito and part in a vertebrate host. Early settlers often experienced the malarial chills and fevers in two- or three-day intervals, caused when the parasite infects, reproduces, and then destroys the red blood cells of its host.
Interestingly, malaria was not indigenous to the Mississippi Valley. Rather, settlers with malaria-infected blood came to Illinois and unwittingly infected local anopheles mosquitoes. In other words, we brought malaria to the mosquito!
Clay drainage tile reshaped the Corn Belt landscape by opening up great swaths of the Grand Prairie to agriculture. In the years after the Civil War, Central Illinois farmers began laying mile after mile of two- to four-inch clay tile under their fields. With this invisible network of drainage "pipes," farmers were now able to raise crops on long-waterlogged stretches of prairie. Streams were also deepened, widened and straightened through ambitious dredging operations.
This wholesale remaking of surface and subsurface hydrology, though utterly destructive to the prairie ecosystem, ended the specter of malaria. By the late 1800s, the "shakes" were mostly a thing of the past in the Central Illinois countryside.
Early McLean County settler Andrew W. Scogin recalled a poem penned by an unnamed New Englander visiting Illinois back in the days of endemic malaria. This visitor was writing to friends back East who wanted to know something of life on the prairies. Scogin recalled the poem, including the last stanza:
I'd rather live on camel's rump
And be a Yankee Doodle beggar,
Than where they never see a stump
And shake to death with fever ager.
Bill Kemp is the librarian at the McLean County Museum of History in Bloomington. He can be reached at BKemp@mchistory.org.
Editor's note: An earlier, shorter version of this "Page from Our Past" column ran on June 22, 2008.