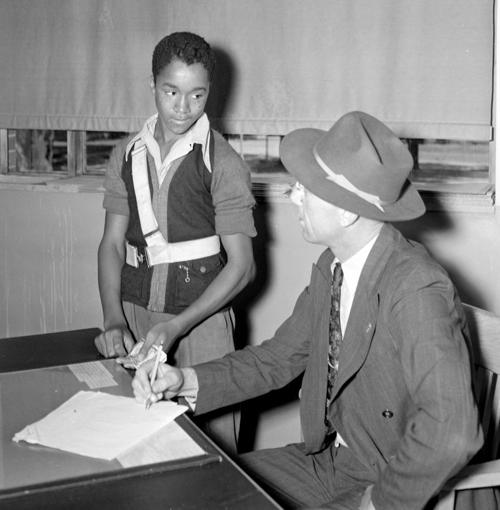 Seventh-grader James Jones Jr. discovered a purse containing a small fortune on his way to Abraham Lincoln Grade School (1208 S. Lee St.) on the morning of Sept. 21, 1944. Jones turned in the $695 cash to his principal, Ruth Ahlenius, who notified Bloomington police. That amount is equal to just over $10,000 today! The purse's owner — a meat deliveryman and collector — claimed the cash the same day and provided James with a $25 reward, worth a little more than $360 today. A hefty sum for the 14-year-old! Jones' good deed spurred mentions in The Pantagraph for three days straight and produced the photograph seen here.
Jones grew up in Decatur, the eldest of five children. After a spate of underemployment, his father (also named James) secured work as a laborer for a New Deal sewer project in 1940. His mother, Juanita, cared for the home.
The Macon County Courts removed the Jones children during the summer of 1941. While the exact reason is unclear, it was most likely due to their mother's tuberculosis diagnosis around that time. The children arrived at the McLean County Home for Colored Children (later renamed Booker T. Washington Home) on Aug. 1, 1941. Tragically, Juanita passed away two months later.
For nearly 30 years, Louise and Napoleon Calimese managed the home and cared for black children who were orphaned or came from "broken and destitute" families. At that time, social services were racially segregated. Established in 1918, the home was located on the 1200 block of West Moulton Street (now MacArthur Avenue) on Bloomington's west side. In 1969, the home merged with the Lucy Orme Morgan Home, which until that time had exclusively housed white girls. These organizations exist today as Children's Home & Aid, which offers adoption services, counseling and treatment programs, and foster care services.
Jones entered the home at the age of 11, along with his sister and three brothers: Juanita (10), Robert Lee (8), Paul (6), and David (4). The Jones children joined the Calimeses and 14 other youths, aged 8 through 17 years.
Exactly four months after Jones handed in the misplaced money, he and his siblings returned to Macon County in the custody of their probation officer, Bernice Wheatley, who supported African-American children within the court system. It is unclear how their lives unfolded after their return to Macon County.
The Pantagraph reflected on James' act of service three days after the fact: "To those who doubt the integrity of today's youngsters, we point out seventh-grader James Jones. He found a purse containing $695 and promptly reported it to his school principal. That ought to counterbalance a lot of skepticism about the future generation." Although James lived in Bloomington for only a short period, he was in the right place at the right time. He made a difference.
Pieces From Our Past is a weekly column produced by the McLean County Museum of History.
Get local news delivered to your inbox!
Subscribe to our Daily Headlines newsletter.