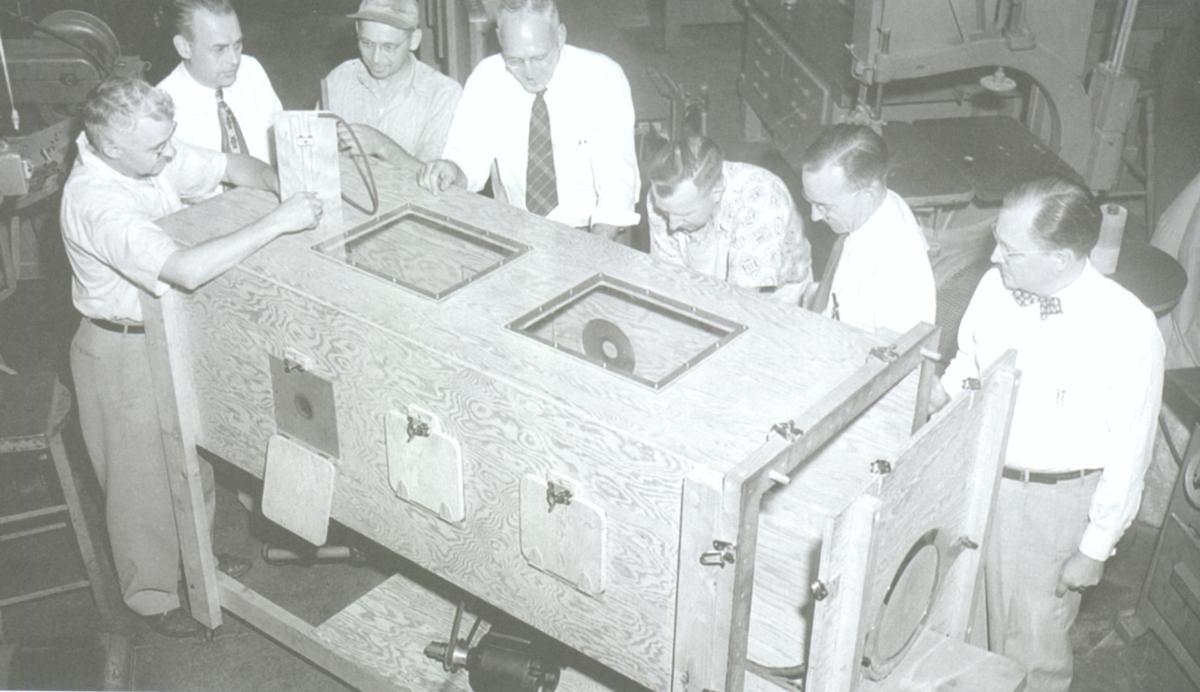 In the summer of 1949, at a time when Central Illinois communities were hit particularly hard by the deadly disease polio, St. Joseph's Hospital and Eureka Williams Corp. decided to fight back.
Officials with St. Joseph (then located on Bloomington's west side) feared their two iron lungs might not be enough at any one time, a shortage that might endanger the life of someone who needed but could not get one. As a result, engineers and machinists from Bloomington manufacturer Eureka Williams volunteered to design and build one from scratch using everyday household materials.
As a fully functioning negative pressure ventilator, this "wooden" lung (so-called because its frame was built of plywood) did the same job as the polished, commercially manufactured "iron" ones. It was an ingenious mechanical feat that drew national attention.
Poliomyelitis (polio's scientific name, though it's often known as infantile paralysis) is a virus that spreads person to person. The disease, for which there is no known cure, can lead to atrophied muscles and paralyzed, misshapen limbs, and at its most dangerous, death from suffocation. Many who grew up during the polio epidemics after World War II recall all too well friends, neighbors or family members subjected to confinement in iron lungs, leg braces, corrective footwear and painful physical therapy.
Polio patients sometimes lost the ability to control the muscles involved in breathing. An iron lung was a cylindrical, bed-like machine in which patients were treated with rhythmic fluctuations in air pressure, forcing oxygen in — and carbon dioxide out — of the lungs. An iron lung was usually needed for several days or weeks until the virus ran its course, though a small number of patients ended up spending the greater part of their lives tied to such machines.
On Friday, August 5, 1949, members of the Eureka Williams engineering staff and a handful of volunteers were at the Bell Street plant to start the ambitious project. Fifteen men worked all day Saturday and through to midnight Sunday to finish the job.
Over the same weekend, polio killed two at St. Joseph's: John Lynch, age 2, of Gibson City; and Mary Guyon, age 11, of Streator. These deaths and the hospital's growing caseload likely weighed heavily on the minds of those working at Eureka Williams.
The six-foot-long wooden lung was built from materials "you'd find in any hardware store or lumber shop in any one-horse town," noted Ralph C. Osborn, Eureka Williams vice president of engineering. "Our idea was to make a lung that any carpenter can build anyplace it's needed." The "Bloomington lung" was put together using, among other items, household electrical switches; a washing machine motor and gear box; an inner tube from a tractor tire; a wash tub; an alarm clock; and the aforementioned plywood.
On August 10, the machine was put to an unexpected life-and-death test. That night, 8-year-old Rudy Landherr of the Whiteside County community of Morrison arrived at St. Joseph's to find both iron lungs occupied. With paint still drying on the plywood, hospital staff realized they had no other choice than to use the wooden lung. Landherr remained inside the cobbled-together machine through the night, unable to breathe without it. The next morning he was moved to an iron lung when one became available.
The Bloomington lung saved the boy's life, announced Sister M. Celine Friske, St. Joseph's chief administrator. "I didn't have to breathe," Landherr told a Pantagraph reporter several weeks later. "It breathed for me." He ended up living to the age of 65, passing away in the summer of 2006 in his hometown of Morrison.
Back in 1949, news of the wooden lung, which eventually earned the American Medical Association's seal of approval, spread fast across the nation. Both Associated Press and United Press International ran the story on their national wire, and local officials found themselves inundated with requests for blueprints. Eureka Williams eventually published a 12-page how-to booklet, and by late 1951 had sent copies to more than 1,000 groups around the country. Popular Mechanics magazine even featured Bloomington's "emergency wooden respirator" in its January 1952 issue.
Jonas Salk was the first to cross the finish line of the "Great Race," developing a polio vaccine in 1952 (though its announcement wasn't made until 1955). Albert Sabin followed shortly thereafter with an oral vaccine, famously administered with sugar cubes. Since then, polio has been eradicated in the United States and the rest of the Americas, but is still endemic in several countries, including Afghanistan.
Editor's note: This story originally was published Nov. 21, 2009. Pieces From Our Past is a weekly column produced by the McLean County Museum of History.
Concerned about COVID-19?
Sign up now to get the most recent coronavirus headlines and other important local and national news sent to your email inbox daily.