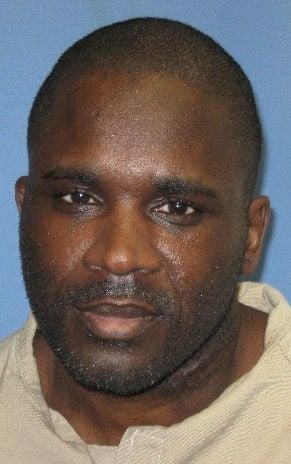 PONTIAC — A man once housed in the state's "supermax" prison and sentenced to 97 years for his multiple assaults on guards at Pontiac Correctional Center could be released soon under a new sentencing order proposed jointly by his lawyers and the Livingston County state's attorney.
Anthony Gay has been in the state's correctional system since 1994 when he was sentenced to seven years for a Rock Island County robbery. Before Gay completed that sentence, he began to pick up a series of 17 separate aggravated battery cases against correctional officers at the Pontiac prison.
The sentences handed down between 2000 and 2004 all involved incidents in 2000 and 2001.
Livingston County judges ordered Gay, now 38, to serve the sentences, ranging from three to eight years, consecutively, or one after the other.
Livingston County State's Attorney Seth Uphoff said Wednesday that he agreed to the new calculation after conducting his own research and confirming the results with the state appellate prosecutor's office.
"The number one ethical duty of a prosecutor is to see that justice is done and that the law is applied equally," he said. "In the case of Mr. Gay, after exhaustive research of the motion filed on his behalf to correct his sentence, it was learned that the nuances of the complicated sentencing laws demand that certain of his sentences be served concurrently, while others must be served consecutively."
Initial calculations indicate that Gay's sentences should have totaled 24 years but a final number will be determined by the Department of Corrections, said Uphoff. If the state gives Gay sufficient good-time credit on the sentences that are eligible for day-for-day reductions, he may have served enough time to be released.
The inmate also must serve two years of mandatory supervised release, formerly known as parole.
The new sentencing order is expected to be finalized this week by Livingston County Judge Robert Travers, who approved the motion and also was involved in many of Gay's prior sentencing hearings.
Defense lawyer Scott Main with Chicago's Bluhm Legal Clinic at Northwestern University School of Law said Wednesday, "We're happy and believe that the new sentence is the correct sentence under the law."
In the years since he was first convicted of throwing feces and urine through a prison cell food slot, Gay has tried unsuccessfully to appeal the stack of sentences.
Several mental health and civil rights groups filed friend-of-the-court briefs supporting his appeals. Gay represented himself during many of the court proceedings.
Gay was among about 200 inmates who moved into the spotlight in 2009 as treatment of inmates at super-maximum-security Tamms Correctional Center, reserved for the worst of the worst, blossomed into a controversy that ended in closure of the facility last year. According to reports from prisoner advocates, Gay repeatedly tried to commit suicide and engaged in self-mutilation during his time at Tamms.
Not everyone agrees with the reduction in Gay's sentence. Former Livingston County State's Attorney Tom Brown, who now serves as a state appellate prosecutor, stands by his decision to prosecute Gay, whom he described as "clever, manipulative and violent."
"My stance was that if someone committed a crime in prison, the offense should be filed the same as if it happened on the street," said Brown.
Uphoff said his office continues to work with officials at the Pontiac prison to prosecute cases involving abuse of correctional staff.
Get local news delivered to your inbox!
Subscribe to our Daily Headlines newsletter.