BLOOMINGTON — Kyle Nolan measured Phil Anderson's passive knee flexion — the degree at which a knee joint is bent — during Anderson's physical therapy session.
"124 degrees — which is excellent for six weeks post-op," said Nolan, a certified athletic trainer. "120 to 140 degrees is normal so he's regained functional range of motion six weeks post-op.
"Traditionally it doesn't happen that quickly," Nolan said.
"I think I'm close to 100 percent as far as my flexibility," Anderson said after his therapy session at Neuro Ortho Rehab Center in Bloomington.
Anderson, 64, of Minier had knee replacement surgery on April 1 with the Mako Robotic-Arm Assisted Surgical System at OSF HealthCare St. Joseph Medical Center in Bloomington. St. Joseph added Mako to its surgical arsenal for total knee replacement, total hip replacement and partial knee replacement surgeries on Nov. 12, said Erin Rogers, St. Joseph orthopedic service line leader.
In Central Illinois, orthopedic surgeries using Mako also are performed at Decatur Memorial Hospital and in Peoria and LaSalle-Peru, Rogers said.
The Mako system uses a computed tomography scan of the diseased hip or knee joint to create a three-dimensional model. The model is used to pre-plan the surgery and is adjusted by the surgeon during the procedure to ensure the joint is precisely placed and balanced, she said.
In the operating room, the surgeon guides the robotic arm based on the personalized plan and Mako provides the surgeon with feedback to stay within the planned operative boundaries.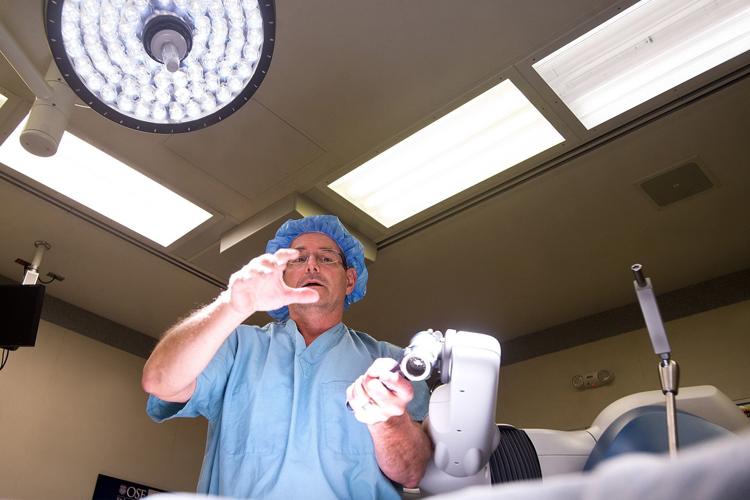 "The first question they (patients) have is 'Who's doing the surgery?'" said Dr. Joseph Newcomer, who is among five orthopedic surgeons trained and certified to perform surgeries using Mako at St. Joseph. Others are Drs. Brett Keller, Lucas Armstrong, Mark Hanson and Shaun Kink.
"It is still me," said Newcomer, who uses Mako for hip and partial knee replacement surgeries. "The surgeon executes the plan and we can still modify coming into surgery."
"It helps with precision and accuracy," said Keller, who uses Mako for all his knee and hip replacement surgeries. "I can tweak the plan but if I try to extend beyond the boundaries (of the surgery), it would shut off. It's putting the implant exactly where I want to put it. The knee will feel more natural and last longer."
"It's putting the new hip in the precise location without variation," Newcomer said.
"It seems like the patients are doing better," Keller said. "At six weeks post-op, their motion and ambulation is very good."
But Newcomer continues to do his total knee replacement surgeries without Mako. 'I haven't seen a need for it," he said.
Rogers said patients who have had joint replacement surgery previously are reporting less pain following surgery with the Mako.
"It's going very well," Keller said.
The Mako system cost St. Joseph about $1 million. The procedure is covered by insurance, Rogers said.
Since Nov. 12, 78 joint replacement surgeries have been performed at St. Joseph using the Mako, Rogers said. That's 47 percent of all joint replacement surgeries performed at the hospital in the past six months, she said. Some orthopedic surgeons don't use Mako because they are comfortable with and have had good results with their surgeries, she said.
Meanwhile, at Decatur Memorial, which added Mako in 2016, about 1,200 Mako surgeries have been performed, said Dr. Edmund Raycraft, a Decatur orthopedic surgeon. That represents about half of the orthopedic surgeries performed at Decatur Memorial since then. 
"I do 95 percent of my work (total hip, total knee and partial knee) with the Mako," Raycraft said.
"The surgeon is still in control but it keeps you in perfect alignment all the time," he said. "It makes my work more precise with reproduceable outcomes and higher patient satisfaction. It's less invasive, with less disruption of tissue surrounding the bone, so I think the patients recover faster."
Anderson, an independent insurance agent, had his left knee replaced with traditional surgery in 2015. While the surgery went well, Anderson admits that he didn't push himself with therapy afterward.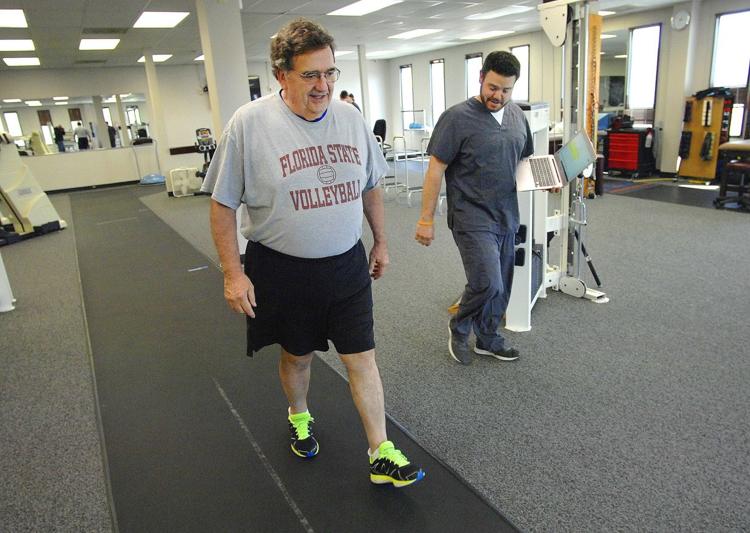 Anderson had right knee replacement with Keller using Mako at St. Joseph on April 1. By five weeks after surgery, he was walking without assistance and doing better than he ever did after his first surgery. He credits Mako, Keller, Nolan and his own determination.
"I went through both (surgeries)," Anderson said. "The first time, I was more sore and had to go slower. This time, I'm able to move my leg around quite a bit more because it wasn't irritated as much during surgery."
"For a total knee replacement, I had as good an experience as you possibly could have," said Anderson, who is looking forward to returning to bike riding, yard work and fishing.
---
Photos: Physical therapy after robotic knee transplant helps speed recovery