BLOOMINGTON — As Jaleesa Davis waited Tuesday for her one-year well-baby checkup and vaccinations — including the MMR (measles, mumps, rubella) vaccine — her Bloomington parents were matter-of-fact about why she was getting her shots.
"To help protect her from these diseases," said her mother, Brandie Davis, 32; her husband, Joshua, 28, agreed.
"To keep her safe and healthy," Brandie Davis added at OSF HealthCare Medical Group-Pediatrics, 302 St. Joseph Drive, Bloomington.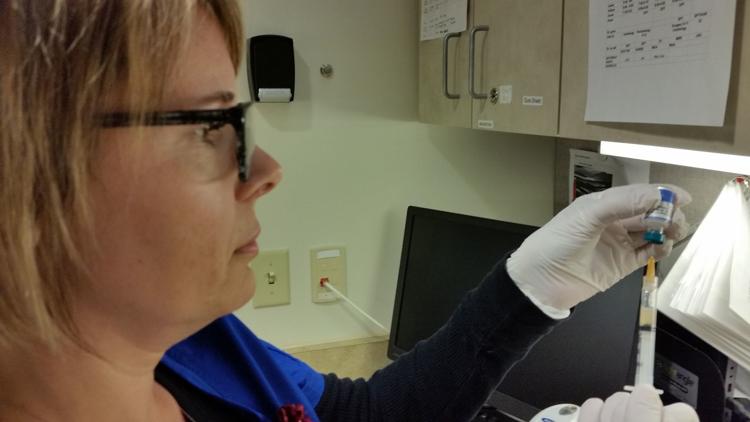 The U.S. Centers for Disease Control and Prevention (CDC) recommends that children get one dose of the MMR vaccine at 12 to 15 months old and a second dose at 4 to 6 years old. Both are required by the state of Illinois before a child enters kindergarten.
Before, some parents waited until their child was about to begin kindergarten before agreeing to their child's second MMR dose, said Dr. Samina Yousuf, pediatrician with OSF HealthCare Medical Group, and Dr. Aaron Traeger, pediatrician with Advocate Children's Medical Group, both in Bloomington.
"Now, a lot of them are saying they want to get it done at age 4," Traeger said.
"In my own practice (in recent weeks), there has been much more discussion of vaccinations and a push (by parents) to have it done as soon as recommended," said Yousuf. "More people want to have it done at 4 years old rather than 6. I love that."
In April, Advocate Children's Medical Group began contacting parents whose children are not fully vaccinated and encouraging them to immediately all their pediatrician.
"They've said, 'Thank you for protecting us,'" Traeger said.
CDC reported Tuesday that there have been 880 measles cases nationwide since Jan. 1 — the highest number since 1994.
Statewide, there have been eight confirmed measles cases so far this year in Champaign, Cook and DeKalb counties, said Melaney Arnold of the Illinois Department of Public Health. There have been no measles' deaths.
McLean, Macon and Coles counties have had no confirmed measles cases, said representatives of those counties' health departments. Still, Central Illinois medical professionals remain concerned.
You have free articles remaining.
"It's really pretty alarming that we have the highest number of measles cases since 1994," Yousuf said.
In 1989-90, there were 55,000 measles cases in the United States and 123 deaths, Yousuf said. Most of the cases involved people who weren't vaccinated or had only one dose, Yousuf said. For that reason, two doses have been recommended since 1989 and the disease was declared virtually eliminated in the United States in 2000, she noted.
But measles outbreaks in pockets of the country where people haven't been vaccinated have health officials worried. Some people have pointed to a study from several years ago that drew a link between the MMR vaccine and autism, but that paper has been debunked, Traeger and Yousuf said.
"Parents need to make sure their children are up to date on their vaccines," added Carol Carlton, Macon County Health Department director of clinical nursing services.
"Getting those two MMRs are important," she added. "People not getting their children vaccinated are putting their children at risk."
"At the health department, our mission is to keep communities safe and healthy and vaccines are a major way to keep communities safe and our children healthy," said Mara Hildebrand, Coles County Health Department director of nursing.
"Vaccination is the most effective measles prevention," agreed Melissa Graven, McLean County Health Department communicable disease supervisor.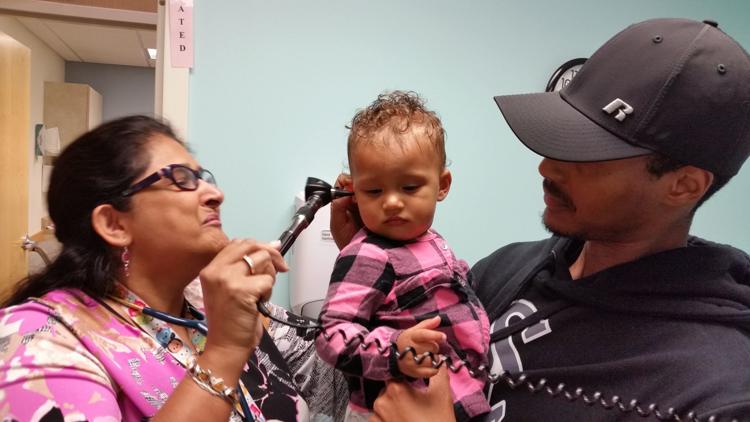 People who are vaccinated also protect people who can't be vaccinated, such as children under 12 months old and people going through cancer treatments, Yousuf said.
Statewide, 98.1 percent of school children were vaccinated for the 2018-19 school year, according to the Illinois State Board of Education.
"McLean County averages 98 percent in school-aged children for the MMR vaccine," Graven said.
In Clark, Coles, Cumberland, Douglas, Edgar, Moultrie and Shelby counties, "all of our school districts are greater than 96 percent," said Kyle Thompson, assistant regional superintendent of schools.
Macon County schools are averaging 98 to 100 percent compliance, according to the state board of education. 
While schools in McLean, DeWitt, Logan and Livingston counties are close to 100 percent compliance, Regional Superintendent Mark Jontry would like it to be 100 percent.
"Get your kids vaccinated," he said.