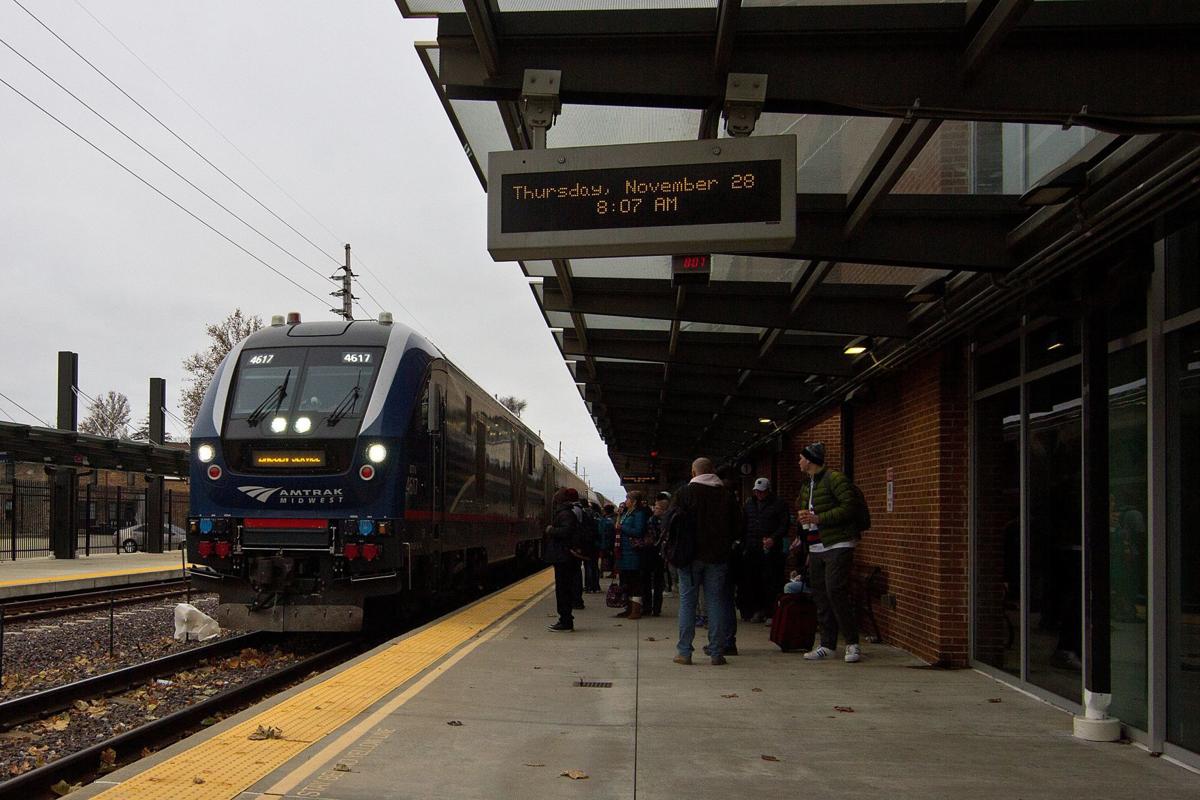 NORMAL — The work week in Bloomington-Normal is starting with concerns about coronavirus after authorities announced Sunday that an Amtrak train may have carried an infected passenger between Chicago and St. Louis, a Bloomington couple waited out a quarantine aboard a cruise ship off the California coast, and state health leaders identified a new case unrelated to the state's previously identified six cases.
The train, Lincoln Service 303, makes stops in Joliet, Dwight, Pontiac, Normal, Lincoln and Springfield. The rail carrier said it had taken the train out of service for cleaning and was disinfecting its stations in Chicago and St. Louis.
Don't panic, Central Illinois health professionals advise as COVID-19, the new coronavirus, spreads worldwide and in Illinois.
Meanwhile, in St. Louis, authorities closed two schools after family members of the passenger attended a school function against medical advice.
"At Amtrak, safety is our top priority. We have received notification from St. Louis County, Mo. that an individual who traveled on Amtrak train 303 (Chicago – St. Louis) on March 4, 2020, has tested presumptive positive for the coronavirus," the statement read. "We are working in close contact with public health and emergency management teams to have the best available information to be able to share with our customers and employees who might be affected.
Prevention actions for #COVID19 include:
• Avoid close contact with people who are sick.
• Stay home when you are sick.
• If you are sick call your medical provider before seeking medical care.
• Cover your coughs and sneezes with a tissue.https://t.co/isBYfXNv5A.

— CDC (@CDCgov) March 8, 2020
"Amtrak is notifying passengers and employees who may have been on the same train, and as a precaution, we have taken the train out of service for comprehensive cleaning and disinfection, and are also working to do a thorough disinfection of the Chicago and St. Louis stations."
Advice from Central Illinois health professionals in a Sunday Pantagraph story is not to panic.
"The best thing that you can do for yourself and your community is to wash your hands, stay vigilant and don't panic," said Dr. James Nevin, chief medical officer for Advocate BroMenn Medical Center in Normal and Advocate Eureka Hospital in Eureka.
If you feel ill, stay home and call your doctor. The elderly, those with compromised immune systems and small children should be especially vigilant.
Cruise ship
The Bloomington couple hopes to return to Illinois this week, after their vacation was extended after 21 people on board tested positive for COVID-19.
Barbara May and her husband, Jordan, are among the 3,553 people aboard the Grand Princess for what was originally scheduled for a two-week journey from San Francisco to Hawaii. However, the trip was interrupted on its return leg Wednesday when officials learned that a 71-year-old California man who had traveled on the ship last month died of the disease last week.
"We woke Thursday to a letter informing us," Barbara said. "That's when everything started to change. We noticed they had removed the salt and pepper shakers from the tables. We couldn't touch anything. The staff members were wearing masks and gloves and delivered and prepared everything."
Following guidelines from the U.S. Centers of Disease Control, all guests were asked to stay in their staterooms while test results on 45 crew members and guests are pending, officials announced. Guests are receiving meal deliveries in their staterooms by room service, and additional television and movie options have been added to in-room programming. Guests from 54 different countries have also been provided complimentary internet service to stay in contact with their family and loved ones.
Crew members wearing masks and gloves delivered trays of food in covered plates, and placed outside the stateroom doors.
More than 400 people have tested positive for the disease in the United States and as of Sunday, 19 deaths have been associated with the coronavirus. 
The couple is unsure of when they will be able to return home, but officials informed the passengers they would be heading for Oakland to disembark on Monday, through an evacuation process specified by federal authorities.
"That may take a couple of days," she said. "They are grouping people and acute care passengers will be in the first group to leave."
Illinois case
A hospitalized Chicago man in his 60s is believed to be Illinois' first community transmission case of COVID-19.
The man, in serious condition, had not traveled recently. His case marked the seventh overall in Illinois.
"As we have enhanced our surveillance efforts and begun testing more people, we expected to find more cases, and I expect that we will continue to identify cases in the days and weeks to come," said Chicago Department of Public Health Commissioner Dr. Allison Arwady said in a statement.
She said the news doesn't indicate widespread transmission in Chicago, but anyone with fever, cough and respiratory symptoms should stay home.
The first six cases, including two married couples, involved people who'd traveled, including a a special education assistant at a Chicago high school. Health officials said students, staff, and visitors to Jacqueline B. Vaughn Occupational High School were being asked to stay home out of precaution. No other cases linked to the school have been announced.
Worldwide, the virus has infected more than 100,000 people and killed more than 3,400. Most cases have been mild, and more than half of those infected have recovered.
Travel
As schools and students prepare for spring break, Amtrak already had announced new protocols including anti-bacterial wipes and gels in common work areas; increasing inventory of gloves, anti-bacterial products, soaps and more; disseminating accurate information through posters and instructional videos at stations; and following guidelines from public health experts.
As for air travelers, Central Illinois Regional Airport in Bloomington is "making sure we do some more intensive cleaning and sanitizing of our public facilities and informing people of how they can keep themselves healthy as they travel," spokeswoman Fran Strebing told The Pantagraph in a story published Sunday. It is up to individual airlines to issue travel alerts and change fee waivers.
"We are preparing and we are going to be as proactive as we can to keep our facility safe for everyone travelling," Strebing said.
Last week, State Farm, Country Financial and Rivian all announced a variety of travel restrictions for its employees and increased hygiene protocols.
---
Spring break is coming and the coronavirus is spreading. Here's what to know before you go.
Contact Kevin Barlow at (309) 820-3238. Follow him on Twitter: @pg_barlow
Concerned about COVID-19?
Sign up now to get the most recent coronavirus headlines and other important local and national news sent to your email inbox daily.