BLOOMINGTON — Three men were arrested after gunfire Tuesday in a busy part of east Bloomington, and that disturbed Alderman Jamie Mathy, who lives nearby and whose wife teaches nearby at Washington Elementary School.
"I don't want that anywhere near my house if possible. We, of course, hate to see that in any part of Bloomington," said Mathy after attending a meeting Wednesday night led by Police Chief Clay Wheeler.
The chief's bimonthly focus meeting drew about 52 people. Gun violence that left nine people dead last year in Bloomington already was on the agenda before Tuesday's incident.
Mathy praised the police department's quick response to the shots-fired incident in the 800 block of East Washington Street and the arrests of two Bloomington men, ages 21 and 23, and a 21-year-old man from Normal. The Pantagraph does not name suspects in such cases until formal charges are filed.
"The fact that it all was taken care of and we already have arrests in the situation, that's the best that we can hope for in the police — something happens, they react and they find the bad guys as quick as possible," said Mathy.
Wheeler said Tuesday's incident, in which no injuries were reported, was the fifth incident of gunfire since Jan. 1.
"We're still working hard to make an arrest in that unsolved case," said Wheeler.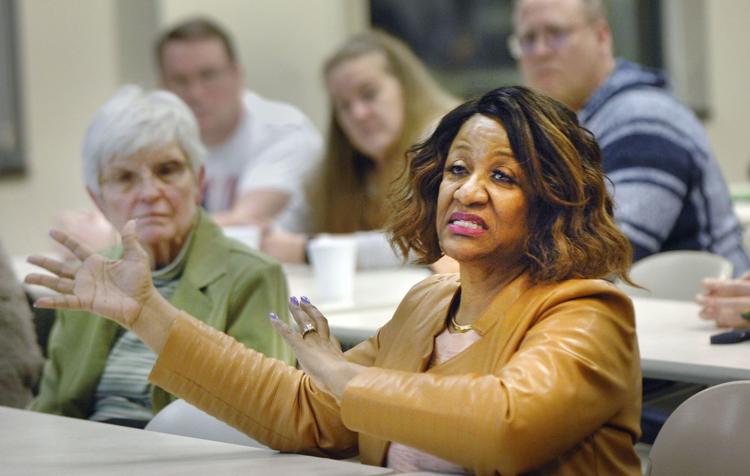 Last year, police also responded to 15 other shootings in which five people were wounded but survived.
"I will tell you there are more incidents where we have reports of somebody thinking they heard shots ... but we didn't find evidence (of a shooting)," said Wheeler.
In 2016, there were 41 shootings with eight people hit by gunfire, "so as you see it's quite a reduction actually," said Wheeler. None of those shootings that year were fatal. 
"In no way, shape or manner do I want to say that lessens the impact of crime on you and your neighborhood ... or if you have been a victim of violent crime," he added. "I don't want to tell you that we've had less of it and make you feel like we don't know that it is important to you.
"One sad thing about these types of things (is) generally they're happening with pretty young males, and it's not just the life they're taking, but it's their lives that they are forfeiting," said Wheeler. "They are going to spend the rest of their lives in prison."
Many communities have been impacted by a growing culture of violence among youths and young adults getting into disputes over social media, said Jack McQueen, the police department's crime and intelligence analysis unit supervisor.
"The kids tend to get on social media and flash their cash, flash their drugs. People see that and they come rob them," said McQueen. "And unfortunately with the value people are putting on life currently, instead of just pointing a gun at them, they are shooting them."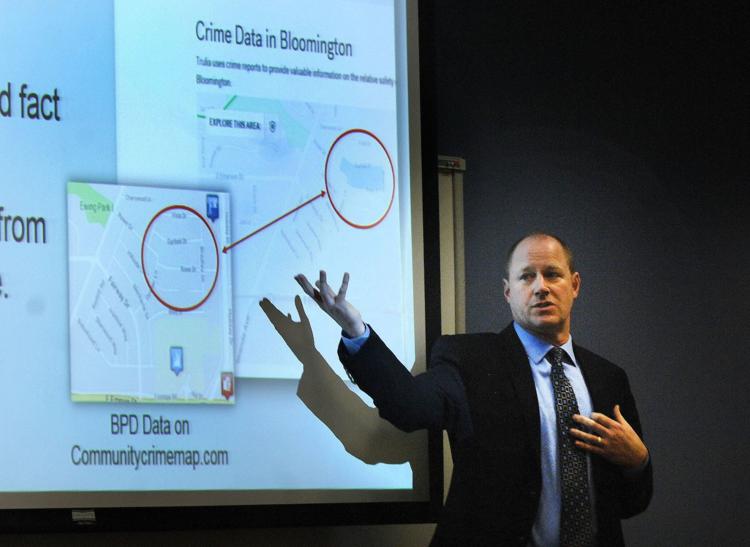 McQueen said that trend was happening in several communities across the state, but did not say specifically it was occurring in Bloomington.
When Wheeler asked how many people in the audience were connected with social service organizations, churches or private organizations, about two-thirds of the people raised their hands.
He said he needed their help and the help of other volunteers to try to make a cultural change. 
"If you can touch 13-year-olds who maybe some day will be those kids (impacted by violence), if they don't live a better life because of the situation they are in, if you can touch them and give them something to do so they are not out doing bad because they're just bored and with the wrong group, if you can give them a vision for a positive future, that's what is all about," Wheeler said.
"If they have value in their lives then they value other people's lives," he added.
"The most valuable thing is you being a mentor, being that adult that is walking through life with students," added Andrew Held, a pastor with City Life Bloomington.
"I really came here to be informed and (the police) are looking for answers," said Linda Foster, president of the local NAACP chapter, after the meeting. 
"It's unfortunate that we don't have the answers, but we do have the opportunity to talk through and see what some of the areas are that we can make some adjustments and hopefully make some progress and turn around what is going on in our community," Foster said.