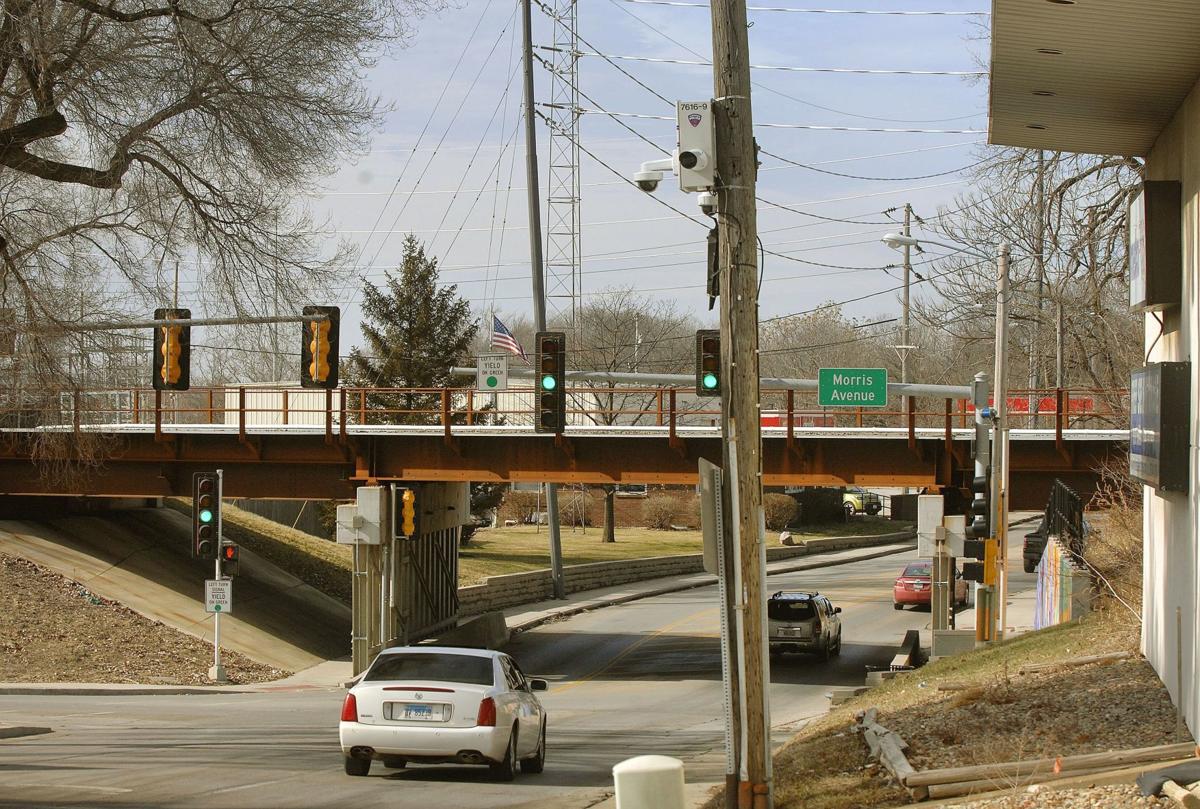 BLOOMINGTON — When Bloomington police were called in May 2017 to the scene of a brutal stabbing death at a west-side motel, supervisors immediately began reviewing video footage from department-issued cameras to find out who killed 27-year-old Shannon Hastings.
That footage eventually revealed evidence that helped convict Kyle Brestan in December 2019.
A public safety camera "produced evidence in the case and led us to evidence in the case we wouldn't have had at all that was critical in that homicide case," said Jack McQueen, who supervises the Bloomington Police Department crime and intelligence analysis unit.
Police say Bloomington's network of cameras, which spreads throughout the city in public areas, has provided a valuable view of the city and helped officials solve crimes and get convictions. But the use of cameras has also raised questions about privacy and how far the program will go.
BPD currently uses eight mounted cameras and two towed camera units that have generated evidence in 29 shootings, seven robberies, four stabbings, four gun arrests and three homicides as of mid-January.
"They have paid dividends over and over and over again, especially in regard to violent crime," McQueen said.
The most recent camera installation was placed near the intersection of Howard and West Market streets, though the equipment isn't kept in one place for longer than a few months.
"I think it's going to help out tremendously," said Paige Hinthorn, general manager at Metro by T-Mobile, 1001 W. Market St. "There are a lot of problems happening on this side of town so I think it's going to help with the store's security."
The cameras have been in use since 2013 and are deployed based on complaints and analysis of police reports, incidents and calls for service.
"Our goal is to add five to seven cameras per year for the next few years and see where that takes us. We don't want cameras on every other block. We don't want that; we think that's too much," said Police Chief Dan Donath. "We don't want cameras on top of cameras."
Of the eight mounted cameras and two towed camera units, a few are currently down for repairs or updates. One previously at Market and Howard is now on Market just west of Howard; others are at Tracy Drive at Oak Creek; the 1200 block of Orchard Road; Washington Street at Lee Street; Euclid Avenue at Olive Street; and South Morris Street at Six Points Road. McQueen said the cameras are moved based on need and crime analysis.
Reducing crime
Police agencies around the world have turned to the devices as the technology has become more portable and less expensive. 
But privacy groups, including the American Civil Liberties Union, have raised concerns about whether the technology is too pervasive. One specific area of concern is the use of facial recognition software.
Bloomington officials say the use of the technology clearly is having an impact. 
"We find, over the course of time, that in order to solve some crimes, an interdispersing of cameras throughout the city does have value," Donath said.
The Bloomington chief said cameras not only help the department reduce crime but also help to reduce the fear of crime.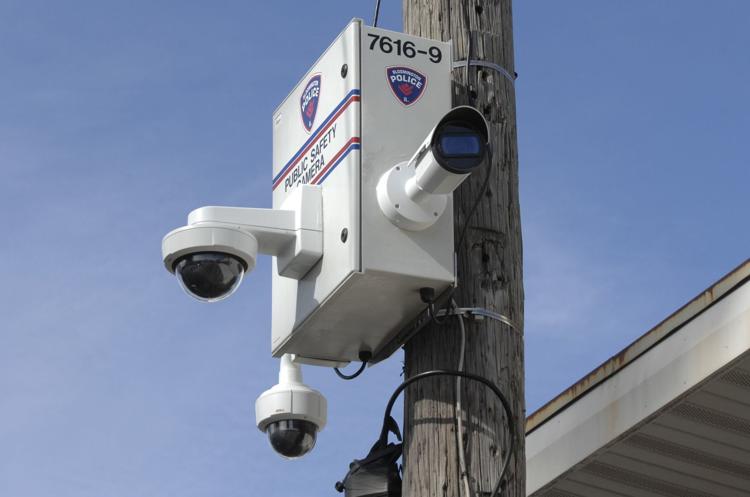 "But I would say that nowadays things have calmed down considerably, whether the cameras had a part in that, I don't know," he said.
McQueen believes the cameras deter planned crimes and can capture evidence for spontaneous and often more violent crimes.
The key to the program is transparency, he said.
"Nobody shouldn't know how it works and nobody shouldn't know what they're collecting, and any problems that people have with it, we want to address on the front end of it," he said.
Bloomington police said that when a camera is installed in a new area, the department contacts nearby residents and businesses to field any questions.
But Muhummad said no one approached A Kut Above, although he believes the installation is good for the area.
"Probably all in all it's a good thing that the cameras are there," he said. "If it's a measure to prevent crime or whatever, make the community more safe, then who can oppose being kept more secure?"
After a Facebook post about the cameras went up in January, the department engaged more with the community about camera use and gave more details, including:
Cameras are marked with BPD logos and the word "police"
Cameras are deployed exclusively in public locations
Cameras are not actively monitored
Unless recorded footage is retained for criminal incidents, recordings are automatically deleted after 14 days
Cameras do not record audio
Use of footage is governed by state and federal legislation as well as internal BPD policy
An issue of privacy
The main concern relayed to the department is privacy — what do these cameras see?
In addition to pointing away from residential areas and instead toward roads, "Our newest deployments, as we're switching them out, have the ability to mask out private areas," McQueen said. "Some of them have the ability to mask out your address, your windows, a door, a pool, for example, and when a camera moves, the mask (adjusts) with the image ... An opaque box stays on the image. The technology just got there to allow that."
Maintaining a reasonable expectation of privacy for residents is a priority.
"If we arrest you, we can't just go through your phone. It's going to be the same principles, the same reasonableness (with any footage)," said Public Information Officer John Fermon. "If the camera picks it up, even if we have access to that, we have to have a conservative approach and that's why we're being transparent about it."
When it comes to privacy, Muhummad said, "We're under observation no matter where we are — uptown, downtown, east side, west side. … If you're not doing anything wrong, what do you care where there's cameras?"
As cameras improve in resolution and capability, a new management system will help to keep police access conservative as well, McQueen said.
"We can lock employees out on a zoom camera. Let's say it zooms 30 times; we can lock them at 15 so they can't go any further," he said.
McQueen said the department has received only one complaint or concern about the cameras since the program began.
"In the absence of complaints, we still want to be a good steward of public privacy as this program goes forward," McQueen said. "You don't want to lose trust in the department ... at any point in time."
In Normal, Police Chief Rick Bleichner said his department has researched the use of cameras and even borrowed them from BPD after crime sprees, but "we don't have a plan to get a program at this time."
Collecting footage
When canvassing areas where a crime is committed, officers also call upon businesses and residents with private cameras that could have recorded the incident.
Mark Jontry, regional superintendent of education for McLean, DeWitt, Logan and Livingston counties, said Bloomington police previously have asked to view footage recorded on external cameras at the Regional Alternative School, 408 W. Washington St.
"We've been doing that for a number of years. There's always been businesses that had cameras; now residences are becoming more frequently a location for video as the Ring doorbells or (other alarm systems that provide video) become more commonplace," Donath said.
The city allows businesses to register their cameras through the police department, so officers know where cameras might be available. The department doesn't have access to the cameras or footage unless provided by the business owner.
One of the BPD cameras was installed at the corner of Washington and Lee streets, across from the alternative school. Jontry said he doesn't have any concerns about its installation, as it's "being used to keep everyone safe."
"It's 2020 now," Donath said "and we should adapt to the times that we live in. We should be a dynamic police department that does that kind of stuff."
---
Contact Kelsey Watznauer at (309) 820-3254. Follow her on Twitter: @kwatznauer.
Be the first to know
Get local news delivered to your inbox!