NORMAL — A man was injured early Saturday when his car ran off a Normal street and into the living room of a house.
It was a wake-up call like no other for Seth Boggess and his wife, Natasha Warloe, when the incident occurred about 2 a.m. Saturday.
Police on Saturday afternoon did not identify the driver, but said he continued to be treated at a hospital for non-life threatening injuries. No one in the house was hurt.
Boggess told The Pantagraph he and his wife and two children were sleeping in bedrooms in the rear of their home at 113 N. Blair Drive in Normal when he said he was awakened by the sound of a "crash."
"We heard a loud crash," Boggess said. "We got the kids up and got out of the house."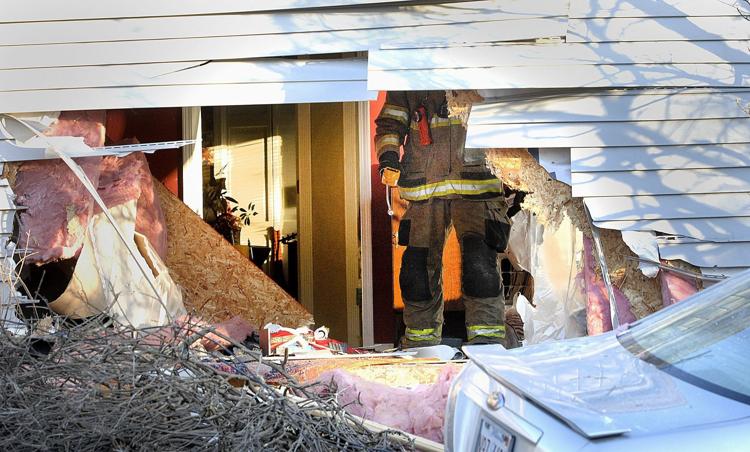 Normal fire units arrived on the scene almost immediately because their station is only two blocks away, said Warloe.
When the family was leaving the house, Boggess realized the car had damaged the house's natural gas service.
"When the car went into the house, it took out the gas meter on the outside," he said. "We got the kids out of the house so fast because natural gas was pouring into the house. I was fearful of an explosion."
The car, a late model Ford sedan, had been headed north on Blair when it swerved across the center line. The car went over the curb and went another 100 feet before crashing through some small trees and lodging itself almost entirely inside Boggess' living room.
Police said charges were pending against the driver. The cause of the incident remains under investigation.
Firefighters uncovered the car and rescued the driver who was trapped, said a Normal firefighter on the scene.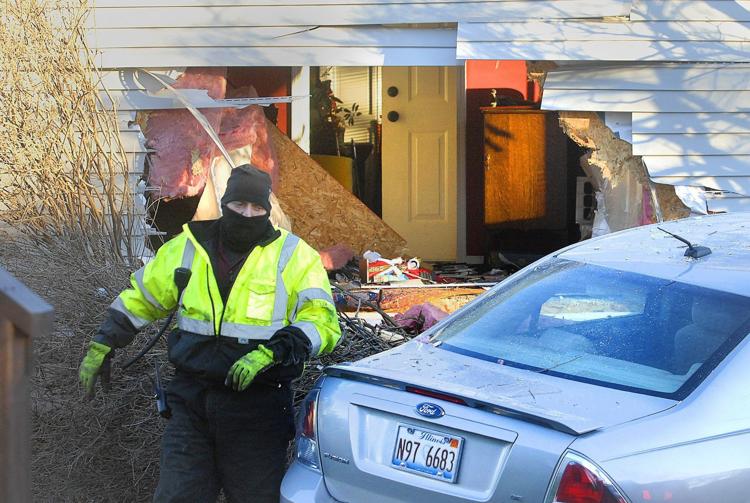 Wrecker operators from Joe's Towing and Recovery had their hands full trying to figure out how to remove the car from the house. The car had flown about three feet off the ground before plunging inside the frame structure.
Operators pulled the car sideways and backed it out of the house using two cables from two separate tow trucks. The car sustained relatively little damage.
The hole in the wall of the structure measured about five feet by eight feet. Normal firefighters checked for gas leaks before leaving the scene.