BLOOMINGTON — For those behind bars, visits from family and friends mean a welcome break from the dull routine of imprisonment.
In McLean and Macon counties, and state-run prisons, that isolation has now increased after coronavirus concerns led authorities to ban visits except by video link.
That's among a variety of measures taken statewide to keep prisoners and prison workers healthy amid an outbreak that grows daily. Throughout the state, some courthouses have cancelled tours, postponed trials or plan to limit the number of jurors called for duty; some hearings may be held by teleconference or video.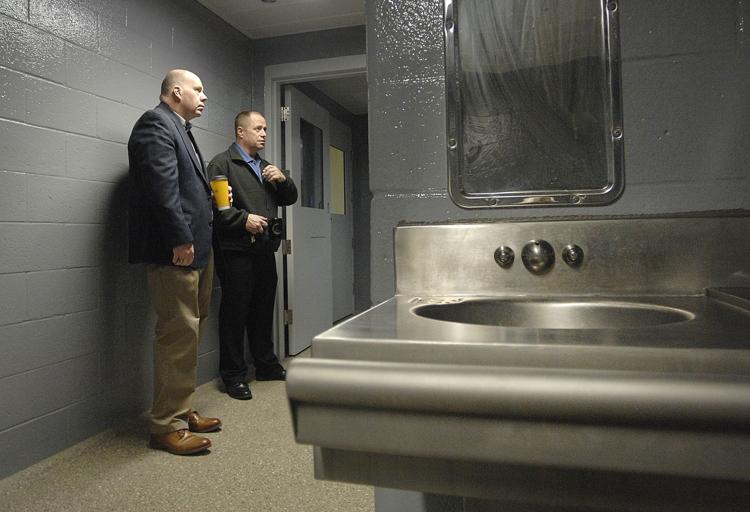 At the McLean County Law & Justice Center, weddings will be limited to the participants and four guests, and probation officers will have fewer in-person contacts.
That's nothing new: The jail dealt with a heavy flu outbreak in January.
"In January, we emphasized cleaning every shift," she said. "That means the doorknobs, handles, phones and everything. We have continued that, but also we have suspended all tours."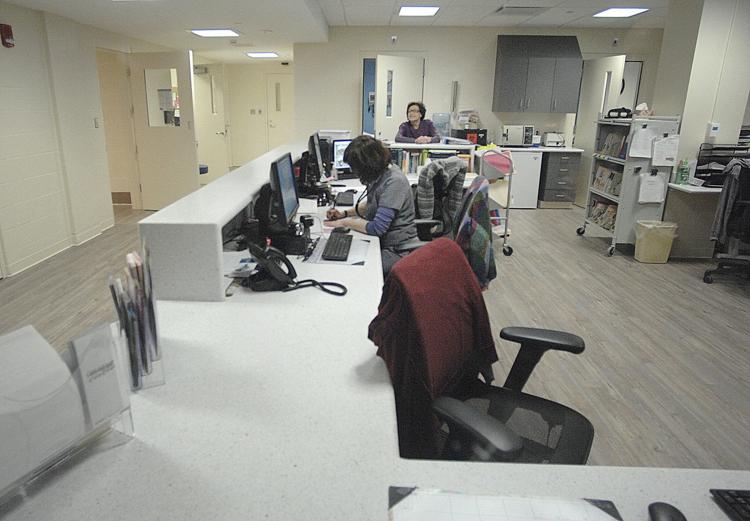 In Macon County, Sheriff Tony Brown points out the likelihood of prisoners falling ill is higher, because many inmates tend to be unhealthy from underlying conditions, such as drug addiction.
Brown said one detail overlooked in media reporting of the disease is that many people who fall ill with coronavirus recover. Those who get very sick or die tend to have compromised immune systems or other underlying health issues; the current coronavirus fatality rate is classed by the World Health Organization as running at 3.4% of all cases.
That percentage contrasts with seasonal flu which, with a death rate of less than 1%, is estimated to have killed anywhere between 20,000 and 52,000 people in the U.S. since October, according to the Centers for Disease Control and Prevention.
Prisons are getting thorough cleanings daily and more changes could be coming, said Illinois Department of Corrections spokeswoman Lindsey Hess.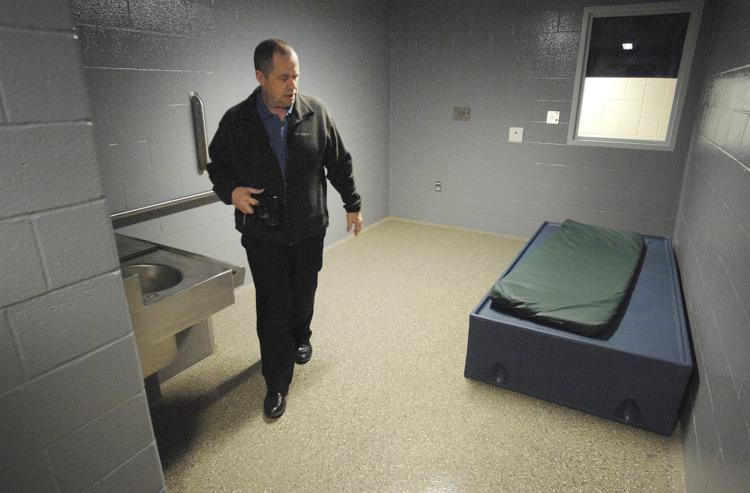 "The Illinois Department of Corrections is modifying its current Pandemic Influenza and Continuity of Operations plans to ensure we are prepared for a potential outbreak of COVID-19," she said. "The department is working closely with the Illinois Department of Public Health and the Illinois Emergency Management Agency to ensure the health of people in custody and our staff."
But more needs to be done, said Jennifer Vollen, executive director of the John Howard Association, an independent prison monitoring organization based in Chicago.
"Hygiene is a concern we routinely hear about from people in Illinois' prisons," she said. "Understanding the importance of sanitation products in protecting oneself from this pandemic, we urge the Illinois Department of Corrections to make sure everyone in their custody has access to everyday health necessities including soap, showers, clean clothes and clean bedding."
She also expressed concern about the traffic in and out of prisons.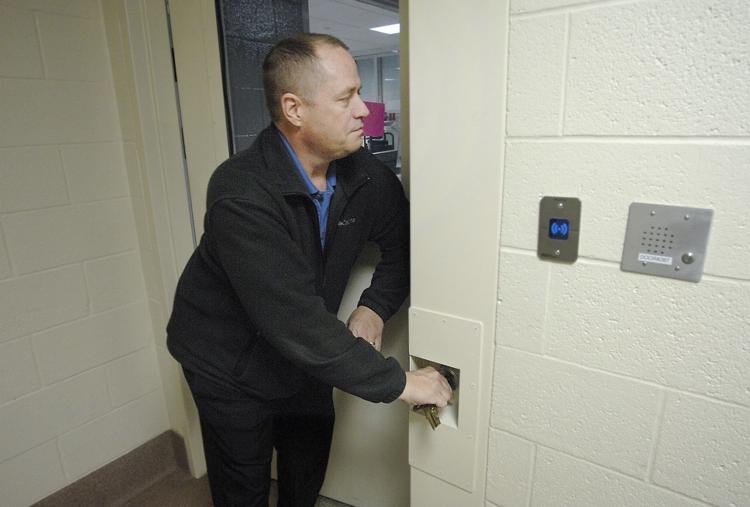 "While prisoners are, in the most literal way possible, contained, there are many other people who are in and out of prisons regularly: staff, volunteers, delivery people, outside vendors, and visitors whose web of community contacts is just as wide as any person who does not enter a prison. It is crucial that IDOC have an emergency plan in place that can be implemented immediately," she said.
McLean County
When a suspect is booked into the jail, he or she is asked to fill out a questionnaire that includes questions about any exposure to COVID-19 or recent travels outside of the country.
"If they do show symptoms or answer any of these questions, it would be red-flagged," Hughes said. "We would issue them a mask, keep them away from other inmates and notify medical."
Medical staff would take the inmate's temperature to set a baseline, and the inmate would be further evaluated by medical staff.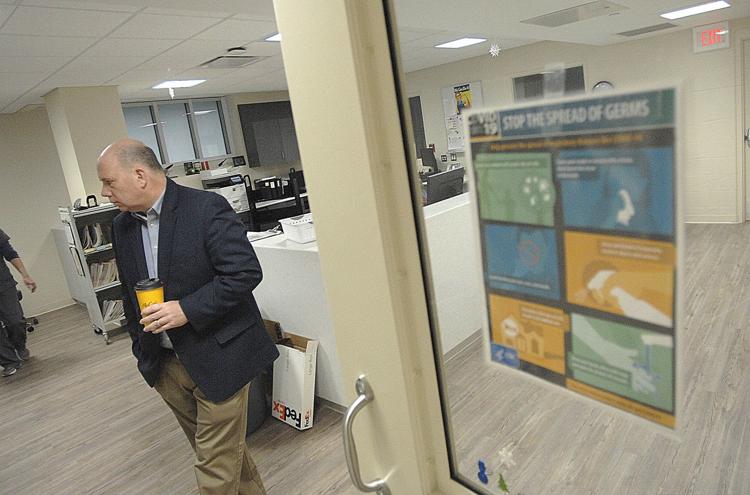 Before the recent worries, Hughes said, prisoners with the flu were confined to their rooms. If they were elsewhere for any reason, they would wear a mask. Fact sheets now have been issued to correctional officers and inmates, and patrol officers were given information about limiting exposure while entering homes or on traffic stops.
Inmate contact with the outside world already was limited at the McLean County Detention Facility: a glass window separated friends and family from inmates during visits. Sheriff Jon Sandage said new rules mean visits must be conducted remotely, such as through a video link.
Attorneys still can meet with inmates, but can use a video link or sit behind a glass window. All in-house jail programs conducted by outside volunteers have been suspended.
"These changes will be in place until April 10 at which time the current situation will be assessed," Sandage said.
Macon County
Macon County enacted similar restrictions Friday. "We will be continuously monitoring this constant evolving situation and the visitations will be reinstated as soon as it has been determined it is safe to do so," Brown said. 
Earlier last week, Brown said the jail has dealt with other serious public health risks in the past, such as tuberculosis, but the scale and rapid spread of coronavirus makes it a unique challenge.
Decatur Police Chief Jim Getz is reaching out to the Macon County Emergency Management Agency to see how other jurisdictions are operating. 
"We still have to provide public safety," Getz added. "That is what we have to do and that is what we will continue to do, and we'll take all the precautions we can to protect our people."
The Illinois Sheriffs' Association is monitoring federal and state reports and information, said Jim Kaitschuk, executive director of the Illinois Sheriffs Association. "We are sharing this information with sheriffs and encouraging them to discuss appropriate precautions and appropriate preparations with their local health officials," he said.
The problem, Getz said, is the disease's scope, severity and relatively easy means of transmission. "Dealing with it is new for me and, in my 20-some years here, I just don't remember anything like this," said Getz. "It's just something else to put on our plate to worry about but we're going to be working on it and, hopefully, we'll get through it and move forward."
"And don't touch your T-zone," she added. "That being your eyes, your nose and your mouth."
It's basic, but Esposito said it works and is something we can all do. Such basic hygiene guards just as well against other infectious diseases like the flu. Her agency is driving home that message with an information campaign in conjunction with the Macon County Health Department.
"We're working closely with the McLean County Health Department and helping assist them with what they need," said Bob Clark, director of the McLean County Emergency Management Agency. "We are waiting and going where we are needed, but this changes constantly. As soon as we have an idea, somebody comes up with something different."
Contact Kevin Barlow at (309) 820-3238. Follow him on Twitter: @pg_barlow
Concerned about COVID-19?
Sign up now to get the most recent coronavirus headlines and other important local and national news sent to your email inbox daily.