"Hey, I'm Buddy. What's your favorite color?" he asked students as he wandered the campus in yellow tights, a green sweater and a pointy hat (atop a curly Will Ferrell-esque wig) filming the second edition of "Lt. Elf."
The movie parody has drawn thousands to the ISU police Facebook page, with an extra video of bloopers and deleted scenes picking up steam as well.
Using #TheChiefMadeMeDoIt, Klepec gives full credit to Chief Aaron Woodruff for sparking the idea.
"He said 'What if I bought you an elf costume? Would you wear it?' And I'm like 'No… Are you crazy?' I said that's way out of my comfort zone; I would never have done something like that," Klepec said.
But soon enough, he was trying to convince squirrels to give him a hug, hopping across pedestrian crosswalks and spinning around revolving doors.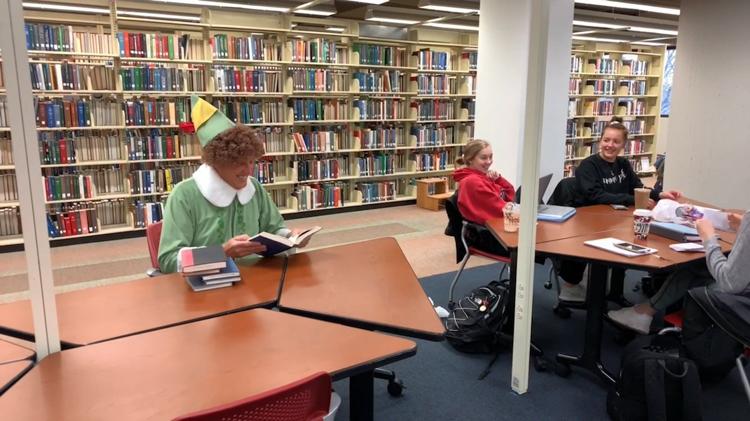 "It's (all about) promoting positive interactions with students and faculty here at ISU," Klepec said, his elf costume still hanging on the back of his office door.
Police and fire departments don't always get the opportunity to give a face to their agencies to the extent of "Lt. Elf," but most try to remind the community they're real people under the uniforms.
"A lot of people, the only interaction they have with the fire department is on either their worst day or they see it on TV, and usually what fictional TV shows show is not accurate and not factual and very dramatic," said Matt Swaney, spokesman, fire investigator and the man behind the Normal Fire Department's social media. "I think being able to tell the real story of what we do is very important."
Between informative posts about fire safety, Swaney finds room for humor as well. He's especially proud of a recent video edit he made of Baby Yoda, the breakout character from Disney's "The Mandalorian."
"He's so cute, how could you not?" he said, watching Yoda flip a siren on and off as a "rookie paramedic."
Video and photo editing isn't exactly where a new firefighter or police officer expects their career to lead, but Bloomington Police spokesman John Fermon said the "universal language" of memes makes his job easier.
"If I could post on the internet full-time, that'd be great," he said laughing. "But I've got a bunch of other (duties)."
With a self-described sarcastic sense of humor — "Sometimes I'm funny, sometimes I'm not" — Fermon typically doesn't post funny images just to be funny.
You have free articles remaining.
"My main goal is to provide information and to push information out. Sometimes, and I do it sparingly, I'll just post something funny because I think it's funny, but for the most part, there's a reason behind it," he said.
Adding humor can help reach a wider audience and make more of an impression, which helps when the departments have important messages to share as well.
"Without them following for another reason — be it funny reasons or just because they like fire trucks — we wouldn't have that reach, that instant reach," Swaney said.
A photo of comedian Hannibal Buress saying "Why are you booing me? I'm right" accompanied a BPD post about unattended vehicles, "a very boring topic," and it reached about 32,000 people, four times as many as a post with just the law's text, Fermon said.
"We have lots of daily discussions about what our audience will and won't find funny," said Jack McQueen, supervisor of the BPD crime and intelligence analysis unit. "I'm like, '65-year-old women will love this' and John's like, 'But I have one for 17-year-old boys' — let's meet in the middle."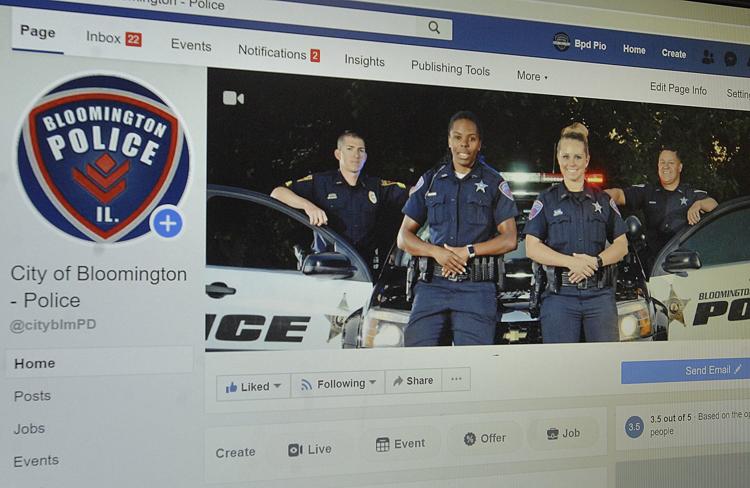 The police and fire departments in the Twin Cities also take advantage of the platforms to poke fun at each other with a sibling-like rivalry.
"It's always just a big joke. They make some doughnut joke that's not funny and that's about all they've got," Fermon said.
The doughnut jokes run deep among the fire departments. For International Doughnut Day, Swaney edited a photo of a Normal police squad car to have doughnuts for wheels. A well-received post from the Bloomington Fire Department came when spokesman Eric Davison snapped a photo of a BPD squad car parked behind a local Dunkin' Donuts, which Fermon swears was an officer responding to a call.
"Cops are notorious for picking fun at firefighters and vice versa so when that comes out across the web, (the public) knows that we're getting along and still able to maintain that professional relationship with them," Swaney said.
Online connections, while meaningful, can never replace face-to-face conversation, but Fermon said the departments have to adapt because "This is where people communicate. This is where they feel comfortable."
Using social media has also allowed for more dialogue, McQueen said.
"In the last year since he's taken over… (Fermon) has dramatically increased the amount of discussion back and forth within a post," he said. "Sometimes humorous, sometimes just serious answering a question."
At ISU, Pawfficer Sage also helps the police department make connections both on campus and online.
The 2-year-old black Labrador retriever is "a huge celebrity on campus," Klepec said. "Everyone knows Sage and she just draws everyone in."
Between friendly dogs and internet memes, officers said they want to give the community the opportunity to have positive interactions with the police.
"It shows that we're real people, too," Klepec said. "We like to have some fun while doing a serious job."
Contact Kelsey Watznauer at (309) 820-3254. Follow her on Twitter: @kwatznauer.