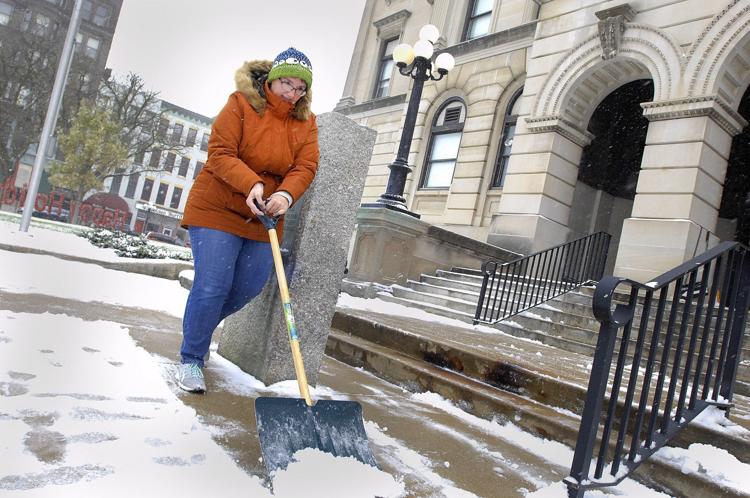 BLOOMINGTON — Blustery snow sent dozens of cars into ditches and changed some Veterans Day plans Monday as Central Illinois trundled through its second snowstorm in less than 10 days.
While Tuesday's forecast doesn't call for snow, temperatures usually seen in deep winter will continue.
The Veterans Day storm brought the "first real blast of cold air for the season that's actually going to linger for a few days," said Scott Baker, a meteorologist at the National Weather Service in Lincoln.
Snow began falling shortly after 7 a.m. and continued through most of Monday, with wind up to 30 mph causing blowing and drifting snow in open areas.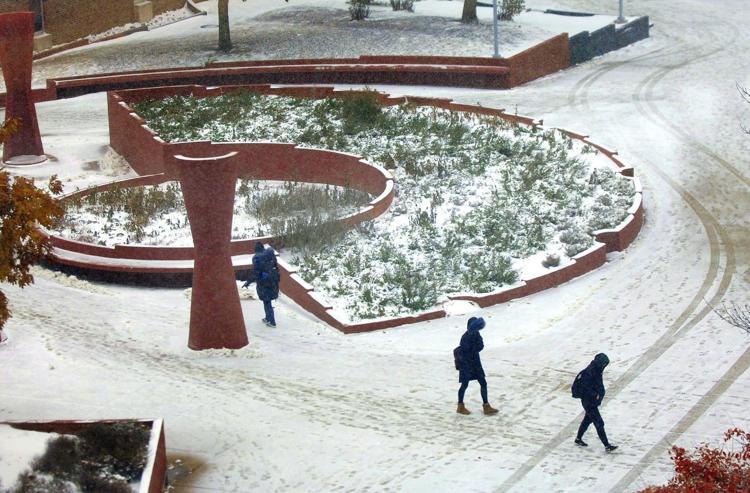 By the time the snow tapered off in the afternoon, 2.3 inches of accumulation was reported in Bloomington, 4.5 inches in Decatur and 1.8 inches in Peoria. In Lincoln, 2.5 inches of snow set the record for Nov. 11, breaking the previous record of 2 inches set in 1995.
"It's not uncommon to get snowfall this time of year, but it's kind of rare to see as much as we did," Baker said.
The National Weather Service issued a winter weather advisory for most of Central Illinois as the wind, snow and below-freezing temperatures created hazardous driving conditions.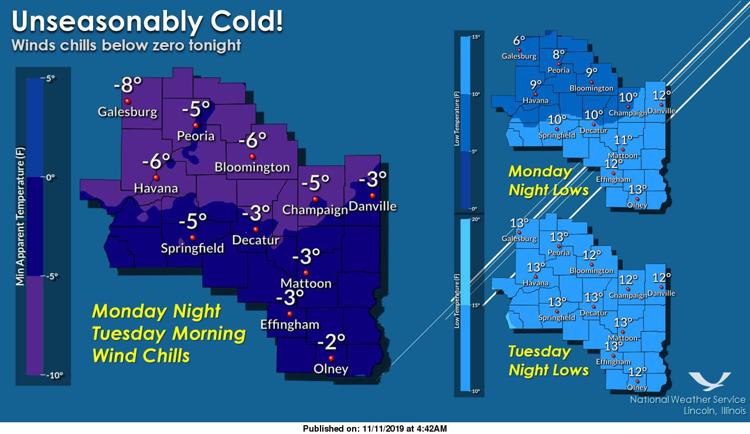 Central Illinois hospital emergency departments treated people injured in weather-related motor vehicle crashes and falls, but none of the injuries appeared to be serious.
Lynn Hutley, spokeswoman for Advocate BroMenn Medical Center in Normal, said several patients were treated in the emergency department following motor vehicle collisions but none required admission.
OSF HealthCare St. Joseph Medical Center in Bloomington and OSF HealthCare Saint James-John W. Albrecht Medical Center in Pontiac also reported treating people following minor motor vehicle collisions, spokeswoman Libby Allison said.
Hopedale Medical Complex in Hopedale treated three patients from two traffic crashes, Chief Operating Officer Mark Rossi said. All were treated and released.
You have free articles remaining.
The McLean County Sheriff's Office issued a collision alert early Monday, requesting motorists who were involved in noninjury accidents to exchange information and contact the sheriff's office for an accident report within 48 hours.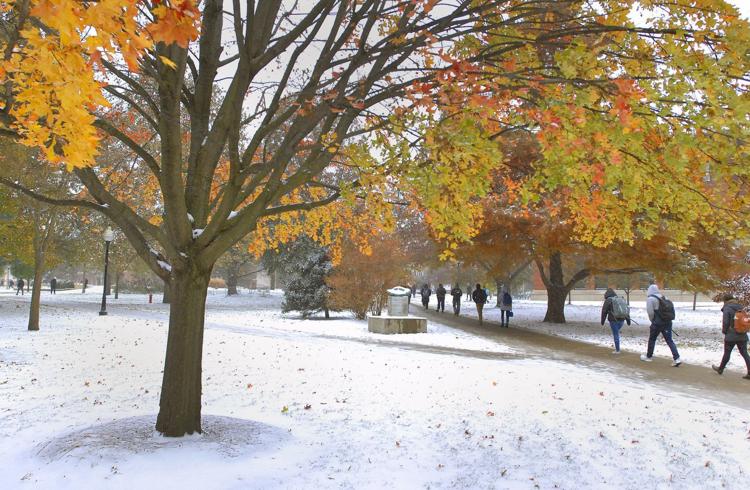 Bloomington city employees had Monday off for the holiday, "but by 9 a.m. some (public works department) crews came in to keep the major streets safe," said Bloomington Public Works Director Jim Karch.
"Since the snow continues to come down and blow, city crews are transitioning (away from salting) to more of a plowing situation, staying on our major streets throughout the evening and into (Tuesday)," Karch said Monday afternoon. "We anticipate including more staff because the storm continues to cause a situation that plows and salt are beneficial in combination."
The town of Normal used a similar strategy, concentrating on its major arterial streets.
"I think we are staying ahead of it," said Normal Public Works Director Wayne Aldrich on Monday afternoon. "We do have salt trucks out with plows, and then we do have some of our smaller 1-ton (trucks) out as well."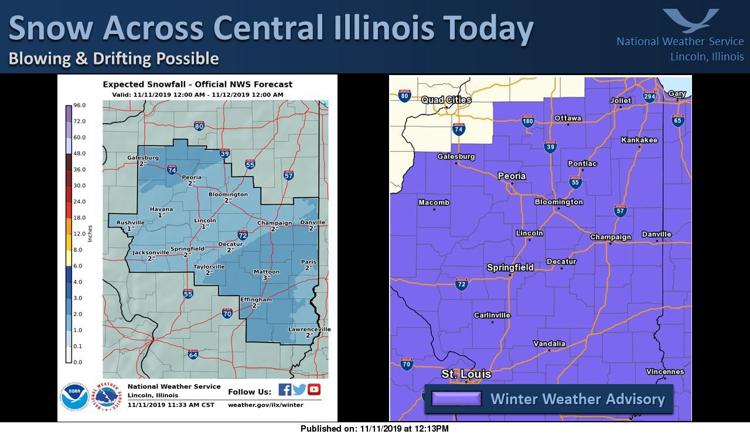 However, Normal started the day with leaf collection, which complicated the snow removal efforts.
"It makes it difficult for us when we're in leaf pickup season because four or five of those trucks are also used for snow removal," Aldrich said. "So we have to transition those trucks over to salt spreading and snowplowing. We haven't done that today (Monday), but we'll see how things go."
Bloomington's public works crews worked over the weekend vacuuming up leaves piled at the curb because those trucks are also used for removing snow.
"We got as many resources as we could out on the streets to get as much done before this major winter event," said Karch.
Some plowing crews continued working overnight to ensure major streets are passable.
"When you have some of the first snows of the year, people tend to drive too fast for conditions," he said. "We really do encourage our citizens to drive carefully and slow down well ahead of stop signs. When you do see plow trucks please give them plenty of room so they can continue to do their jobs."
The temperature continued to fall after sunset, dropping to 20 degrees by late afternoon with a wind chill of 3 degrees, according to the National Weather Service.
Overnight, the temperature was expected to drop to 8 degrees, with a wind chill of 7 degrees below zero.
Tuesday should be sunny but cold with a high near 21 and wind chill between 2 below and 8 above in the morning. The winds should become calm by Tuesday afternoon, the National Weather Service predicted.
The next chance of snow will come Wednesday night, but the majority of the storm system will stay north. Some flurries could drop as far as Bloomington, but no accumulation is expected, Baker said.
Dan McNeile, Kelsey Watznauer, Maria Nagle and Paul Swiech contributed to this report.