BLOOMINGTON — Police and some leaders of the African-American community in Bloomington-Normal stood side by side on Monday afternoon to jointly condemn police brutality, racism and police actions that resulted in the death of George Floyd.
"We stand together because we believe we are entitled to a better community," said Linda Foster, president of the Bloomington-Normal branch of the NAACP.
She and other Bloomington-Normal black leaders stood on the steps of the Bloomington Center for the Performing Arts with representatives of the Bloomington, Normal and Illinois State University police departments; the McLean County sheriff's department; and representatives of Not In Our Town, the Bloomington-Normal anti-hate group.
A diverse group of more than 100 people and police attended the noon rally in front of the BCPA, 600 N. East St.
"We too condemn the actions of the officers involved in the killing of George Floyd, including those officers who stood by and failed to act," said ISU Police Chief Aaron Woodruff, speaking on behalf of himself, the police chiefs of the Bloomington and Normal police departments and McLean County Sheriff Jon Sandage.
Floyd is the African-American man who died May 25 in Minneapolis after a white police officer pressed a knee into his neck for 8 minutes and 46 seconds. The incident has resulted in protests, rallies and vandalism nationwide, including in Bloomington-Normal.
Normal Police Chief Rick Bleichner and Woodruff had intended to speak on May 31 but organizers suggested they step back after Donath's remarks were drowned out.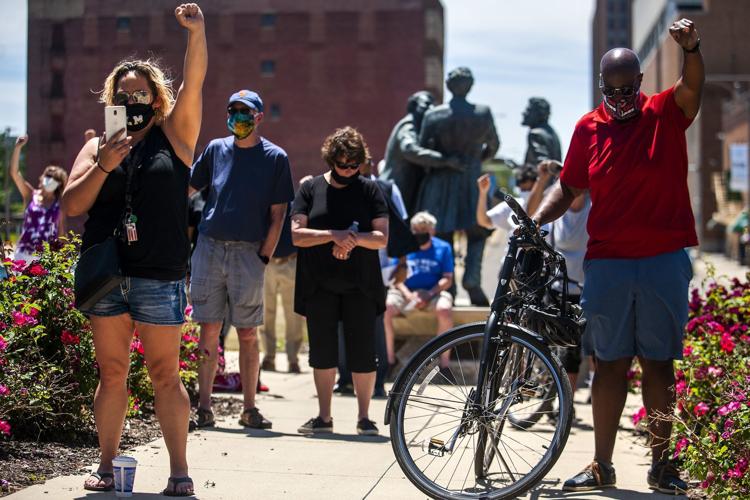 On Monday, Woodruff spoke on behalf of all three chiefs and Sandage.
"We wanted it to be a unified message," Bleichner explained to The Pantagraph.
"We want to show that we stand unified and we condemn what happened in Minnesota," Sandage said.
Woodruff said, "We in law enforcement must be willing to publicly speak out on the recent events which have inflicted our nation, our community and our profession. Pursuant to that unity, I am speaking on behalf of all our agencies here today to make it clear that:
"1. We too condemn the actions of the officers involved in the killing of George Floyd, including those officers who stood by and failed to act.
"2. We too are against police brutality and excessive use of force and don't condone it in our community.
"3. We are committed to accountability, transparency and building a community of tolerance and mutual trust.
"4. We are peace officers. As such we will not abuse our authority as we fulfill our solemn oaths to you.
"5. We have ratified these commitments, having previously adopted the ideals in the 10 shared principles of the NAACP and Illinois Chiefs Association..."
The 10 principles call for treating everyone with respect, rejecting discrimination, advocating fairness in community policing, developing strong relations between police and the African-American community, supporting diversity in law enforcement and de-escalation training, Foster said.
Donath, Bleichner and Woodruff said their departments have signed the principles. Sandage said "we firmly believe in them."
Asked by The Pantagraph about the relationship between Bloomington police and the African-American community, Donath said, "It's good, it's not perfect ... There are ways to improve it and we are open to any ideas and suggestions that people have."
Willie Holton Halbert, NAACP branch second vice president, said "it's a relationship we're working on." She said local police "are open to dialogue."
"We don't condone rioting and looting but we also condemn the action of those officers against George Floyd," Donath said.
"We want to sit down and listen and have difficult conversations," Bleichner told The Pantagraph.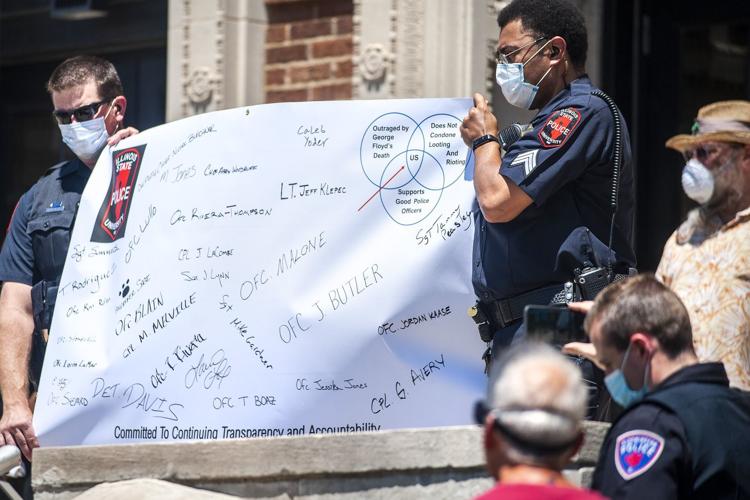 Bleichner said many reforms being called for nationally — an outside review if someone dies in police custody, barring choke-holds and a review of police force beyond hand-cuffing — already are in place in Normal.
"We are in this thing together," Foster said. "It's going to take all of us to sit down together and do something that we can be proud of."
"This, in my opinion, is a positive step forward because we have all the chiefs and the sheriff here who agree that what happened in Minnesota is a travesty ... Coming to terms with that is a part of the healing process," said Carla Campbell-Jackson, NAACP branch first vice president.
But during the rally, which included 8 minutes and 46 seconds of silence to honor Floyd, the Rev. Mollie Ward, co-chair of the NIOT faith and outreach committee, asked police to face her and, quoting Rev. Dr. Yolanda Pierce, warned "Let us not rush to the language of healing before understanding the fullness of the injury and the depth of the wound."
---
PHOTOS: Joint rally outside the BCPA
060920-blm-loc-15naacp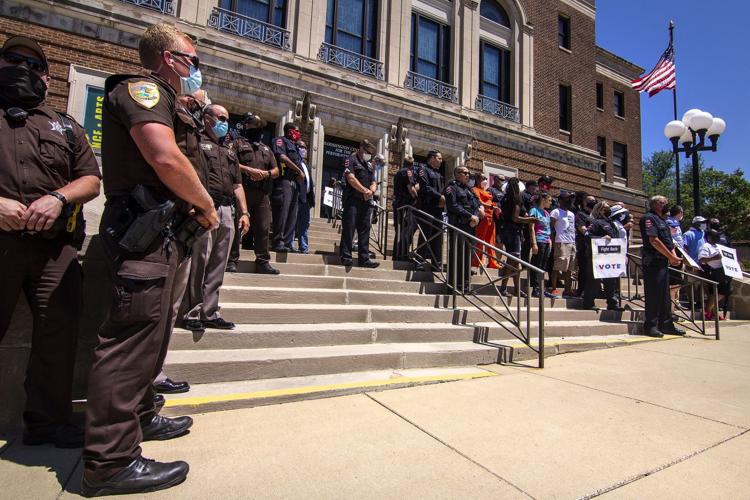 060920-blm-loc-5naacp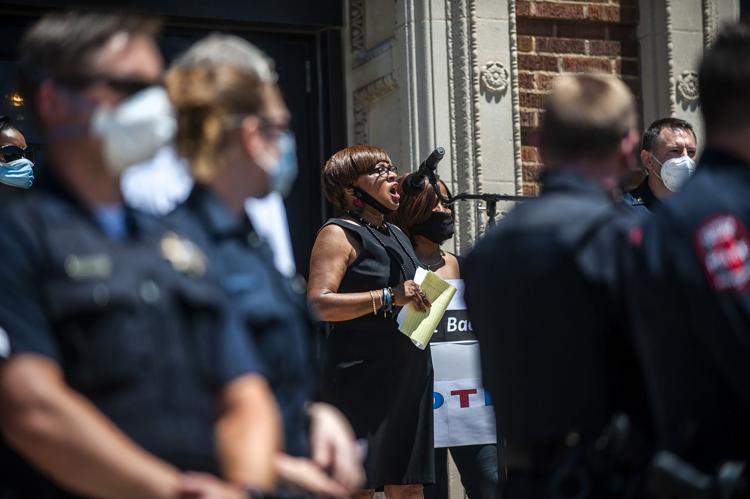 060920-blm-loc-6naacp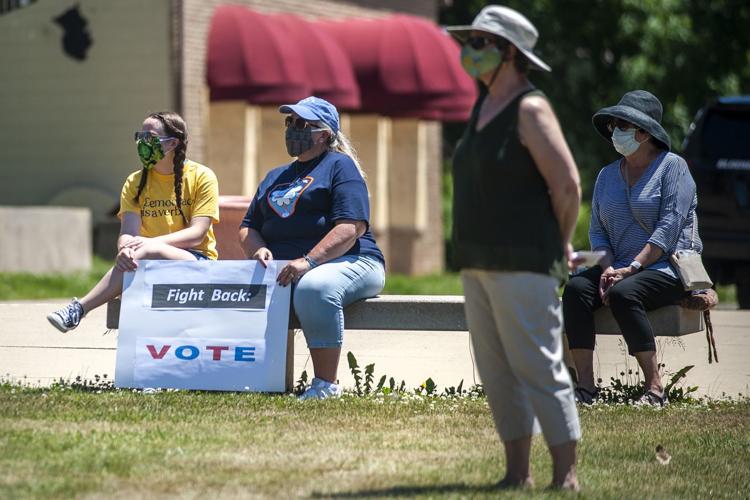 060920-blm-loc-7naacp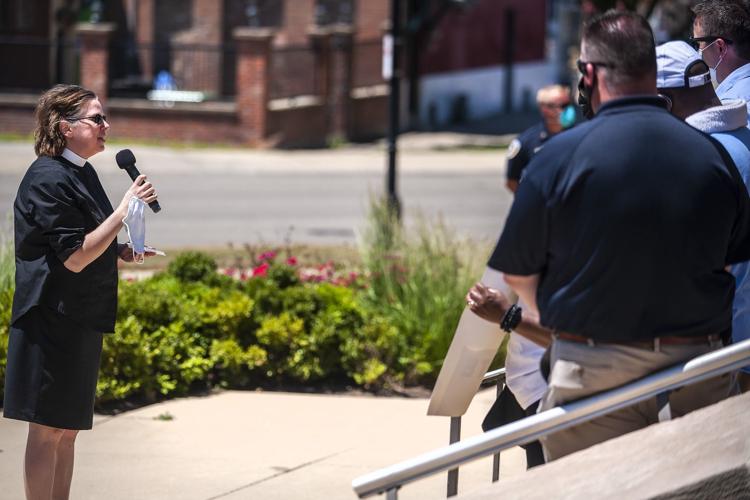 060920-blm-loc-8naacp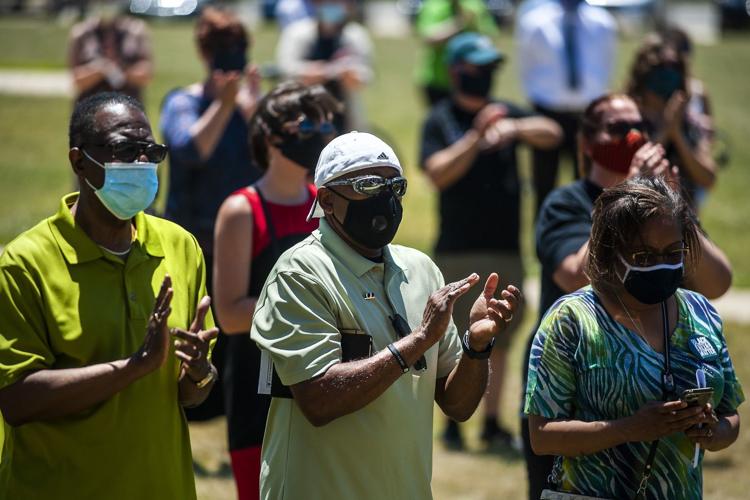 060920-blm-loc-4naacp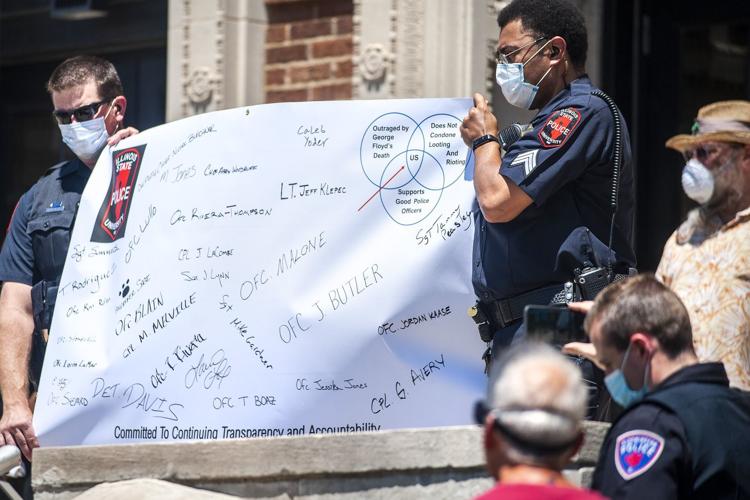 060920-blm-loc-9naacp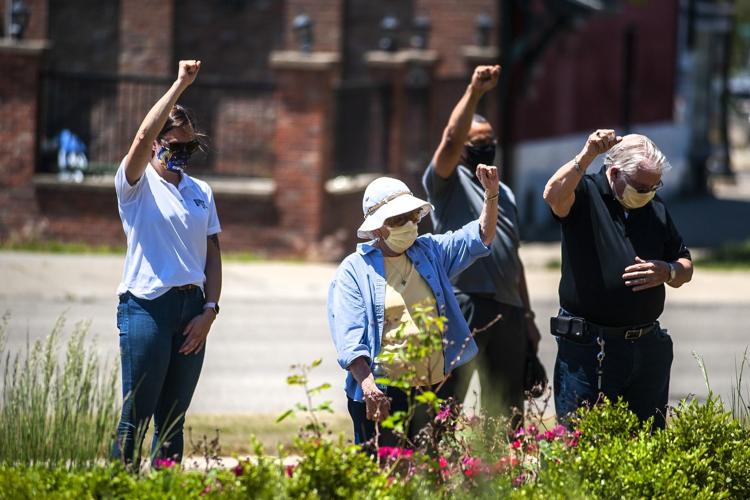 060920-blm-loc-16naacp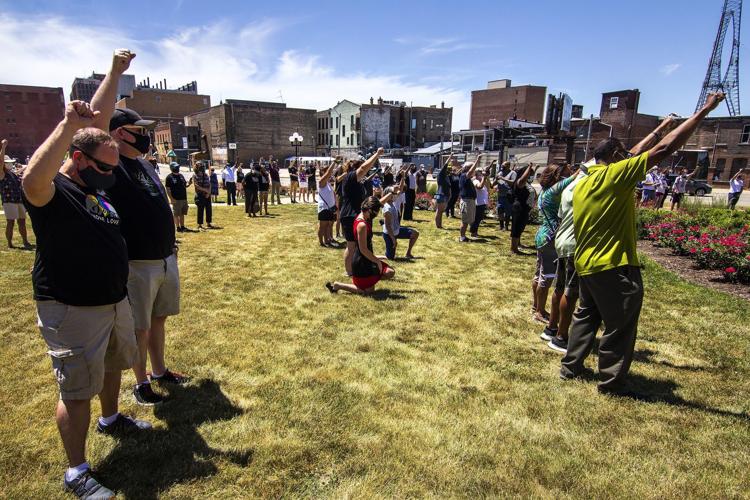 060920-blm-loc-10naacp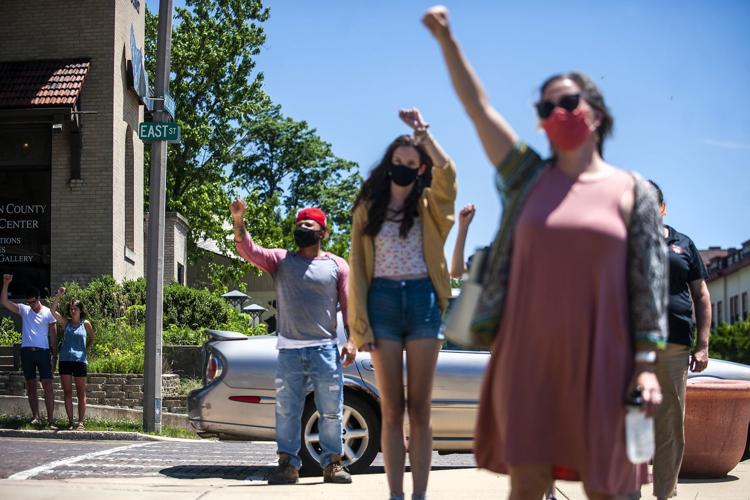 060920-blm-loc-11naacp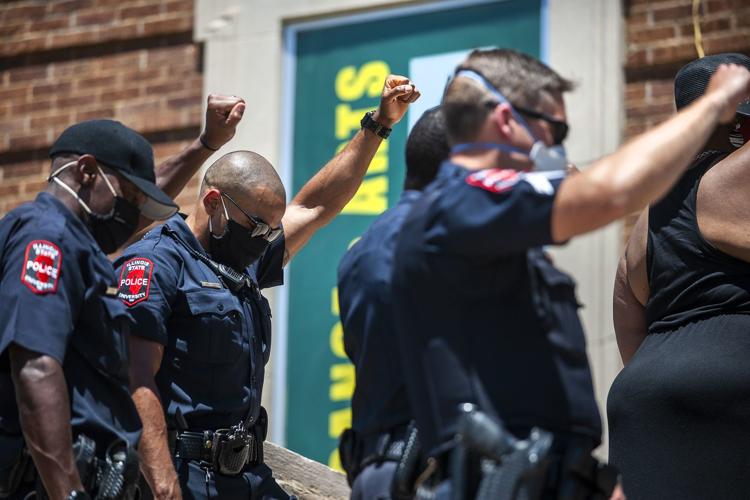 060920-blm-loc-12naacp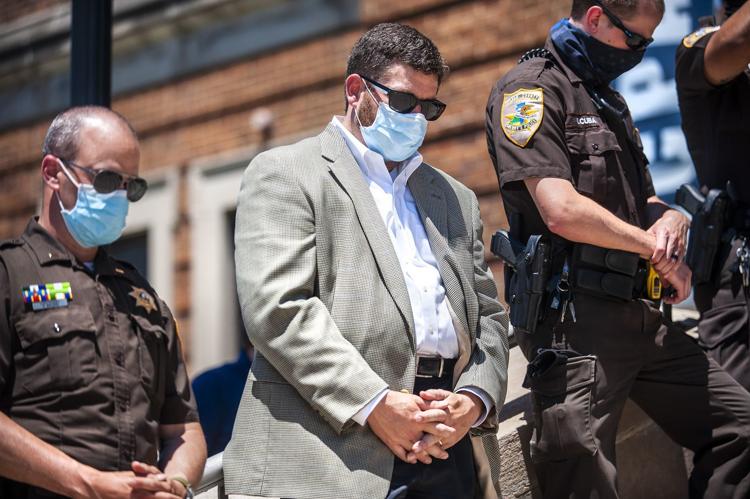 Coming together
060920-blm-loc-13naacp
060920-blm-loc-2naacp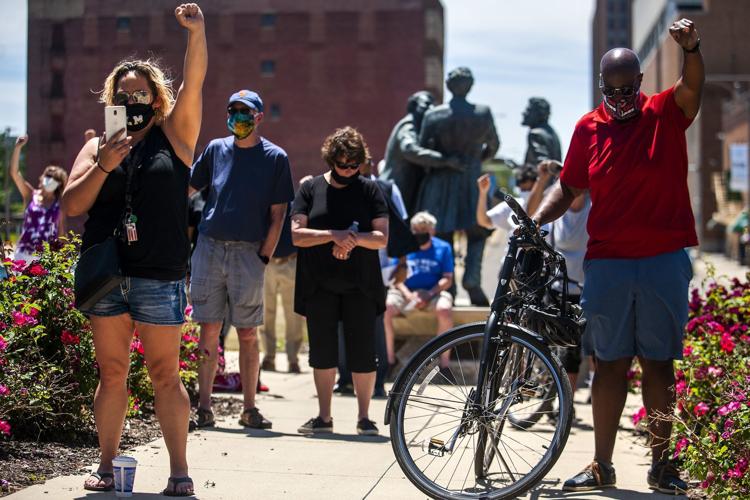 060920-blm-loc-14naacp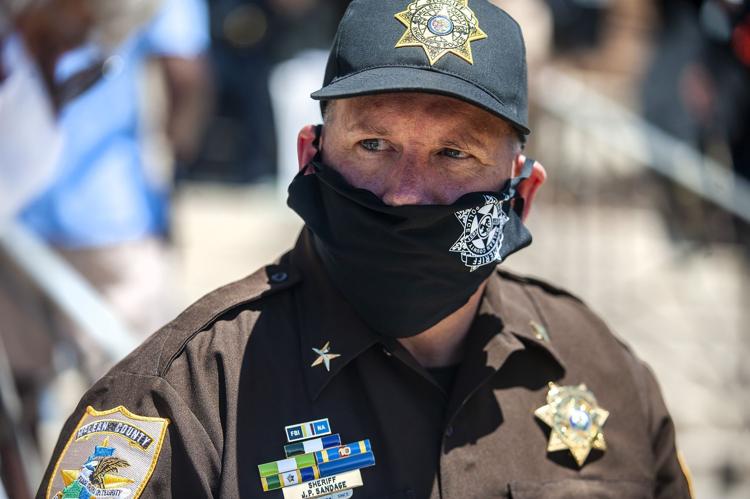 060920-blm-loc-17naacp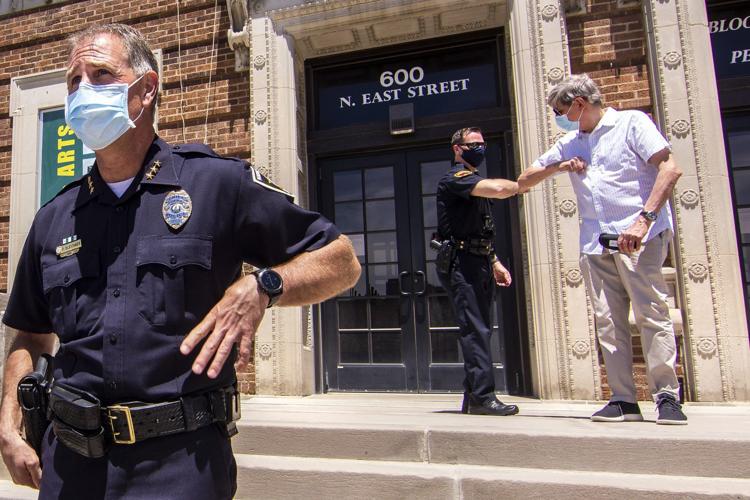 060920-blm-loc-3naacp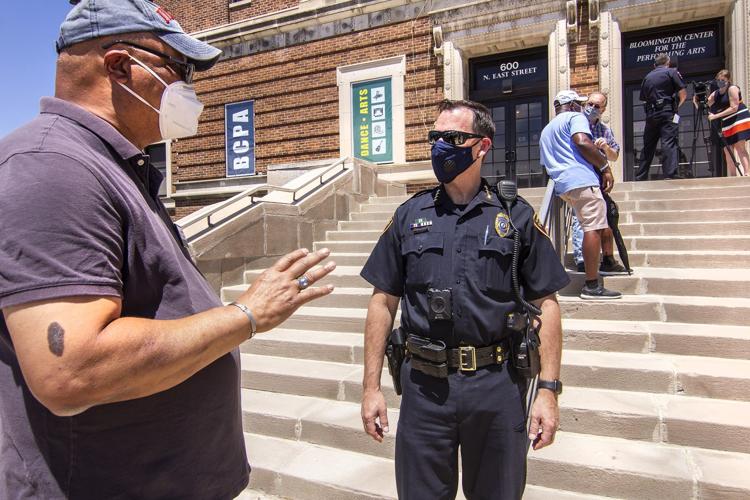 Contact Paul Swiech at 309-820-3275. Follow him on Twitter: @pg_swiech.
Be the first to know
Get local news delivered to your inbox!