Now the Rodgers family and their friends are returning the hug.
Called Heroes of Habitat, the program of Habitat for Humanity of McLean County will annually honor a McLean County hero by building a Habitat house in his or her name.
The first person to be honored will be Josh Rodgers, the Army Ranger and Normal Community High School graduate who was killed in action in Afghanistan on April 27, 2017. Rodgers was killed on his third deployment to Afghanistan during a successful raid on an Islamic State compound in eastern Afghanistan.
"The community wrapped its arms around us," Vonda Rodgers said, recalling various ways in which Bloomington-Normal paid tribute to her son.
One way was people lining streets between Eastview Christian Church and Evergreen Memorial Cemetery when Rodgers' remains were taken for burial. Among those lining the procession route were Waller and his friend, Brandy Finney, an Army National Guard veteran.
Later, Waller was surprised to see Vonda Rodgers volunteering with the State Farm Military Affinity Group on a Habitat house for a veteran and his family.
"I thought 'What can we do for this family?'" Waller recalled. He thought about building a house in Rodgers' honor and Habitat Executive Director Jim Walters suggested a formal program.
Heroes of Habitat was born. Waller asked Vonda Rodgers if she'd like to help.
"I was looking for ways to give back to the community," she said. "Heroes of Habitat is an answer to my prayer."
The heroes committee includes Waller, Rodgers, Finney, Teri Naour, Hunter Trego and Suzanne Roberts. All are Bloomington residents and friends of Rodgers or Waller.
"I felt like this is what I'm supposed to be working on," Naour, who grew up with Vonda Rodgers, said during a committee meeting at Waller's apartment on Wednesday. She also described the project as an answer to a prayer.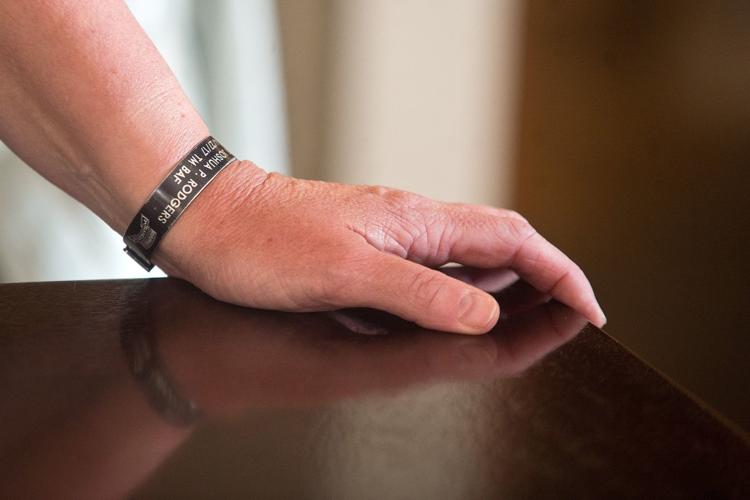 "Josh's purpose was to fight for freedom," his mother said. "We can do that on the home front. This program will honor heroes whose fingerprints have been left on this community in a big way."
The first Hero House will be built at 1108 S. Oak St., Bloomington, and the homeowners tentatively will be a single mother with two children. Consistent with Habitat family selection process, the family will be identified after approval by the Habitat board.
A groundbreaking ceremony will be 10 a.m. May 25. People who are interested in helping to donate to Heroes of Habitat or to help with construction may go to www.habitatmclean.org or www.heroesofhabitat.com or go to the Heroes of Habitat Facebook pages for more information.
Later this year, nominations will be accepted for the 2020 hero. Homeowners will be chosen through the regular Habitat selection process.
"We offer the community an opportunity to come together and get their hands dirty to honor local heroes while partnering with local families," Rodgers said.