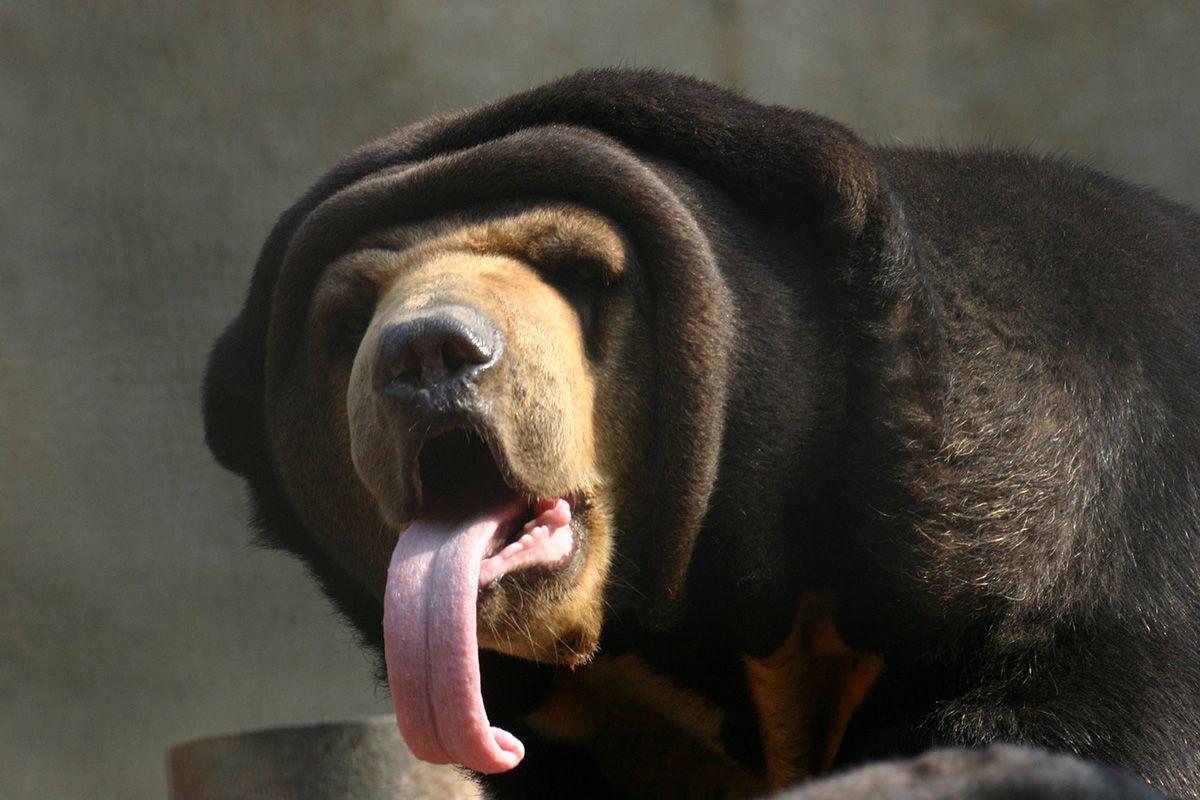 BLOOMINGTON — The Miller Park Zoo has lost an old friend.
Candy, at 33, the oldest Malayan sun bear in North America, has been euthanized, the zoo announced Monday afternoon.
The bear was born Feb. 14, 1984 — Valentine's Day — at Zoo Miami, and her birthday was celebrated on that day every year she lived at Miller Park Zoo.
"She will be missed by many, many people in the community," zoo Director Jay Tetzloff said in a statement. "She was here for almost 20 years so many guests knew her."
Recently, Candy was evaluated by animal care staff and a veterinarian from the University of Illinois for lethargy, said the zoo.
"Upon complete physical examination, it was determined that her condition was grave and the decision for humane euthanasia was made."
Samples taken immediately prior to the bear's death and initial findings indicate a preliminary diagnosis of renal failure. A full necropsy is being performed by the U of I; results will not be known for several weeks.
"I'm really sad to hear of her passing," said Ward 6 Alderman Karen Schmidt, who has been serving as mayor pro tem since Aug. 28 during Mayor Tari Renner's temporary leave of absence for medical-related reasons.
"She had a big and beautiful personality, and was an important part of our zoo," said Schmidt. 
Tetzloff said Candy's passing was hard on the zoo's staff.
"Last Thursday was a sad day," he said. "We deal with it the best we can."
Candy and her mate, Chapin, arrived at the Miller Park Zoo in 1998, and  like many other Sun Bears, they did not have any offspring, said the zoo.
The male bear died in 2010 from bone cancer at the age of nearly 27 years.
According to the Association of Zoos and Aquariums, the median life expectancy for a female Malayan Sun Bear is 23.1 years.
Candy was Miller Park Zoo's sole remaining sun bear, said Tetzloff.
The zoo does not plan to replace her with another sun bear because "there are very few sun bears left," he added.
Candy was housed in the Katthoefer Animal Building.
"She was pretty big for the building so we're probably going to change species after we lost her," said Tetzloff.
Get local news delivered to your inbox!
Subscribe to our Daily Headlines newsletter.