NORMAL — A health care expansion in McLean County may improve patients' heart health, self-esteem and ability to get jobs.
The Community Health Care Clinic — McLean County's medical home to more than 1,000 low-income residents who are uninsured or under-insured and have chronic disease — has expanded to provide comprehensive dental care.
"Dental care is highly linked to effective management of disease," including heart disease, said clinic Executive Director Mike Romagnoli. "Healthy eating is very difficult when you don't have good teeth."
"Dental care and your teeth are the No. 1 indicator of socioeconomic status," Romagnoli said. "It boosts self-esteem. It helps people to get jobs and to be productive members of society."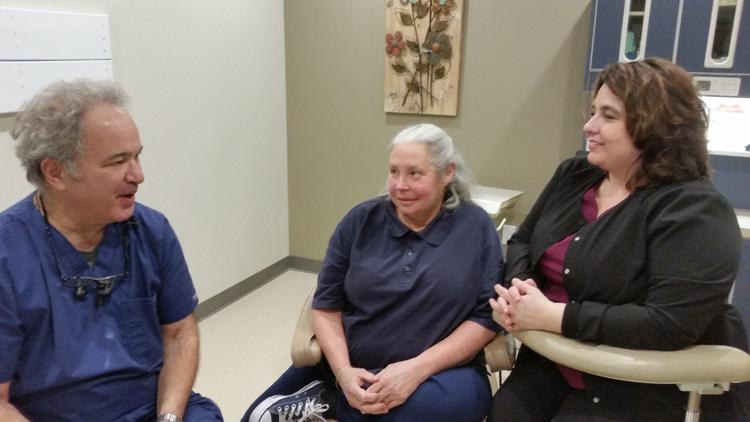 "Thank God, and it couldn't have happened soon enough," said Kim Carter, who is among 24 clinic patients who already have received dental care at more than 61 patient visits since the clinic began providing the service in February. "My teeth were becoming infected and teeth affect so many other things in your body."
Carter, 58, of Bloomington, takes care of her teeth but stopped going to the dentist when she lost dental insurance several years ago.
Ten of her teeth have been extracted at the clinic and dentists are developing a plan to reconstruct her smile.
"This clinic is a blessing," Carter said following her March 1 appointment with Dr. Anthony Pecora at the clinic, 900 Franklin Ave., Normal. "I had worked all my life. There are so many people who need dental care and can't afford it."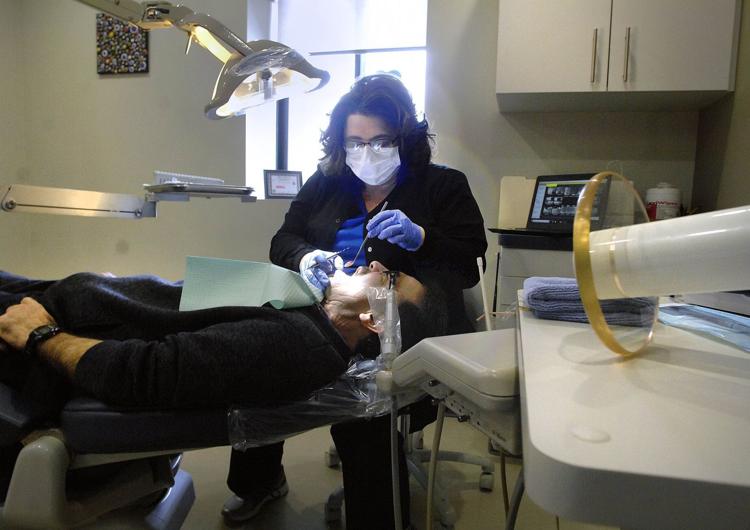 Patient Felipe Haro, 57, of Bloomington, works for a cleaning company but doesn't have dental insurance.
"My teeth were not very good," he admitted. He was the dental clinic's first patient and had a cavity filled.
"Thank the Lord we have the people taking care of our health," Haro said following his March 5 appointment.
"Nearly twice as many county residents reported a lack of access to dental care than they did for medical care, prescription medicines and counseling in the 2019 McLean County Community Health Survey," said Sally Gambacorta, community health director at Advocate BroMenn Medical Center in Normal.
Bloomington-Normal hospitals support the clinic and like its expansion into dental.
You have free articles remaining.
"Creating more access for the community is definitely a win," Gambacorta said.
"There's a big need out there," Pecora said.
There is a lack of preventive dental care for uninsured or under-insured patients, said Pedersen, also the clinic medical director.
"For the uninsured and for adults on Medicaid, there was no option for comprehensive dental care," Romagnoli said. That means a lot of people in dental pain go to the emergency rooms.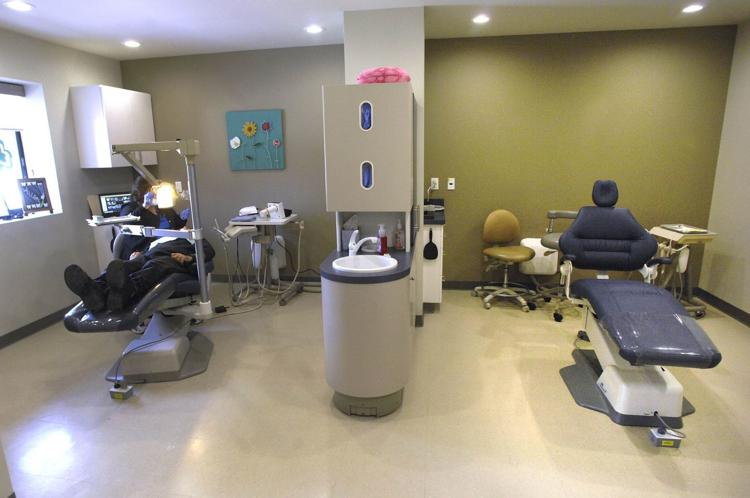 The clinic responded by reaching out to the community and dentists. When the clinic expanded into its new location in 2016, it included space for two dental procedure rooms and two dental hygiene rooms.
Dentists donated $115,000 in dental equipment, with most of it coming from Dr. John Foehr, Romagnoli said. Pecora helped to develop dental clinic protocols.
The dental clinic has budgeted $45,000 for operations for the first year, with most of the money coming from Normal Township and the rest from community donations, Romagnoli said.
Dentists volunteering to do procedures at the clinic on Fridays are Pecora and Dr. Dan Steadman. They will be joined later this month by Dr. Sharon Molitoris. Pecora and Steadman are recruiting colleagues to help.
"I'm just proud to be a part of it," Pecora said. "I've been lucky and I want to give a little back."
While the dentists are doing exams, filling cavities, performing extractions and will be doing dentures and partials to replace extracted teeth, registered dental hygienist Bridget Roop, the clinic's dental coordinator, orders supplies, does treatment planning, assists dentists and does patient x-rays, dental cleanings and sealings on Mondays and Tuesdays.
"Your smile affects everything, including your demeanor," Roop said. "Dental and gum disease can affect your heart health and the health of your whole body."
"If we can get some people in dentures and can repair decayed teeth, that can help them to get jobs," she said.
The clinic is first treating clinic patients with dental needs.
"Our goal in our strategic plan is to treat 200 patients within the first year," Romagnoli said.
Eventually, the dental clinic will be opened to others in the community, especially people who use the ER for dental emergencies, Pedersen and Romagnoli said.