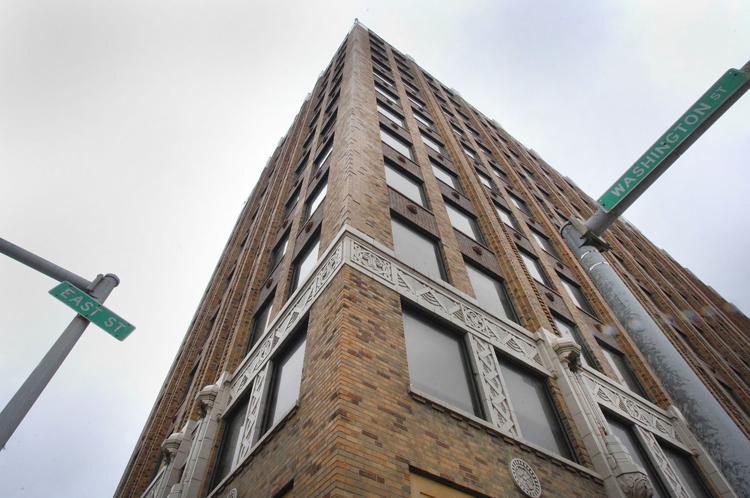 BLOOMINGTON — While State Farm is still deciding what to do with its downtown building, there is no shortage of potential reuses being suggested.
Mayor Tari Renner sees the building's size —180,960 square feet over 13 floors — as suitable for public/private purposes. He has suggested using part of the building for a city hall, a hotel or using some of its parking spaces to resolve downtown parking issues.
"It could be anything, but at this point I would say any conversations, other than throwing ideas on the table, are premature until we hear back from what State Farm wants to do," said Renner. "I assume they're not going to keep it or keep the whole thing, but at this point we have to wait to see what they have in mind."
State Farm last week said the company no longer will use the downtown building, 112 E. Washington St., but had not yet decided whether it would be sold. On Friday, a company spokesman said no announcements were imminent.
In a series of Facebook queries in January 2018, we asked you what should be done with State…
The building — the insurer's first headquarters — has long been a downtown beacon. Its remaining 150 employees will be moved to other sites and workers are completing asbestos removal and sprinkler system updates. State Farm previously said the building's size and layout are not conducive for the company's redesigned workspaces already in place at other buildings.
On The Pantagraph's Facebook page, people posted dozens of comments about potential reuses for the building, including apartments, a hotel, a homeless shelter, office spaces and retail stores.
Ward 1 Alderman Jamie Mathy, who is a downtown business owner, said the downtown building would be a good location for a tech incubator.
"It's just speculative at this point ...  but I do think we could support a boutique hotel in that space with so many activities and wonderful amenities in our downtown," said Tricia Stiller, Bloomington downtown development division manager.
Darrell Hartweg and Ralph Turner, co-owners of the historic Illinois House office complex, said preservation of the iconic art deco-style landmark is paramount.
"The State Farm building is just an elegant building. It really reflects the period of time in which it was constructed," said Hartweg. "Ralph and I think the presence of the building has added a great historical significance to downtown Bloomington."
Russel Francois, who has been a downtown resident since 1977 and opened his business, Francois Associates Architects, 118 W. Washington St., in 1990, agrees.  
"It's a great building. We just have to think about it as a community asset and ... move forward to make that building play a vibrant role in the community," he added. "I do think it's going to take initiative and dollars. Hopefully we have the energy, and hopefully that energy will be able to target and find dollars to make it happen."
Hartweg and Turner understand the changing workplace model for State Farm.
The building, 112 E. Washington St., was the first corporate headquarters of the insurance c…
"We've owned our building for 40 years. About the only thing that's been constant in our experience is that change always occurs," said Hartweg. "Change is always involved in anything."
Renner said he sees the closure of the downtown building primarily affecting lunch crowds at restaurants and the downtown residential rental market.
"I don't know the number, but there definitely is a core of people who rent downtown who work at State Farm," said Renner. "Some of them may decide to stay in the apartments downtown. Some of them may decide to move closer to their jobs."
"I used to get a lot of State Farm people for lunch," said Mike Hill, owner of Maguire's Bar and Grill, 220 N. Center St. "It's going to be devastating to restaurants and other lunch places down here. It's going to be tough."