NORMAL — Dr. Carl Cortese and the staff at Cortese Foot & Ankle Clinic and Sole Savers Shoe Store are stepping out against the retail trend.
After four department stores (Bergner's, JC Penney, Macy's and Sears) and one shoe store, Murray's Shoes, have closed in Bloomington in the past couple of years and as Payless ShoeSource is scheduled to close this spring, Cortese is expanding his Sole Savers Shoe Store.
"Our expansion is to fill a void that exists in the shoe retail (market)," Cortese said Thursday in Cortese Foot & Ankle, 1607 Visa Drive, Suite 5B, Normal. "We lost several big stores that sold shoes and two shoe stores."
"Why are we expanding when everyone is closing up? Because we offer quality shoes at competitive prices and personal attention and customer service, which people want and won't get (buying shoes) on the internet," Cortese said.
"We are the caretakers of the feet," he said. "We do it with the medical aspect and we do it with the shoe store."
The shoe store is expanding by 400 square feet, and work should be complete next week, said store manager Mary Svensson. She has worked for Cortese for 20 years and is a certified podiatric medical assistant.
Cortese has been a podiatrist in Bloomington-Normal since 1972 and opened Cortese Foot & Ankle Clinic in 1986. He opened Sole Savers Shoe Store there in 2007.
"We noticed a lot of foot problems caused by improper shoes," Cortese said. Poorly fitting shoes, worn-out shoes or poorly made shoes may be linked to plantar fasciitis, heel pain, corns, calluses, neuromas and bunions, he said. Directing people to proper shoes is preventive medicine, he said.
The store not only serves people with foot problems but also sells dress, casual and athletic shoes, as well as sandals and boots for any adult, he said.
"It's beautiful," Judy McDuffee, 73, of Bloomington, said Thursday in the expanded space. "I'll be able to look at a lot more shoes."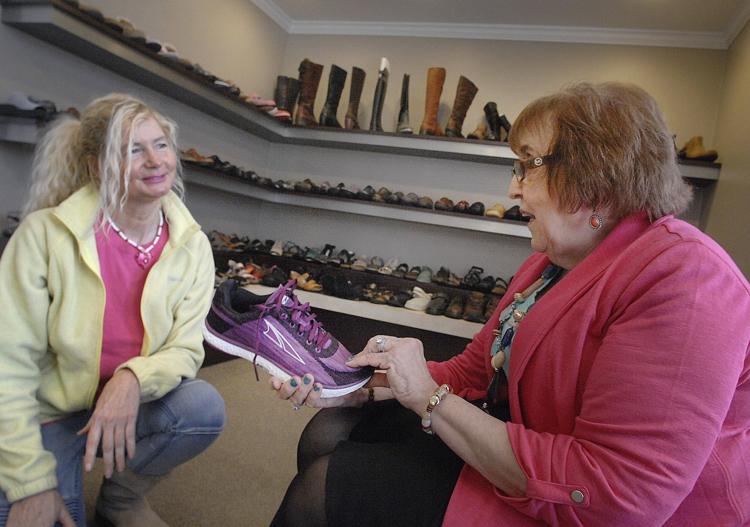 McDuffee came to Cortese Foot & Ankle three to four years ago. An infected callus was treated and two hammertoes were surgically corrected.
Then she began buying shoes in the store.
"They have such support," she said of the shoes. "They are well made and are stylish."
"Before, it was an effort to just walk in here," McDuffee said. "Now, I'm in no pain at all."
"We're more than a shoe store," Svensson said.
The clinic and shoe store combined have 18 staff members, Cortese said. Store hours are 9 a.m. to 5 p.m. Monday through Friday and 9 a.m. to 1 p.m. Saturday.