NORMAL — A Normal woman credits a little angel for saving her life when a tree crashed onto her house during a violent series of storms lasting from late Wednesday into early Thursday morning that included a tornado touchdown in Lincoln.
Sue Smith, of 1317 S. Linden St. in Normal, was asleep on the couch in the living room around 1 a.m. A ceramic angel on her front steps served as her guardian angel and protected her, she said.
The angel wasn't damaged, but her home sustained damage to an overhang on the front of the house when a large tree toppled over. Three dogs also escaped harm, she told The Pantagraph.
A massive tree also fell on a four-unit rental property at 1307 N. Roosevelt Ave., Bloomington, managed by Young America Realty. Despite the tree being at least 80 feet tall and 3 feet wide, damage was almost non-existent.
Scott Van Winkle, who works for Young America, was asleep at his home when the storm struck, and a friend sent him a text with a photo to alert him of the damage. 
Almost every Central Illinois community reported at least some damage on Thursday, hours after the storms cleared, said Matt Barnes, a meteorologist with the National Weather Service in Lincoln. The storms produced funnel clouds, driving rain, hail and high winds that toppled large trees and power lines.
"There was a lot of tree damage and a lot of power lines down," he said.
There were no reports of injuries, however.
Ameren reported that about 1,300 customers remained without power in Illinois Thursday night, a number down significantly from more than 16,000 in the storms' immediate aftermath. Of those, 746 were in Iroquois County, 209 were in Logan County, 156 were in Champaign County and 32 were in McLean County; all other area counties were in single digits. 
There were several scattered spots throughout Bloomington and Normal with downed trees and power lines. Damage also was confirmed in Colfax, Fairbury, McLean, Gibson City and Clinton.
There also were reports of downed power lines throughout Logan County. 
A weather service survey later Thursday found damage indicating an EF-1 tornado, with an estimated wind speed of 90 mph, touched down from 12:33 to 12:37 a.m. northwest of Lincoln. The tornado tracked 3 miles northwest of the weather service's office.
Weather service reports also indicated funnel clouds were seen aloft at 12:43 a.m. a mile south of Weston and at 12:56 a.m. along U.S. 24 near Fairbury, but there was no damage reported.
While not attributed to tornadoes, high wind speeds were recorded across Central Illinois, including 83 mph in Watseka, 58 mph at Central Illinois Regional Airport in Bloomington and 70 mph in Piper City.
In Lincoln, officials closed Old Union Cemetery until further notice for storm damage cleanup. Also in Logan County, a grain bin was found nearly intact after it was blown onto the railroad tracks on Illinois 121 near Bell Station.
A vehicle struck a tree in the roadway in the 2000 block of Illinois 121 in Logan County, and a box truck overturned in the southbound lane on Interstate 55 at mile post 138, between Lincoln and Atlanta.
Around 15 power poles were reported down on North Street in Middletown running west into Menard County.
In McLean, a large tree in the Village Square uprooted at the intersection of Park Street and Center Street. In Clinton, a portion of Jefferson Street near downtown Clinton was closed because of a tree that had fallen across the street.
Several roads in McLean County also were shut down Thursday morning for debris cleanup. The westbound lane of Oakland Avenue, between Vale and Woodland in Bloomington, was closed, as were the streets surrounding Franklin Park because Walnut and McLean streets were littered with tree limbs.
Storms that arrive in overnight hours give forecasters issues they don't normally face during daylight hours, Barnes said.
"We use the exact same protocol, but we have to rely less on eyewitness accounts and first-hand knowledge of specific damage," he said.
More thunderstorms are possible in the area through the holiday weekend, although they are not expected to be as severe, Barnes said.
"We are in a very active weather pattern, which is typical for this time of year," he said. "We will  have periodic episodes of showers and thunderstorms, although we don't believe they will be as severe."
---
Photos: Storm causes random damage across Twin Cities
052419-blm-loc-14storm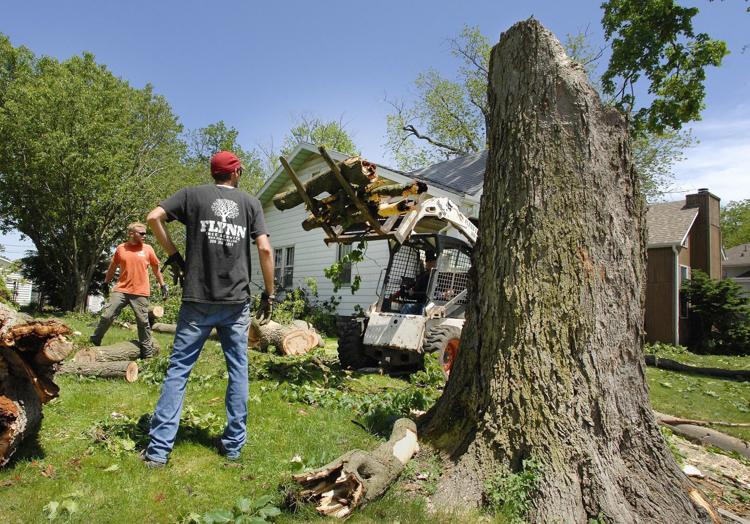 052419-blm-loc-9storm
Storm damage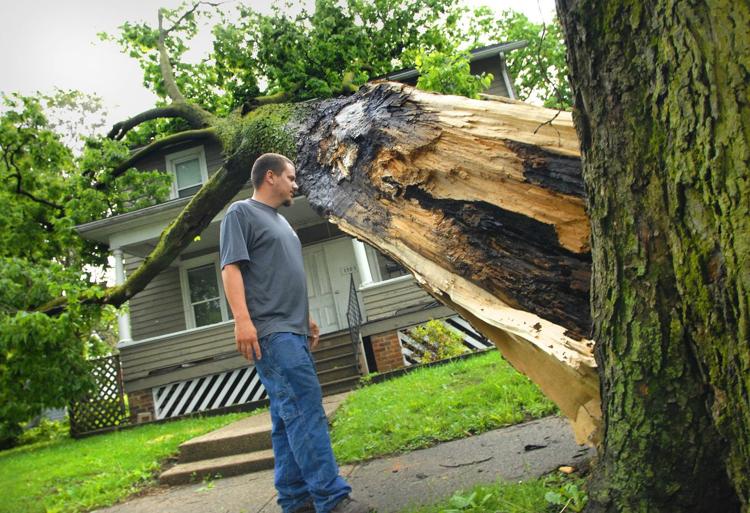 Saved by an angel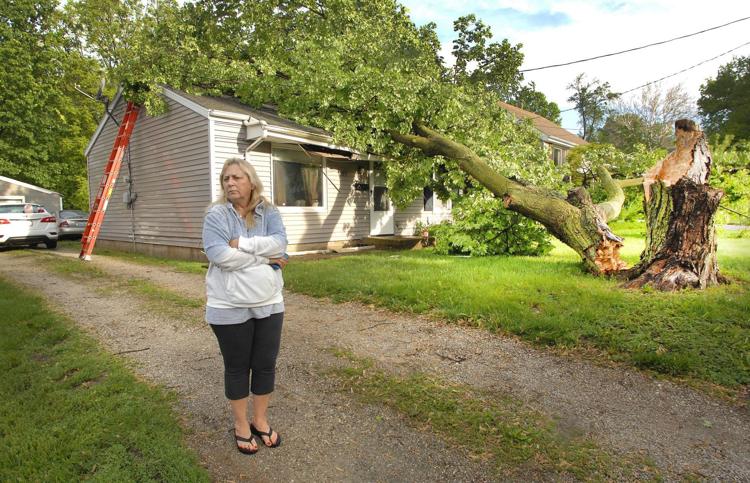 052419-blm-loc-3storm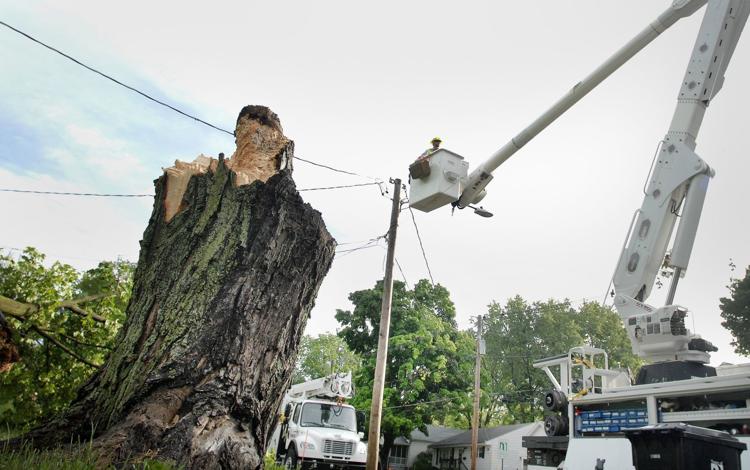 052419-blm-loc-2storm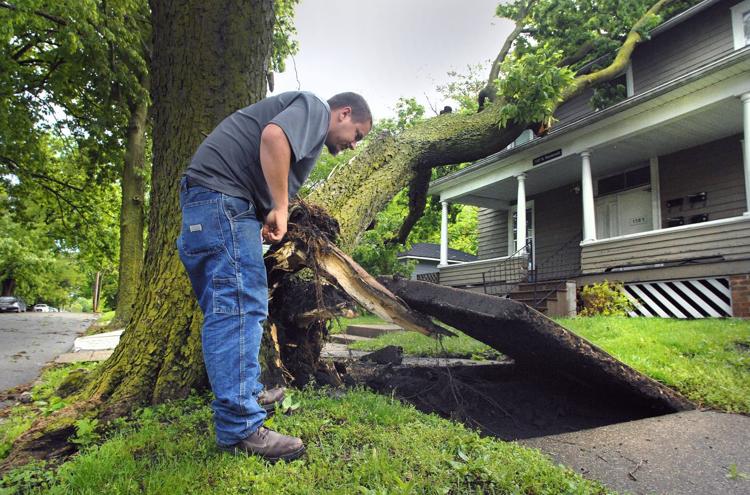 052419-blm-loc-5storm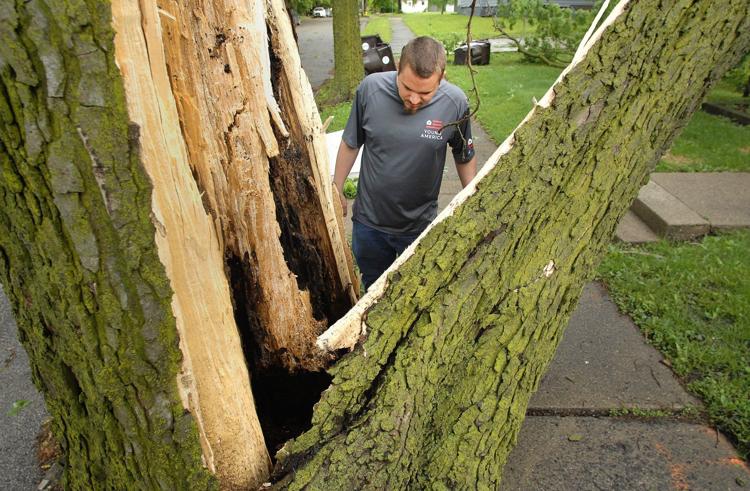 052419-blm-loc-6storm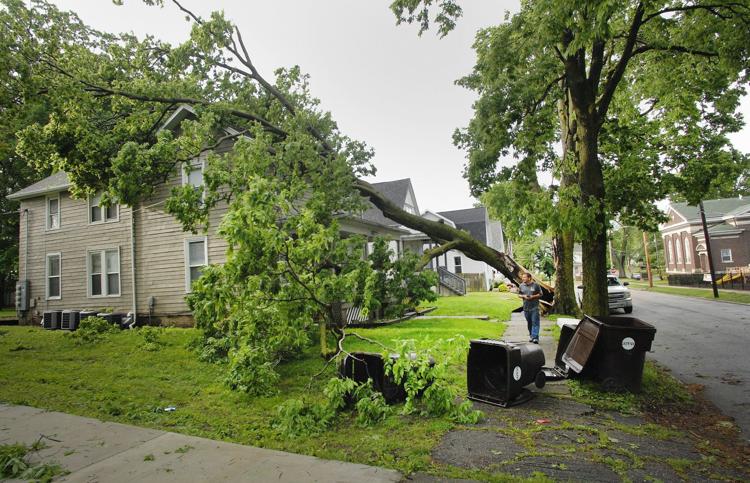 052419-blm-loc-7storm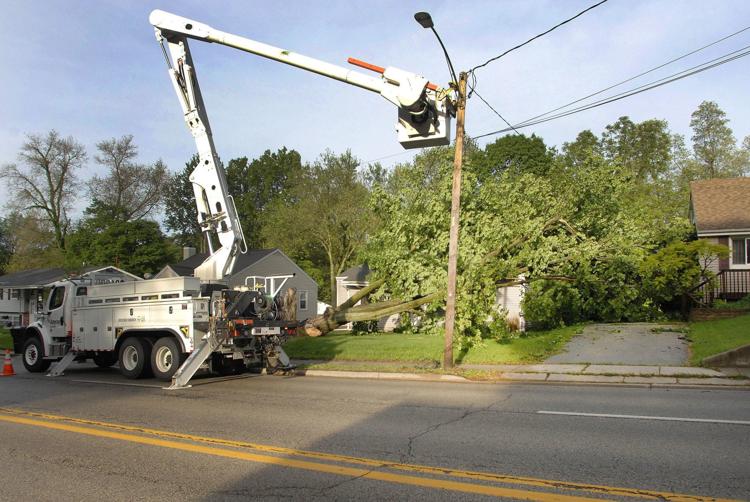 052419-blm-loc-8storm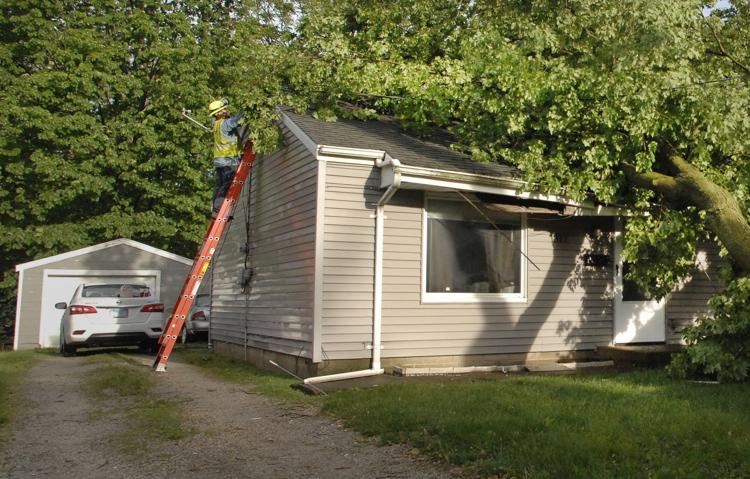 Fallen tree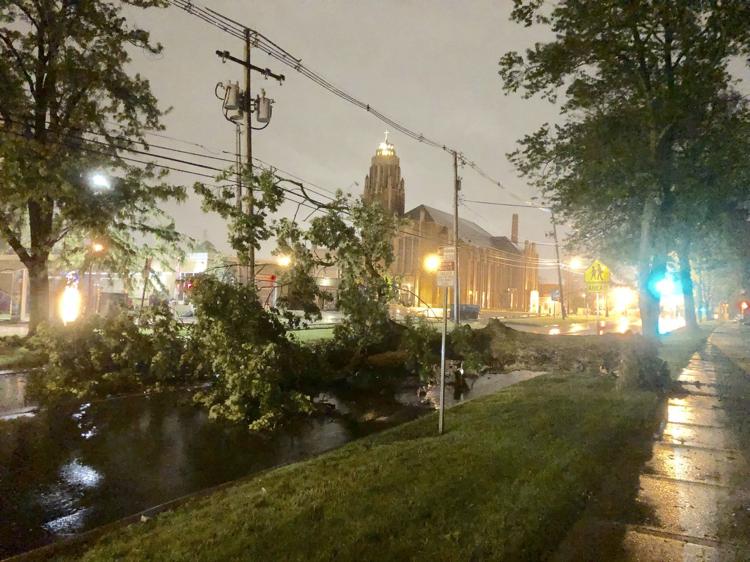 052419-blm-loc-10storm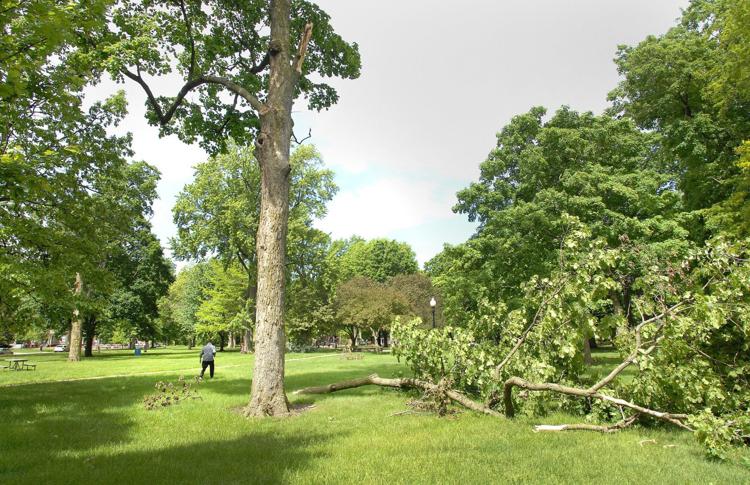 052419-blm-loc-11storm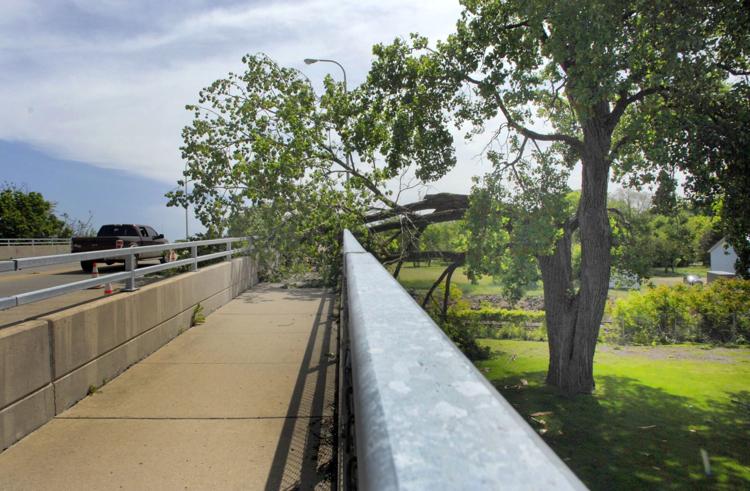 052419-blm-loc-12storm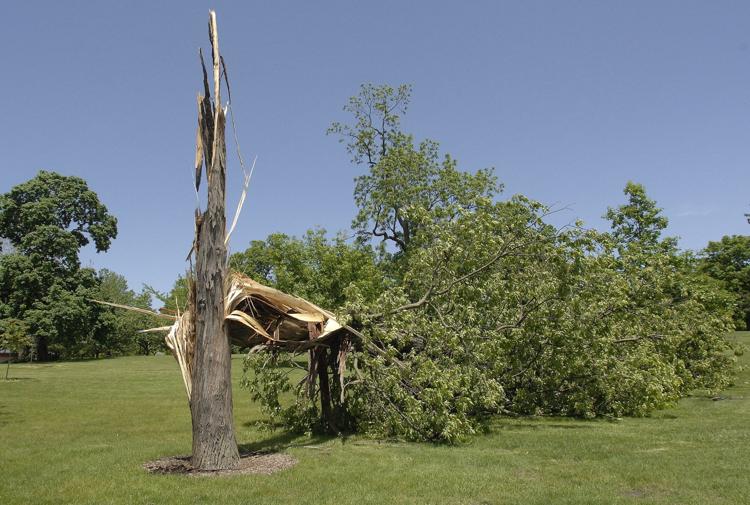 052419-blm-loc-13storm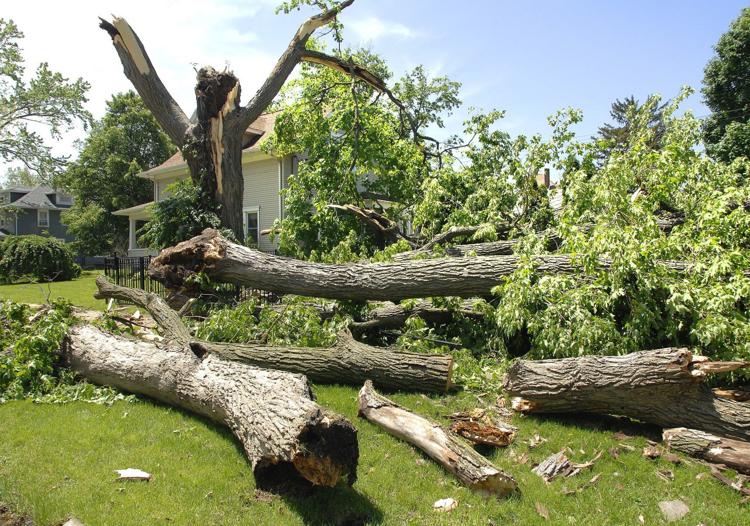 052419-blm-loc-15storm