NORMAL — Perspiring between exercises during a group functional training class, Shannon Rader smiled.
"This is for all the Christmas dinners and holiday snacks," the 38-year-old Normal woman said before picking up a kettle bell.
Behind her and other class participants Denise O'Connell, 40, Gordon Bender, 43, and Kamie Ellis, 49, was a sign: "Stronger Together."
The four Normal residents exercising at The Workout Company in Normal on Thursday illustrated several fitness trends: functional training (exercise that replicates movements of daily living to help people with their daily tasks), small-group exercise and enjoying your workout and the companionship of others.
With the start of a new year and thousands of Central Illinoisans returning to exercise, fitness professionals and people who regularly exercise want you to know that keys to sticking with an exercise routine are seeking the help of a fitness professional and doing activities that you enjoy.
"People think that, with the new year, it's all about losing weight and toning up," said Shelli Reinhardt, fitness director at the Decatur Athletic Club and a 30-year veteran of the fitness industry. "But it's about the big picture: longevity, health and mobility ... Being able to get on the floor to play with your grandkids."
"I encourage people to ask themselves why exercise is important to them. What would it add to your life? When you know the why, you can go from there," Reinhardt said. "It's a lifestyle; it's not a quick fix."
"The most difficult thing is taking that first step and finding that community that supports you," added Hawkins, who recommends reaching out to friends or family members who exercise to find a fitness professional.
Hawkins — who has a master's degree in exercise physiology, 10 years of experience and several certifications — recommends going to different fitness centers and meeting with personal trainers to assess their knowledge and experience, whether they would be a good fit for you and whether they would  hold you accountable to help you meet your goals safely.
"The days of going to the gym and guessing what to do is going by the wayside," Hawkins said. "Specialized training programs get the best results ... and will continue to grow."
Training programs, Reinhardt said, should include cardiovascular training to strengthen your heart and burn calories; resistance training using weights or your body weight to build muscle and improve bone density; flexibility work to help with range of motion and injury prevention and recovery; and a balanced diet to fuel your body.
More people are exercising with buddies or with small groups rather than on their own. "It's fun to get started in a group," said Carl Clover, co-owner of The Workout Company with his wife, Carol.
"Trends come and go," Clover said. "What I see people trending toward is variety."
"When people go in one direction, they get bored and hurt," he continued. "When they do a variety of things — strength training, cardio and mind/body exercise like yoga or Pilates or Tai Chi — they don't get hurt. Overuse syndrome happens when you do the same thing over and over again."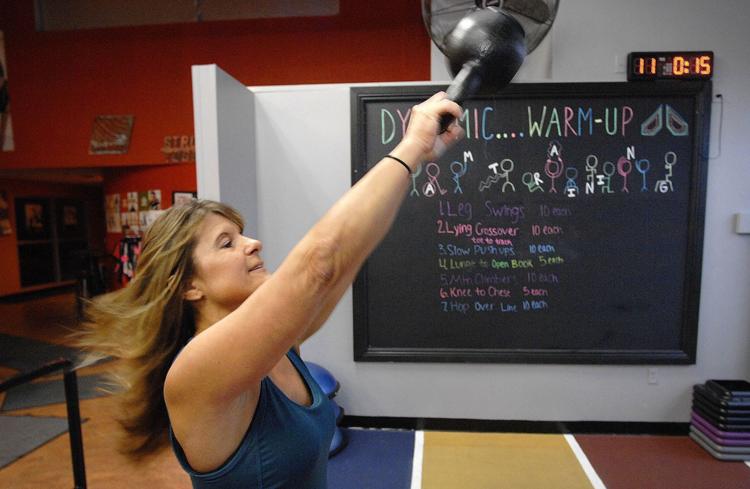 "I like the variety," Ellis said. "It keeps me coming back."
When people exercise consistently, it does more than control weight, reduce risk of chronic diseases and improve sleep.
"Once you start exercising, it eases the mind," Clover said.
Functional training specifically builds muscle, burns calories and improves posture and balance to help with everyday activities, said Briana Swanson, the certified personal trainer at Workout Company, who taught the group functional training class.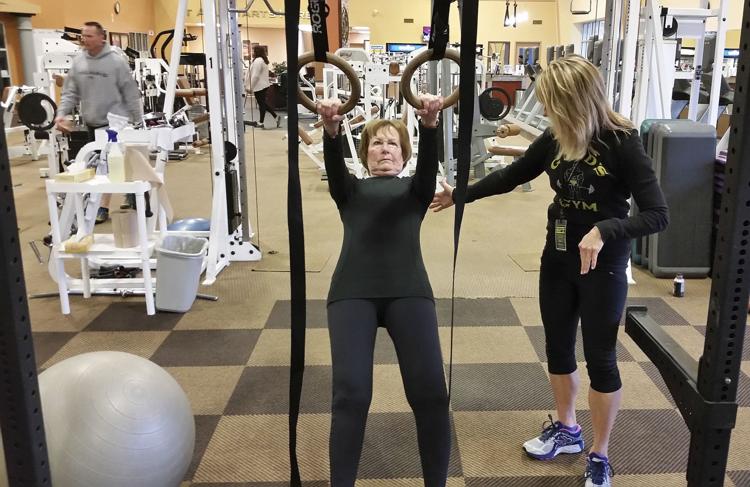 At Gold's Gym in Bloomington on Thursday, longtime certified personal trainer Kristy Zalucha worked with client Zona Guttschow on functional movements. Zalucha incorporates a variety of compound movements into her training programs so clients can work their entire body.
"We are moving the whole body in different ways," Zalucha said. "The goal is for people to keep moving, to feel better and enjoy life."
Guttschow, 76, of Bloomington, has exercised for years but began working with Zalucha three years ago, in part, so Guttschow can live with left knee pain.
"We're strengthening the tendons and ligaments around the knee so it doesn't get any worse and we're keeping the right knee healthy," Guttschow said. "I'm loosening up my whole body to help with daily activities."
O'Connell said after Thursday's Workout Company class that the class helped her to return to fitness after giving birth to her fifth child.
Ellis said she returned to regular exercise at The Workout Company nearly a year ago following knee surgery and she has lost more than 30 pounds, gained strength and improved her energy.
"My mind is very clear," Ellis said. "I walk away feeling good about myself and feeling strong. It really starts out my day well."
"I like the community feeling," O'Connell said. "It's all high-fives and positivity."
"It uplifts your mood and gives you energy for the rest of the day," Rader said.
"It's community," Hawkins said.
---
Photos: Give your body a Christmas present with a workout 💪