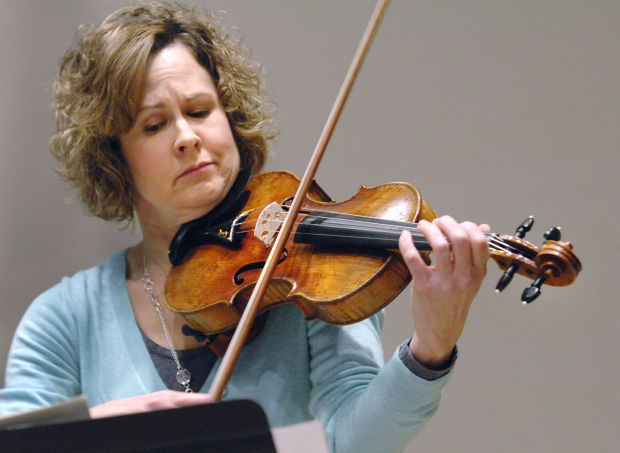 NORMAL — The Guarneri violin Sarah Gentry will play Sunday night at Illinois State University is not only older than all of us, but also older than all of U.S.
It was born 250 years ago, more than a decade prior to the signing of the Declaration of Independence.
It is as old, or older, than some of the baroque-era chamber pieces that will be played on it beginning at 7 p.m. at Kemp Recital Hall, including sonatas by Bach and Handel.
When the master luthiers (stringed instrument makers) of Italy's legendary Guarneri family were finishing the instrument, King George III was on the throne in England and the Stamp Act was about to be introduced in the American colonies by the U.K. Parliament.
Old — really old — violins aren't exactly a dime a dozen, admits Gentry, on the eve of her "blind date" with just such an instrument — on loan for one night only by its owners, two ISU alums who have asked to remain anonymous.
Gentry, a professor of violin at ISU, owned a circa-1768 fiddle when she was in high school.
"Ironically, it was almost as old as this one," she said. "So there are lots of old instruments still around. The thing I played on in high school was not a good instrument. "
Her current personal instrument dates to 1871, and is much better.
Precious few bear the million-dollar stamp of Guarneri which, along with the Stradivarius seal, were the gold standard during what Gentry calls "The Golden Age of Violin": Italy in the 1700s.
The journey of this one included an association with noted performer-teacher Louis Persinger in the early 20th century.
According to Jeremy C. Young, visiting assistant professor of history at Grand Valley State University in Michigan, the earliest recorded ownership was by collector/violinist Charles Fletcher.
Its journey continued to London, ending up in Colorado Springs (circa 1912-16), where Persinger's relationship with it began on loan from a local heiress and her family.
Persinger's association ended around 1929, with the instrument passing through several families to its current ownership.
"I'm not afraid of it, but I don't want to drop it," said Gentry. She didn't get her hands on the instrument until Friday, with just 48 hours of familiarity allowed before Sunday's performance.
Also on stage will be ISU faculty colleagues Adriana Ransom on cello and Kim Risinger on flute, and guest artist Stephen Alltop on harpsichord.
"I think we'll be a couple who make beautiful music together," she added with a laugh.