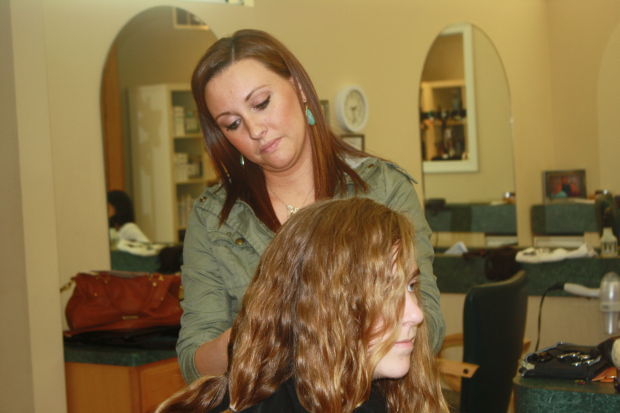 BLOOMINGTON — The first time Meredith King donated hair to Locks of Love, she was a fifth-grader at Washington Elementary School in Bloomington. On Sunday, she returned to Fox & Hounds Hair Studio and Day Spa in Bloomington to donate a second time.
"This year, we have a couple of different alumni," said Washington teacher Kelly Mathy. "There are a couple of girls who have donated before and they are coming back, and that's a good feeling."
For the fifth consecutive year, Mathy has organized the local drive, encouraging current and former students to donate to the campaign on the third Sunday of May. Locks of Love provides vacuum-fitted hairpieces to financially disadvantaged children suffering from long-term, medically related hair loss.
"It makes me feel good that I can help some kid somewhere," she said.
A total of 19 Bloomington District 87 students donated Sunday. The haircuts are free and the stylists donate their time.
"Even though it is a Sunday and our day off, it gives us a great deal of satisfaction to be here and doing something for kids who are sick," stylist Shannon Whittaker said.
Tish Yount, a seventh-grader with a thick head of hair, said she had several emotions while donating.
"It's exciting, it's different and more than anything, it's helping someone who is sick," she said. "That is what is important."
Mathy said she looks forward to the event every year. Donated hair must be at least 10 inches long, clean, dry and bundled in a ponytail or a braid. It takes six to 10 ponytails and approximately four to six months to manufacture one hairpiece.
"We do a lot of fundraisers and special projects and so many of them ask for financial help," she said. "This one is unique, because there is no financial obligation at all.
"We talk to the students at the start of the year and encourage them to grow their hair long so that when the third Sunday of May comes, they can donate to Locks of Love. We put it in our newsletters every month and talk about the good it does and we are always so thrilled when this day comes because we know it makes a difference."
Get local news delivered to your inbox!
Subscribe to our Daily Headlines newsletter.