BLOOMINGTON — That big man in the yellow hooded sweatshirt who walks around downtown Bloomington three times a day, seven days a week, talking with people along the way, is doing more than stretching his legs.
He's saving his life. And trying to save others.
In doing so, he's building the downtown community.
"He knows all of the downtown business owners," said Spears.
Outside, Waller illustrated the reason behind his walking obsession. He saw an acquaintance smoking a cigarette.
"You gotta quit smoking," he told her.
"You gotta quit harassing me," the woman responded with a smile.
Earlier, he encouraged another downtown acquaintance to stop smoking. She told Waller she was working on it.
Yes, Waller, known to many people in McLean County for his 19 years as construction manager for Habitat for Humanity of McLean County, is undertaking his biggest project yet: walking to help reverse the negative effects of years of smoking and, while doing so, encouraging others to join him as a quitter.
"I'm trying to put myself in a place where I feel better about my health and I'm trying to live longer," Waller said during his mid-afternoon walk on Wednesday.
"It must be working," said the 60-year-old man known for his plain speaking. "I'm not dead."
"Bill has a gruff exterior, but he is one of the nicest, most dedicated, giving individuals I have ever met," said Habitat Executive Director Jim Walters.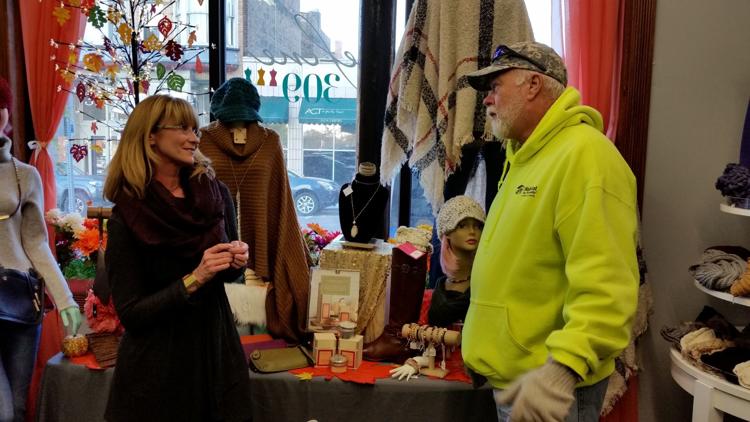 Waller, who worked in construction for years in the Bloomington-Normal area, even before he joined Habitat, said a friend encouraged him to quit smoking when he was undergoing a challenge in his personal life. Waller responded by going from smoking two packs of cigarettes a day to two cigarettes a day.
He smoked his last cigarette on Jan. 16, 2014.
"I was a bear for a couple of weeks," he admitted. "That was the most difficult thing I did in my life."
"I started walking," he said. "I needed to exercise to get my mind off smoking and to give me something to do" during the time that he would have spent smoking.
"I wasn't thinking of the health benefit" at first, he said. "I wanted to keep my mind off it (smoking). Then, a member of the (Habitat) retiree crew said it takes you 10 years to clear your body of all the ill effects of smoking.
"I said, 'I want to clear my body in half that time,'" Waller said.
So he joined a gym and worked with a personal trainer in addition to his walking. On May 11, 2014, he bought a FitBit and began tracking his steps, mileage, exercise time and calories burned.
At the time, he lived on Eldorado Road and walked in that neighborhood. In September 2014, he moved into the Paxton's building in downtown Bloomington, just a few blocks from the downtown office of Habitat, 103 W. Jefferson St., and began his daily walks downtown.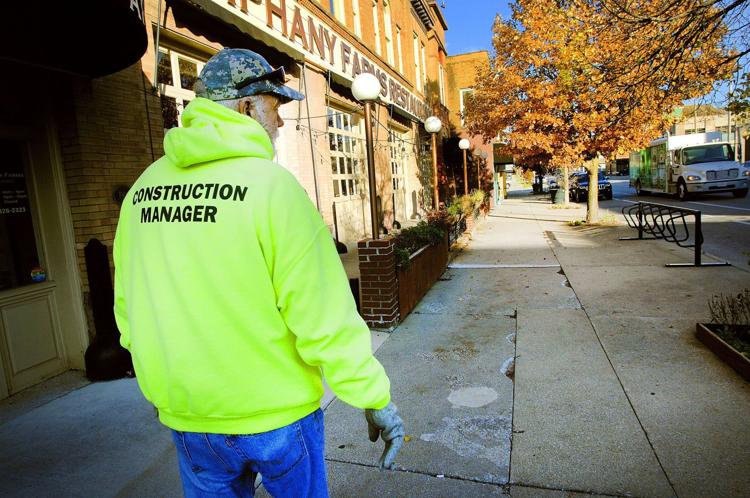 On most days, he walks his route three times a day — at noon, 3 p.m. and 6 p.m. A typical day was Tuesday: He walked 16,056 steps, or eight miles, and burned 4,002 calories.
"Since I started, I've walked about 25 million steps, which is 12,680 miles," Waller said. "That's a lot of miles.
"I sleep better. I look better, I'm toned. I can eat what I want," he said. And his blood pressure, heart rate, blood sugar and respiratory rates have improved, said Waller, a Type 2 diabetic who takes medicine for that and high blood pressure.
Even a fall on a job site on Oct. 21, 2016, that left him with a broken nose, knocked-out teeth, a head injury and elevated blood pressure sidetracked his walking for only a brief time.
"I tell people, 'Just walking will help your joints and muscles. Get outside. Don't sit in front of the damn TV. It'll kill you.'"
During his walks, he stops to talk, and not just to encourage smokers to quit.
"Bill knows everyone around the downtown area because he walks and interacts with people," said Hunter Trego, who also lives in the Paxton's building and works at the nearby Castle Theatre. "I think it's great. It's good to stay active."
"He checks in with the businesses, making sure we're OK," added Christina Rogers, owner of Refine 309, a women's boutique at 200 W. Monroe St.
"I believe in downtown," Waller said.
What about people who say there's nothing to do downtown?
"That's BS," Waller said. "There's all kinds of stuff to do downtown. But you gotta be able to make this a destination. Someone (city leaders) need to have the kahunas to spend the money on infrastructure like street improvements and a hotel."
"I talk with everyone, from the homeless to the president of the bank," Waller said. "Those relationships with people are great.
"I want to live to be old and a pain in the ass to everyone," Waller said. "If you gotta get old, why not be in good condition?"